2022 Tezos All Star Circuit of Champions at Sharon Speedway
Cap Henry Pulls Car Out Of The Weeds To Win Lou Blaney Memorial
Cap Henry Pulls Car Out Of The Weeds To Win Lou Blaney Memorial
Cap Henry pulled an old car out of the weeds to win Saturday's Lou Blaney Memorial for the Tezos All Star Circuit of Champions at Sharon Speedway.
Sep 5, 2022
by FloRacing Staff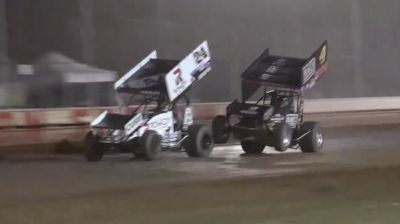 HARTFORD, Ohio -- Republic, Ohio's Cap Henry has certainly developed a soft spot for Hartford, Ohio's Sharon Speedway, and for the second time in 2022, the ace of the Lane Racing No. 4 parked it on the speedway's front stretch victory lane, doing so by claiming the annual Lou Blaney Memorial title for a $12,000 Tezos All Star Circuit of Champions presented by Mobil 1 payday.
Ultimately leading every circuit of the 35-lap affair, a non-stop feature after a caution on the initial start forced a complete restart, Henry's winning campaign commenced from the front row, battling through waves of heavy pressure by Rico Abreu, Justin Peck, and Brent Marks. Henry's career All Star victory count now sits at eight, six of which accomplished in the Buckeye State.
"This is actually the car I won my very first All Star race with back in 2019…we pulled it out of the weeds this week," Cap Henry said in Sharon Speedway victory lane. "I'm just super proud of my guys. We've really struggled in the slick this year, especially in the last two weeks. Definitely some trying weeks there..I just really appreciate everyone's hard work."
As mentioned, although Henry led all 35, pressure was a constant, mostly from St. Helena, California's Rico Abreu. Abreu, who started alongside Henry on the front row, did everything he could to power around the Buckeye, actually sliding by the Blake's Hard Cider entry through turns one and two on lap 17. Despite Abreu leading the pair down the backstretch, Henry was able to squeeze back by the Rowdy Energy No. 24, beating Abreu in a drag race back to the flagstand.
"I knew I had one shot there to get back by him," Henry said of his lap battle with Abreu. "I kinda rode his left rear there getting into three. I was really hoping he was going to slide up across the track through three and four and leave the bottom open for me to park it. It just all worked out tonight and I'm super proud of everyone."
After starting fifth, the "Myerstown Missile" Brent Marks would eventually move into second on lap 31, chased to the line by Abreu, Hunter Schuerenberg, and Justin Peck.
The Tezos All Star Circuit of Champions presented by Mobil 1 will continue the month of September with the three-day Tuscarora blockbuster at Port Royal Speedway in Port Royal, Pennsylvania. Chasing a total weekend winner's share equaling $73,000, the "Speed Palace" tripleheader will ignite with an $8,000 preliminary on Thursday, September 8, followed by the $10,000-to-win Night Before the Tuscarora 50 on Friday, September 9. Tuscarora weekend will conclude with the 55th running of the 50-lap Tuscarora 50, awarding $55,000, on Saturday, September 10.
For those who can not witness the All Star Circuit of Champions live and in person, FloRacing.com, the official media partner and broadcast provider of the All Stars, has you covered. To access live and on-demand racing action from the All Star Circuit of Champions, visit FloRacing.com and become an annual PRO subscriber. Race fans can see all the USAC and dirt late-model action they want in addition to Eldora Speedway's slate of races and those of the All Star Circuit of Champions. The subscription unlocks access to premium content across the entire FloSports network. Watch the events across all screens by downloading the FloSports app on iOS, Android, Apple TV, Roku, Amazon Fire and Chromecast.