2022 Tezos All Star Circuit of Champions at Sharon Speedway
Tezos All Stars Set To Invade Ohio For Sharon Nationals
Tezos All Stars Set To Invade Ohio For Sharon Nationals
The Tezos All Star Circuit of Champions will invade Sharon Speedway for two nights of racing during the Sharon Nationals.
Sep 1, 2022
by FloRacing Staff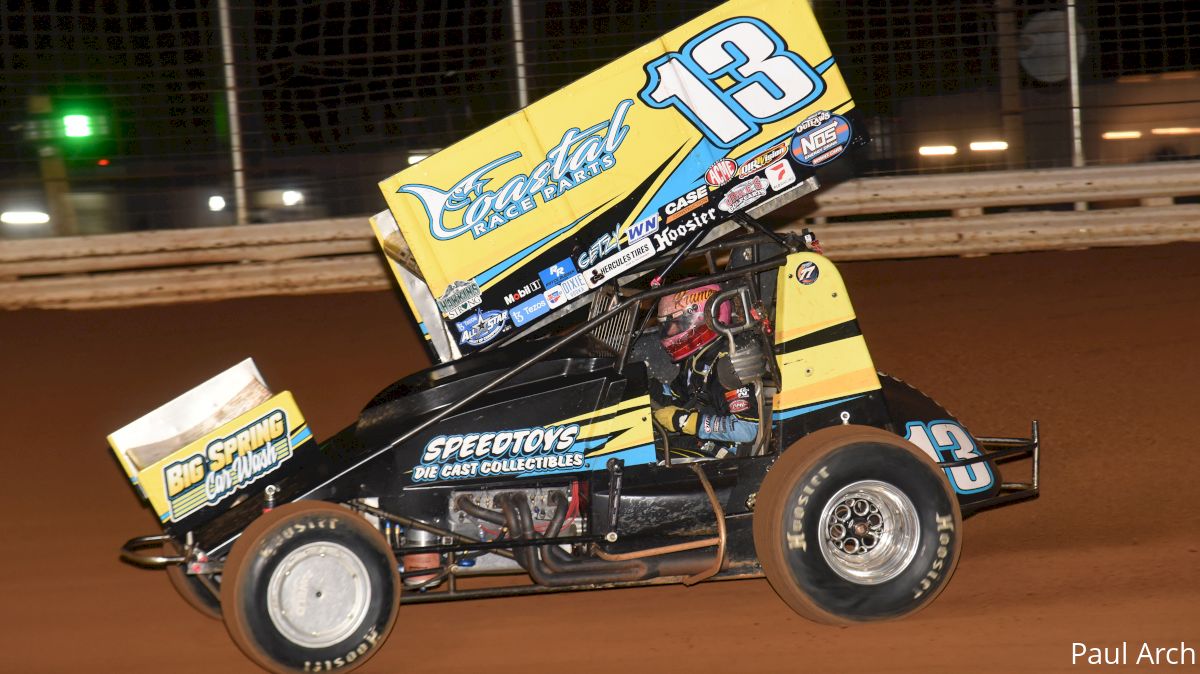 HARTFORD, OH -- Although recently concluding a busy summer stretch that included seven events in ten days, the Tezos All Star Circuit of Champions presented by Mobil 1 show no signs of slowing down, as "America's Series" is set to ignite the month of September with a heavy-hitting weekend in northeast Ohio.
Dubbed the Sharon Nationals, the two-day open wheel blockbuster, taking over Sharon Speedway headlines on Friday and Saturday, September 2-3, will feature back-to-back All Star Circuit of Champions programs awarding $6,000 and $12,000, respectively. Saturday's finale, the annual Lou Blaney Memorial, will commemorate the life and achievements of National Sprint Car Hall of Famer, Lou Blaney, as well as feature the All Stars at Sharon Speedway for the final time this season. As an added bonus to the event, and on behalf of Premier Pallets, a $100 purse increase for positions tenth through 24th will be applied.
Additionally, any competitor who is not a full-time All Star will also be eligible for a $2,200 Lou Blaney Memorial bonus; $1,000 on behalf of Premier Pallets and $1,200 on behalf of Ryan Blaney. The bonus will be awarded to the highest finishing non All Star full-timer in Saturday's A-Main.
Spencer Bayston, now at the helm of the CJB Motorsports No. 5, is the defending Lou Blaney Memorial champion at Sharon Speedway, earning an $8,000 payday over Cory Eliason and Bill Balog.
Although second in the current All Star championship standings, Buch Motorsports' Justin Peck is perhaps the hottest wheelman on tour, acquiring his most recent visit to All Star victory lane just two starts back in Lincoln Speedway's $7,300-to-win Kramer Klash. In fact, Peck was victorious on four occasions during the recent Tri-State Summer Swing presented by Elliott's Custom Trailers and Carts beginning with three consecutive at Utica-Rome Speedway, Bloomsburg Fair Raceway, and Bridgeport Speedway.
Indianapolis, Indiana's Tyler Courtney is currently on top of the championship standings padded by four podium finishes in his last six Series starts. The ace of the Clauson-Marshall Racing No. 7BC holds down a championship gap of 112 points. Cap Henry is currently third in the driver title chase, followed by Hunter Schuerenberg, Zeb Wise, Bill Balog, Chris Windom, and Kyle Reinhardt.
For those who can not witness the All Star Circuit of Champions live and in person, FloRacing.com, the official media partner and broadcast provider of the All Stars, has you covered. To access live and on-demand racing action from the All Star Circuit of Champions, visit FloRacing.com and become an annual PRO subscriber. Race fans can see all the USAC and dirt late-model action they want in addition to Eldora Speedway's slate of races and those of the All Star Circuit of Champions. The subscription unlocks access to premium content across the entire FloSports network. Watch the events across all screens by downloading the FloSports app on iOS, Android, Apple TV, Roku, Amazon Fire and Chromecast.