2022 Short Track Super Series at Georgetown Speedway
Surfs Up: Matt Sheppard Keeps Riding The Wave At Georgetown
Surfs Up: Matt Sheppard Keeps Riding The Wave At Georgetown
Matt Sheppard continued his stellar 2022 Short Track Super Series campaign by winning Thursday's Blast at the Beach at Georgetown Speedway.
Sep 1, 2022
by FloRacing Staff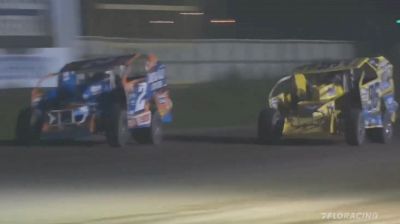 GEORGETOWN, DE – Matt Sheppard continued his otherworldly 2022 campaign, topping Thursday's Melon 1 'Blast at the Beach' presented by Sussex Diesel at Georgetown Speedway with the Bob Hilbert Sportswear Short Track Super Series (STSS) Fueled By Sunoco.
"No matter where we've been this year our racecar has been so good," expressed an elated Sheppard in Victory Lane. "It's nice to come back to Georgetown, we had a different race surface tonight, but we just had a really good car."
Sheppard survived a war of tire attrition to pick up his 28th career STSS triumph, second on the all-time win list and now just seven behind Stewart Friesen, the all-time leader in STSS wins.
The win for Sheppard was his seventh of the STSS season, and his second in the Hurlock Auto & Speed Supply South Region. The Savannah, N.Y. native took home $6,250 for his victory in the 35-lap affair.
Sheppard also took home the unique 'surfboard trophy' presented to the annual 'Blast at the Beach' winner.
"I was thinking about how the winner gets one of those cool surfboards and we don't have one yet so it's cool to finally have one," Sheppard expressed.
Following the Beyea Custom Headers redraw, Sheppard fired off from the fourth starting position. Sprakers, N.Y.'s Stewart Friesen and Boyertown, Pa.'s Mike Gular occupied the front row at the drop of series starter Joe Kriss' green flags.
Friesen led the opening two laps before Gular, using the outside groove, raced around Friesen and into the top spot.
One lap later, Sheppard used a slide job to pick Friesen off for the runner-up position and set his sights on Gular out front.
While Sheppard was trying to run down Gular, a three-car battle was heating up for fourth.
Elizabethtown, N.Y.'s Mike Mahaney and Frenchtown, N.J.'s Billy Pauch Jr. were nose-to-tail with Ringoes, N.J.'s Ryan Godown just car-lengths behind the fight between brothers-in-law.
On the eighth circuit, Gular opened the door for Sheppard.
The driver of the Terry Fasnacht-owned No. 2A slid wide, nearly over the embankment, ruining his momentum for corner exit and allowing Sheppard to drive by for the lead.
A yellow one lap later forced a restart that allowed Friesen to get by Gular as well to nab the runner-up spot. Friesen found another gear around the lap-15 mark, as he began to reel in Sheppard as the leader was working through lap traffic.
Friesen pulled up to Sheppard's back bumper on numerous occasions before a yellow came on lap 29 that would set the stage for a dramatic final six laps.
Milford, Del.'s Jordan Watson became the first to experience a flat tire.
One lap later, Friesen, running second, and Ryan Godown, running fifth, both pulled up lame.
Another yellow flew on lap 32, as Pauch Jr., who was running fourth, and Covington Township, Pa.'s Alex Yankowski, who was running seventh, both fell victim to flat right-rear tires.
The final three laps of the 'Blast at the Beach' clicked off without any further incident, awarding Sheppard the $6,000-plus payday.
Gular came home with the runner-up position.
"I realized right away we weren't gonna make it (on tires) if I kept running that hard, so I let them guys go, and it paid off with a second."
Mahaney, the defending South Region champion, rounded out the podium.
"I got hung up on the outside on a lot of those restarts and it shuffled us back, but I saved the right-rear enough for us to come back forward when other guys got flats."
Boyertown, Pa.'s Ryan Watt came home in fourth and as the Bintelli of Delmarva Street Legal Carts/Mullins Auto Broker $500 Hard Charger for the second consecutive South Region race.
Friesen took advantage of his fresh right-rear tire to make a late race charge to round out the top five and earned the Bob Hilbert Sportswear $250 Move of the Race Award.
Finishing sixth through 10th, respectively, were: Neshanic Station, N.J.'s Matt Stangle, who brought out the race's first yellow on lap nine with a cut left-rear tire; Bechtelsville, Pa.'s Jeff Strunk who limped across the line; Ryan Godown, who charged like Friesen after a late race flat to salvage a top-10; Milford, Del.'s Joseph Watson who came home with a quiet top-10; and Jordan Watson rounded out the top-10.
Heat winners, receiving $50 each from FloRacing, were Godown, Gular, and Sheppard.
Petersburg, N.J.'s Tom Sherby claimed his second career STSS victory in the Crate 602 Sportsman division, both of which have come in the 'Blast at the Beach.'
Sherby – who started from the pole – led all 25 laps of the main event.
Sherby took home a $1,500 payday for his efforts, topping Ryan Simmons, Joe Toth, Eric Kormann and Logan Watt.
Robert Smith topped an exciting Delaware Super Truck 12-lap feature, outdueling his brother Matthew Smith for the win. Jerry Hill rounded out the top three.
Jay Lowman captured his second consecutive Delmarva Charger feature, racing from last to top Geoff Carey and Garrett Smith.
Up next for the STSS is the 'New Yorker' at N.Y.'s Utica-Rome Speedway on Sunday, September 4 with a 50-lap STSS Modified event paying $25,000 to win (Halmar International 'Elite' Series Round No. 3 & River Valley Builders North Region Round No. 8).
Georgetown Speedway, originally constructed by Melvin L. Joseph in 1949, is located at the intersection of Route 113 and Speedway Road in Georgetown, Del., just miles from the Delaware beaches and less than a 40-minute drive from Ocean City, Md.
A website is live for the speedway at www.thegeorgetownspeedway.com. Like Georgetown Speedway on Facebook, follow @thegtownspdwy on Twitter, e-mail georgetownspeedway@gmail.com or contact the speedway hotline at 302.563.GTWN (4896).
To learn more about the Short Track Super Series Fueled By Sunoco, visit www.shorttracksuperseries.com, e-mail bdmotorsportsmedia@gmail.com, check out 'Short Track Super Series' on Facebook or @ShortTrackSS on Twitter or Instagram.