2022 Lucas Oil Late Model Dirt Series at Port Royal Speedway
Earl Pearson Jr. Ends 114-Race Skid With Big Win At Port Royal
Earl Pearson Jr. Ends 114-Race Skid With Big Win At Port Royal
Earl Pearson Jr. snapped a two-year winless drought during Saturday's Lucas Oil Late Model Dirt Series Rumble by the River at Port Royal Speedway.
Aug 28, 2022
by Kyle McFadden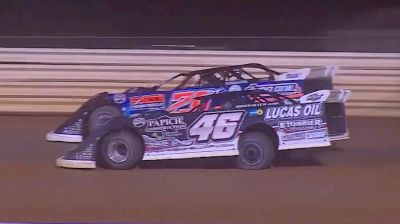 PORT ROYAL, PA — At Port Royal Speedway in April, Earl Pearson Jr.'s best shot to dismantle his long string of tough luck to date in Lucas Oil Late Model Dirt Series competition vaporized in a fierce battle for the win gone awry with Kyle Larson.
In short, Pearson battled for his first series win in two years — that is until Larson and Pearson wrecked in that battle for the win. Larson reverted back to his day job in the NASCAR Cup Series, while Pearson was left stuck dwelling that another race that got away.
On Saturday night, however, Pearson left the Juniata River Valley half-mile overdue no more, as the four-time Lucas Oil Series champion returned to winning form in monumental fashion: bagging the $50,000 top prize the Rumble by the River finale offered to do away with his 114-race winless skid on the tour.
Pearson led the final 41 laps from the fourth-starting position, needing to outduel Ricky Thornton, who led the first nine laps, down the stretch.
"What a heckuva show that was. Thornton ran me (hard)," Pearson said. "But, hey, it was a helluva race. I did all I could there. … Hell, I'm out of breath. I don't know. It was a heckuva race those last couple laps."
Whether in traffic or in open track, Pearson was forced to leave it all on the table in the final stages of Central Pennsylvania's richest-ever Late Model event. Over the final 13 laps, Thornton never fell back more than three cars from Pearson. The final six laps were followed the lone restart of the race for a slowing Tyler Erb on lap 44.
To that point, Thornton had erased a three-second gap and chased Pearson from the top side of the half-mile in traffic.
Pearson held the bottom in turns one and two steady, which seemed vulnerable at the time given how much ground Thornton gained pounding the top. In turns three and four, Pearson's car could work the bottom and middle-bottom to neutralize Thornton's closing speed. Over the final laps, Pearson's decision to stick with the bottom proved vital.
"I knew I had to change my line, go in low, and let it drift up because he's a master of the slide job," Pearson said. "If I didn't block the line, I knew what he was going to do. He did a heckuva job. I didn't know if I needed that caution or not like I said. My signal guy was telling me go high, go low, and I was doing everything I could. I was all over the place I think. Anyway, hats off to my crew guys and Jason Papich … everybody involved. Can't say enough.
"I don't know if I needed that caution or not. Anyway, it was a good race.
While the one and only caution is irrelevant in Pearson's post-race analysis, Thornton is more candid about how he wished the race flowed toward the end.
"I really didn't want that last yellow. I felt like I could move around pretty good before then," Thornton said. "I don't know. I tried a Hail Mary to slide him and knew I wasn't going to clear him. I wasn't going to run him over. Earl races all of us clean, so I left him a lane I didn't quite have enough, I don't think. I felt really good in one and two. He was committed to the bottom.
"Overall, a new car for this weekend, a couple good runs. We're definitely excited."
Pearson's last win came July 10, 2020, in a $12,000 payday at Kentucky's Florence Speedway. Saturday's victory was also his richest since Aug. 25, 2018, when he bagged $202,940 in the Dirt Million race at Mansfield (Ohio) Motor Speedway.
The longtime touring driver's latest triumph additionally makes it 40 career series wins, which joins him with Scott Bloomquist, Jimmy Owens, Jonathan Davenport and Don O'Neal as the lone drivers to accrue 40-plus Lucas Oil Series wins all-time.
"How many races did you say I haven't won in? 140 races? … 114 races? It's a long time coming," Pearson said, "Fifty-thousand, (I've been) good here (at Port Royal) several times. I like the big race tracks. It paid off."