2022 Lucas Oil Late Model Dirt Series at Port Royal Speedway
Jonathan Davenport Keeps Riding The Wave At Port Royal
Jonathan Davenport Keeps Riding The Wave At Port Royal
Jonathan Davenport planned on taking a break this weekend. Instead, he landed in Lucas Oil Late Model Dirt Series victory lane at Port Royal Speedway.
Aug 27, 2022
by Kyle McFadden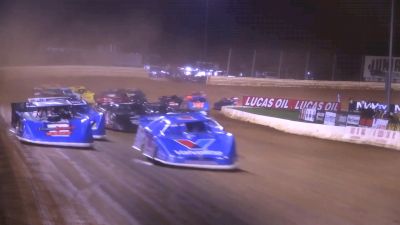 PORT ROYAL, Pa. — At the start of the week, Jonathan Davenport and crew viewed the weekend as a needed break before the crucial month of September. Then as Friday night segued into the wee hours of Saturday, Davenport found comfort in not the confines of his South Carolina home but in his fifth straight victory in Pennsylvania's damp Juniata River Valley.
Again throttling his nearest competitors, Davenport stayed hot to capture the second 25-lap Rumble by the River semifeature at Port Royal (Pa.) Speedway, which puts the sport's dominant force at the forefront of another $50,000 prize in the Lucas Oil Late Model Dirt Series event finale Saturday.
"We're just going to ride this wave as long as we can," said Davenport, who hasn't taken a weekend off since July 16.
Before that, Davenport and his sterling team had been idle for just two weekends since he ignited his dominant season with his first of seven wins paying $50,000 or more April 23 at All-Tech Raceway in Lake City, Fla.
The reason to keep racing extends beyond the drive to pad the pocketbook and, for that matter, advance the history books. Davenport initially planned to race Lucas Oil Series events next weekend at Portsmouth (Ohio) Raceway Park and Tyler County Speedway in Middlebourne, W.Va., preluding the monumental Sept. 7-10 week at Ohio's Eldora Speedway.
But instead of racing just days leading into the Dream's resumption at Eldora — which Davenport feels mighty confident in winning even from mid-pack — Superman is using this weekend at Port Royal as his last tuneup session before trekking to the Big E. That gives his team the ample time of more than a week to button up their efforts that could manufacture more legendary moments at the legendary half-mile.
"We just flopped our off-weekends … we've been gone so long, we haven't really had time to massage on our Eldora car a little bit," Davenport said. "We'll do that and work on it, and that'll give us a whole week rather than three days to get back to where we have to be there. And with the Dream pushing everything a day forward, we'll have a little time off for the guys and fine-tune the Eldora car."
If Davenport's Midas touch goes the distance again Saturday at Port Royal, it could lead to an unprecedented eighth payday of $50,000 or more this year. For perspective, the Lucas Oil tour's top two in points, Tim McCreadie and Brandon Sheppard, have won seven races combined all summer.
On Friday, Davenport didn't take the lead until seven laps left in the semifeature, but once he got by polesitter Chris Ferguson of Mount Holly, N.C., he put on the afterburners for what nearly became a five-second victory.
"You can never tell, this wave we're riding," Davenport said. "It could leave us this weekend. We'll continue doing what we can. We're focused on tonight, and then after we leave here, our focus will shift toward Eldora. Then, we'll get ready for that."
O'Neal on the charge … again
While Jonathan Davenport ran away with another victory Friday and Chris Ferguson showcased speed in line with the sport's dominant force, Hudson O'Neal put on a show of his own not too far behind the podium finishers in the second semifeature.
Starting 10th and finishing fifth, the Martinsville, Ind., wheelman clicked off lap times on par with Davenport and Ferguson in the middle to late stages of the 25-lap event. If it wasn't for a near run-in with Tyler Erb on lap two — which O'Neal chalked up as a racing deal — perhaps the young driver would have joined Davenport and Ferguson on the podium.
"We had a really good start … I was up to sixth right there and then Tyler jumped the cushion and got loose. Part of it, then I got into him in the left-rear," O'Neal said. "It almost took us out of the race. It's one of those things … it's easy to do and jump that cushion tonight. But no, we have a really good race car."
O'Neal made virtually all his gains — from 12th on lap two to fifth by race's end — pounding Port Royal's advantageous cushion that gradually built up thanks to a rainstorm from earlier in the night that delayed the program two hours. O'Neal fell as many as seven seconds behind the leaders, but, with 10 laps left, he shaved two seconds off that margin and looked a lot like his winning self at Port Royal from a year ago.
"It's kind of fun, whenever you can get up there and charge that top, you can," O'Neal said. "You can really make some ground and stuff. It gets fun. This thing raced good for our feature and hopefully they can get us the same racetrack tomorrow."
O'Neal won a feature at Port Royal last August that became his fifth win in a 10th race span. Heading into Saturday, he's in a similar position, having won four times over his last 12 races. He's also fresh off a 16th-to-second charge that fell short only to Davenport in last weekend's Topless 100 at Batesville Motor Speedway in Locust Grove, Ark.
"For us to be able to pass three or four, fall back, and then pass all of them again, I feel really good about that," O'Neal said. "I think we have a really good hot rod. As long as we can continue to do good, continue to make the right changes, I think we'll be all right.
"A lot can happen in (60) laps around here, and hopefully we're on the good end of it." — Kyle McFadden
Rookie's rough night
Spencer Hughes was already in street clothes minutes after the completion of Friday's time trials, signaling that his night of racing was over.
But for the 21-year-old Lucas Oil Late Model Dirt Series rookie and his crew, an evening of work was just beginning. After scratching from further competition because both of his PCC Motorsports cars had been sidelined — one by a grinding crash during hot laps, the other by terminal engine trouble in time trials — Hughes and his boys found themselves scrambling to piece together one machine for Saturday's Rumble on the River finale.
Hughes was left shaking his head in exasperation after being struck by misfortune twice in short order.
"I called (team owner) Craig (Sims) and said, 'I don't know what to do,' " Hughes related.
Hughes's nightmare of an outing began when he plastered the turn-three wall during his practice session. He said his Longhorn car's nose folded under as he caught the cushion entering the corner, turning him into the steel guardrail.
"That was the hardest lick I ever took," said Hughes, who escaped the incident without injury.
The right side of his car was heavily damaged, so the PCC crew pushed it to an opening between trailers in the pit area and hastily unloaded their second mount. Hughes made it to the track in time for qualifying but experienced motor woes that had him limping back to the pits.
With a backup engine in the trailer in need of freshening and the team not wanting to pull out the crashed car's engine and bolt it into the undamaged mount, they decided to undertake the task of repairing the mangled No. 11. Hughes and Co. spent the remainder of the night stripping down much of the damaged machine, straightening bent frame rails as best they could and replacing demolished components (rear end end, driveshaft, suspension pieces, etc.).
"We'll get it fixed," Hughes asserted. — Kevin Kovac
Despair at Longhorn
Matt Langston could only sigh in despair when asked Friday night about the cloud of grief hovering over the Longhorn Chassis shop in Trinity, N.C., following the tragic midweek passing of young employee Ethan Mastro.
"It's such a sad situation," said Langston, a Longhorn staffer and crew member for Paylor Motorsports driver Tim McCreadie.
Mastro, 20, of Salisbury, N.C., died Wednesday night in a single motorcycle accident in China Grove, N.C. His passing came shortly after he had finished working for the day at the Longhorn shop.
According to Langston, Mastro joined the Longhorn workforce just a few months ago. A graduate of Pit Weld U in Mooresville, N.C., he was hired as a fabricator and welder.
"His grandfather called (Longhorn's) Justin (Labonte) to ask about Ethan getting a job at Longhorn," Langston said. "He was such a good kid. He got along with everybody in the shop, he was happy-go-lucky, willing to learn."
Langston said Mastro had been tasked with fabricating some of Longhorn's smaller pieces, but "he was good enough that we were eventually going to work him into the chassis side."
Added Langston: "There's not a person in the shop who didn't like the kid." — Kevin Kovac
Odds and ends
Brandon Sheppard's $5,000 victory in Friday's first semifeature came after he spent Thursday testing with the Rocket Chassis house car team at Dog Hollow Speedway in Strongstown, Pa. "We've been racing so much we haven't had much time to test," said owner Mark Richards. … Lucas Oil Series points leader Tim McCreadie of Watertown, N.Y., finished sixth in the second preliminary race after running the final six circuits with his Paylor Motorsports Longhorn house car smoking heavily because of a busted oil line. His machine sat in the pit area afterward with smoke still wafting from its engine compartment and oil dripping off its bodywork — and his crew beginning to work on an engine change. … Earl Pearson Jr. of Jacksonville, Fla., took an unusual path to his runner-up finish in the first semifeature. "I told Shepp (winner Brandon Sheppard), 'What were you doing running the middle to the bottom while I was running up against the wall?' " quipped Pearson, a well-known inside runner who advanced from sixth to second using largely the outside line. … Michael Norris of Sarver, Pa., completed a 10th-to-fifth run in the first semifeature with a last-lap outside pass of Hall of Famer Gary Stuhler of Greencastle, Pa. "The handling (of the car) was a little off early on (in the night), but we were way better in the feature," he said. ... Gregg Satterlee of Indiana, Pa., saw his charge in the second semifeature stall at third place, but he remarked afterward that his car was "probably better" than it was in his April Lucas Oil Series victory at Port Royal. "The track's totally different," he said, "but it seems like we got our car in the racetrack a little more." … Chris Ferguson nearly missed the chance to go quick time in Group B on Friday when his shifter malfunctioned taking to the half-mile racing surface. Ferguson, who stalled on the homestretch and needed a push to restart for his qualifying laps, said his issues were resolved during the rain delay. … Rick Eckert of York, Pa., who is pulling double-duty at Port Royal with a modified ride, had his self-owned Late Model's battery and starter go bad during hot laps. His crew replaced the problem parts in time for the veteran to report for qualifying and he went on to finish ninth in the first semifeature. … Jason Covert of York Haven, Pa., retired from the first prelim with a busted oil pump belt on his Cameron-Mann Motorsports machine. With no backup engine available, it appeared Covert's weekend was done. … Drake Troutman of Hyndman, Pa., competed in Friday's Mid-Atlantic modified program but acted as a bystander when it came to the Late Model portion of events. Troutman is depleted of Super Late Model motors and hopes to be ready to race in the division again during November's World Finals at The Dirt Track at Charlotte. … After a rain delay of more than two hours after time trials, the second semifeature's checkered flag fell at 12:33 p.m. … The late hour prompted Port Royal officials to postpone the completion of the track's Aug. 6 Late Model feature, which was scheduled to close Friday's program, to after Saturday's finale. Four of the race's 25 laps were run before rain hit three weeks ago.