2022 ARCA Menards Series at Milwaukee Mile
Women Making ARCA History Sunday At Milwaukee Mile
Women Making ARCA History Sunday At Milwaukee Mile
History will be made during Sunday's ARCA Menards Series race at the Milwaukee Mile when six female drivers take the green flag.
Aug 26, 2022
by Brandon Paul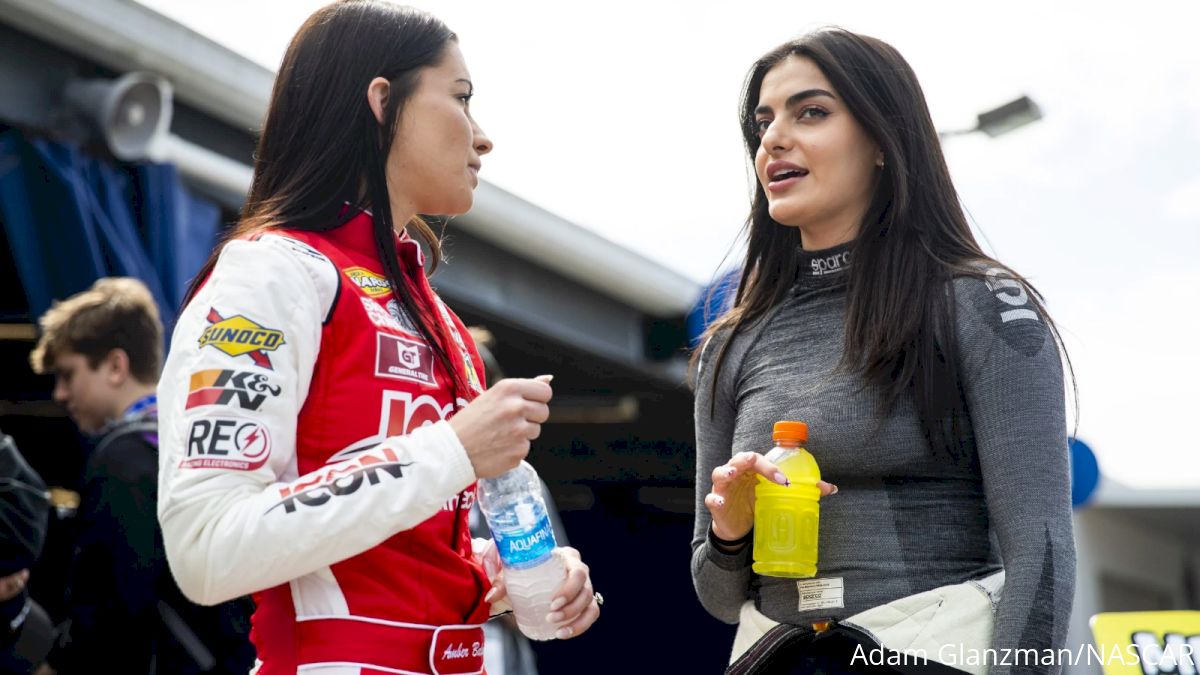 The ARCA Menards Series will see a new diversity milestone reached when drivers take the green flag for Sunday's Sprecher 150 at the Milwaukee Mile (3 p.m. ET on MAVTV and FloRacing).
A total of six women are entered to race on the legendary one-mile paved oval in West Allis, Wisconsin. That's the most in a single event over the ARCA Menards Series' storied history.
Toni Breidinger, Amber Balcaen, Amber Slagle, Rita Thomason, Mandy Chick and Stephanie Moyer all are on the entry list for the 15th race of the 2022 ARCA Menards Series season. A combination event, the race also serves as the sixth leg of the ARCA Menards Series East season and Round 8 of this year's Sioux Chief Showdown.
Breidinger and Balcaen are the series regulars of the group. Breidinger, driving the No. 25 Chevrolet for Venturini Motorsports this season, ranks fifth in series championship standings on the strength of four top-10 finishes.
The driver of the No. 30 Ford for Rette Jones Racing, Balcaen ranks sixth in championship points despite a brutal stretch of bad luck all summer. Either accidents or mechanical issues have doomed her in each of the last eight races. Before that, she had reeled off three consecutive top-10 finishes.
Slagle on Sunday will make her first ARCA Menards Series (national) start, but she is no stranger to the garage. Not only does she have five ARCA Menards Series West starts on her resume, including two this year, but she serves as a mechanic for Cook Racing Technologies when she's not driving. Slagle also is an accomplished late model racer.
Thomason, a full-time police sergeant in Tuscaloosa, Alabama, is in line for her fourth ARCA Menards Series start.
When she made her series debut in June, Thomason was believed to be the first openly LGBTQ woman to compete on the ARCA Menards platform.
Chick at Milwaukee will make her second ARCA Menards Series start a little more than a month after her debut at Lucas Oil Indianapolis Raceway Park.
Her father Steve Chick Jr. fielded a part-time NASCAR Camping World Truck Series entry for three seasons from 2002-04, and after racing late models for the last seven years, the Chick family decided it was time for Mandy to take the next step. They recently purchased equipment from Visconti Motorsports to launch their own ARCA Menards Series program.
Moyer has been a full-time entry in the East Series this season driving for Andy Hillenburg's Fast Track Racing, and she ranks fourth in the series' championship standings despite luck not being on her side.
Moyer experienced mechanical issues in four of the five East Series races thus far this season, but she earned a top-10 finish (ninth at New Smyrna) when able to run undeterred.
Brad Smith reaches career milestone
To say Brad Smith is a staple in the ARCA Menards Series garage would be an understatement.
This is made evident by the fact that his run at the Milwaukee Mile on Sunday will mark Smith's 400th career start in the ARCA Menards Series.
Smith's ARCA career began in 1988, when he ran 12 races in a Chrysler last raced by Buddy Arrington. Thirty-four years later, Smith is still wheeling his own car on a full-time basis in the series. He will be only the third driver in series history to reach 400 starts.
There's no better way to describe Smith's career in one word than resilient. Smith and his small team of volunteers have remained committed to going ARCA racing despite having to overcome obstacles that include a harrowing crash at Talladega that resulted in a lengthy hospital stay, plus the tragic death of former car owner and fellow underfunded independent James Hylton. In the face of adversity, Smith has kept coming back to the track.
Smith has a pair of top-10 finishes in his career, with his best run being a ninth-place finish at Indiana's Winchester Speedway in 2020. But for Smith, these efforts are more about the passion than the results.
"I love the racing," Smith recently told the Macomb Daily. "It's still exciting to get in the car and fire it up. When we're doing parade laps, you get goosebumps before taking the green flag."
Matt Gould set for ARCA Menards Series debut
Familiar drivers like Smith at Milwaukee will be joined by a new face, as 16-year-old Matt Gould will make his ARCA Menards Series debut driving the No. 40 Niece Motorsports Chevrolet.
Gould's father Phil, who serves as Niece Motorsports competition director and the crew chief of the No. 42 Chevrolet Silverado in the NASCAR Camping World Truck Series, will act as his son's crew chief at Milwaukee.
"The whole process leading up to this weekend has been a dream for me," Gould said. "Getting to work with my dad all throughout the summer preparing our No. 40 Niece Chevrolet has been a great learning experience for me."
"I'm looking forward to logging laps this weekend and getting a feel for these cars so that we can run more races down the road."
Gould regularly races late models at North Carolina's Hickory Motor Speedway, where he picked up a victory in April.
Notes
The Sprecher 150 at the Milwaukee Mile is the penultimate race of the 2022 East Series season. Kyle Busch Motorsports' Sammy Smith holds a 27-point lead in the East Series championship standings over David Gilliland Racing's Taylor Gray. The series closes next month with another combination event alongside the ARCA Menards Series (national), the Sioux Chief Showdown 200 at Bristol Motor Speedway. Smith is the defending East Series champion.
In the ARCA Menards Series championship race, points leader Nick Sanchez has built a 13-point lead over second-place Daniel Dye and a 17-point lead over Rajah Caruth, his Rev Racing teammate. Sanchez finished 12th last season at Milwaukee, one spot ahead of Caruth. Dye will make his Milwaukee Mile debut Sunday.
Jake Finch will make his second ARCA Menards Series start Sunday at the Milwaukee Mile driving his family-owned No. 1 Toyota. Finch finished seventh in his series debut at Pocono Raceway last month.
Landon Pembelton, the 2021 winner of the ValleyStar Credit Union 300 Late Model Stock Car race at Martinsville Speedway, returns to Venturini Motorsports for his second series start.
Jesse Love, fresh off his victory on the Springfield Mile at the Illinois State Fairgrounds last Sunday, will look for his second straight ARCA Menards Series victory aboard the No. 20 Toyota for Venturini Motorsports.