2022 Kyle Larson High Limit Open Pres. by K1 RaceGear at Lincoln Park
Buddy Kofoid Making The Month Of August A Memorable One
Buddy Kofoid Making The Month Of August A Memorable One
Buddy Kofoid charged from his ninth starting spot and pounced late to win the inaugural High Limit Open Sprint Car race Tuesday at Lincoln Park Speedway.
Aug 17, 2022
by Brandon Paul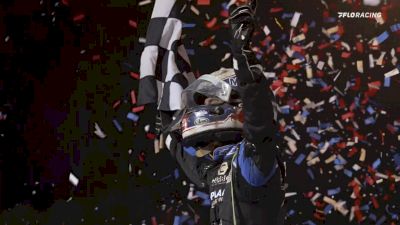 Buddy Kofoid is doing his best to make August 2022 a memorable month in his racing career. After scoring the biggest Midget win of his career in the BC39 at Indianapolis Motor Speedway on August 4 and collecting Knoxville Nationals Rookie of the Year honors last weekend, Kofoid made history Tuesday night at Lincoln Park Speedway.
The 20-year-old from Penngrove, California charged from the ninth starting position to win the inaugural Kyle Larson High Limit Open presented by K1 RaceGear. Tuesday's stand-alone event was promoted by NASCAR Cup Series champion Kyle Larson and World of Outlaws champion Brad Sweet in advance of the mid-week High Limit Racing Series that will launch in 2023.
"I think it's a really big deal," Kofoid said of the new series. "I believe everything that Kyle and Brad have preached about with why they started this series. There's a lot of big-money races, but having mid-week races gives all of us drivers that race for a living more chances to contend, get better, make more money and put on better shows for the fans. An average Tuesday you wouldn't be racing, so I think $23,500 is a pretty good Tuesday."
Kofoid's path to victory lane wasn't easy, as he started the 35-lap race from the ninth position with some of Sprint Car racing's best starting in front of him.
Polesitter Brady Bacon dominated the first half of the race and led the first 18 laps before Justin Sanders powered around the outside to take the lead on lap 19. A few laps later, Kofoid began making moves as he went from sixth to third in the matter of three laps. From there, he began chasing down Sanders and second-place runner Cory Eliason.
After a few hiccups trying to get past Eliason for second, Kofoid powered around Eliason on lap 28 before diving to the inside of Sanders and taking the lead on lap 29.
"A part of it I don't remember," Kofoid said of his winning move. "Justin was on the top, which was where I was running, and I was not getting off the top. Cory was on the bottom, so I figured if I could get to Cory before he got to the top and then get to Justin I could slide him and maybe get him. I'd get to Cory and then mess up and fall back, get to Cory mess up and fall back. I was like, 'I need to stop messing up.'
"I finally got around Cory and I think Justin might have got tight on the curb and went to the bottom in three and four. I ran three and four better than I probably had all day. I got to his bumper and slid him into one and was able to get to the cushion before he could get back around me."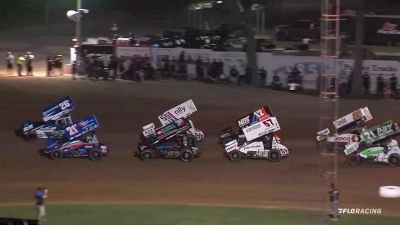 VIDEO: Watch highlights from the inaugural High Limit Open at Lincoln Park Speedway.
Sanders held on to finish second in the Swindell SpeedLab No. 39 and Eliason completed the podium. NASCAR Cup Series driver Ricky Stenhouse, Jr. finished fourth and Zeb wise rounded out the top five. Race promoter Kyle Larson rebounded to finish 10th after suffering a flat right rear tire on lap 19.
Originally, the High Limit Open was slated to pay the winner $22,022. However, an additional $500 bonus for each A-Main starter put up by the Durst family and a $10,000 bounty split between the nine drivers who beat race promoter Kyle Larson brought Kofoid's winnings to $23,622.
A big paycheck on a Tuesday night was a cherry on top of what has been a stellar month of August for the rising star.
"It's been really good for me," Kofoid said of his successful month of August. "I feel like the more I race different cars, the better I get. I feel like running the Midget at Indianapolis and winning there was a career moment that paid good money at probably the greatest race track in the world. And then running well at Knoxville, I think my prelim night was only my third race there."