2022 NASCAR Pinty's Series at Ohsweken Speedway
Friesen & Schrader Joining NASCAR Pinty's Series Tuesday On Dirt
Friesen & Schrader Joining NASCAR Pinty's Series Tuesday On Dirt
NASCAR stars will compete against the Pinty's Series' best at the first dirt race in series history at Ohsweken Speedway in Ontario
Aug 15, 2022
by NASCAR Roots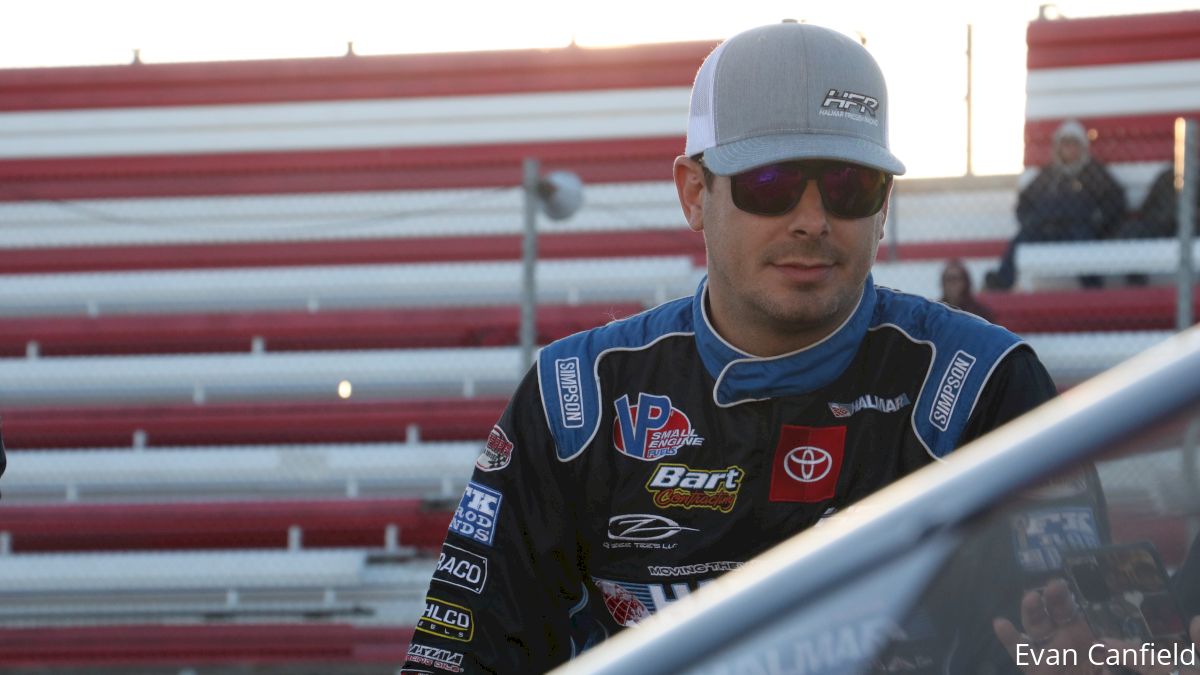 (Editor's Note: Although he was on the original entry list for the event, NASCAR Cup Series driver Christopher Bell is not expected to compete in Tuesday night's race.)
After originally being announced back in December of 2019, the NASCAR Pinty's Series is set to make its dirt track debut at Ohsweken Speedway for round ten of the 2022 season.
Following a trend that first began when the NASCAR Camping World Trucks Series took to the dirt at Eldora Speedway, the NASCAR Pinty's Series is the latest NASCAR series to go dirt racing. The Cup Series has done it twice now at Bristol Motor Speedway, the ARCA Menards Series West (formerly the K&N Pro Series West) has raced on dirt multiple times at the Dirt Track at Las Vegas Motor Speedway, and the ARCA Menards Series has been racing on dirt miles for years.
Now our friends of the Great White North get to give it a shot on Tuesday, August 16 at Ontario's Ohsweken (Osh-Week-en) Speedway. Ohsweken is a 3/8-mile dirt track located about two hours southwest of Toronto, just south of the very western edge of Lake Ontario.
The 3/8-mile oval in Ohsweken, Ontario, founded by Pinty's Series driver, Glenn Styres, will play host to 100 laps of dirt slinging action.
Many dirt track stars from Canada and the U.S. will be in attendance for the series' first race on dirt, including Canadian Stewart Friesen from the NASCAR Camping World Truck Series, former Cup Series driver Ken Schrader and Ohsweken local, Aaron Turkey.
Oh, and let's not forget the series regulars who put on some of the most exciting races in all of racing on a weekly basis. Alex Tagliani, Marc-Antoine Camirand, Kevin Lacroix, Alex Guenette, and Raphael Lessard have made Pinty's Series racing appointment television. If you haven't been watching the NASCAR Pinty's Series this season, you are missing out.
23 cars are entered for the historic event, and the win is anyone's to claim.
Race
Pinty's 100
Date / Start Time
Tuesday, August 16, 2022 @




9:38 p.m. ET

Track / Location
Ohsweken Speedway (Ohsweken, ON)
Live Stream
Canada: TSN.ca/ TSN app




USA: FloRacing





Schedule
Tuesday, August 16, 2022
Tues. Aug. 16 @ 2:00 p.m. ET
Credentials Opens for NASCAR Teams
Tues. Aug. 16 @ 2:30 p.m.
Garage Opens
Tues. Aug. 16 @ 4:00 – 4:45 p.m.
Autograph Session (Stage)
Tues. Aug. 16 @ 6:00 p.m.
Credentials Closes for NASCAR Teams
Tues. Aug. 16 @ 6:30 – 7:00 p.m.
Practice Session
Tues. Aug. 16 @ 7:30 – 8:00 p.m.
E3 Spark Plugs Pole Award Qualifying Heats (10 laps)
Tues. Aug. 16 @ 9:25 p.m.
Driver Introductions
Tues. Aug. 16 @ 9:38 p.m. ET
Pinty's 100




Competition


Track Layout
3/8-mile dirt oval
Laps / Miles
100 laps / 50 miles
Qualifying Format
10 lap Qualifying Heats




The winner of heat race No. 1, will be awarded the pole

Starting Lineup Procedures
1-21 Fastest 21 cars in qualifying




22-23 Provisional spots based on 2022 owner standings

24-25 Provisional spots based on 2022 driver standings

26+ Past champion provisional

Race Procedure
Three Segments – breaks at or near the conclusion of lap 25 & 50
Tire Allotment
Two sets – 1 for Practice and 1 for Qualifying & Race.