2022 Lucas Oil North/South 100 at Florence Speedway
Jonathan Davenport Collects Another Big Check At North-South 100
Jonathan Davenport Collects Another Big Check At North-South 100
Jonathan Davenport continued his hot summer and collected another big check in Saturday night's North-South 100 at Florence Speedway.
Aug 14, 2022
by FloRacing Staff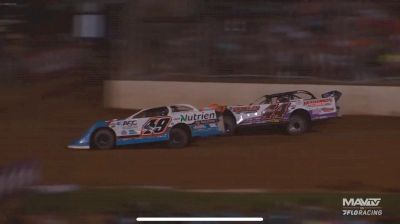 UNION, Ky. — The Summer of Jonathan Davenport rolled on Saturday night at Florence Speedway.
Adding yet another flourish to his spectacular season, the 38-year-old superstar from Blairsville, Ga., dominated from flag-to-flag to capture the 40th Sunoco North-South 100 and the race's record first-place prize of $75,000.
Aside from a fleeting early challenge from Dale McDowell of Chickamauga, Ga., and a late threat from defending race champion Brandon Overton of Evans, Ga., Davenport raced alone in front for the entire distance. The feature's polesitter beat Overton to the finish line by 1.017 seconds to become a two-time victor in the half-mile oval's marquee Lucas Oil Late Model Dirt Series-sanctioned event.
McDowell settled for a third-place finish after running second for all but two of the race's first 56 circuits. Ricky Thornton Jr. of Chandler, Ariz., advanced from the 11th starting spot to finish fourth and 13th-starter Mike Marlar of Winfield, Tenn., completed the top five.
Davenport's triumph, along with his $5,000 score in a 25-lap semifeature on Friday, pushed his 2022 earnings to an astounding $1,620,344 — already an all-time single-season record for the Dirt Late Model division. His Eldora Million victory on June 9 at Eldora Speedway in Rossburg, Ohio, tops his list of 15 wins, but the North-South 100 marked his sixth checkered worth at least $50,000.
What's more, Davenport led every circuit of a 100-lap crown jewel race for the second consecutive week, following up his $50,000 success in Aug. 6's World of Outlaws Case Late Model Series-sanctioned USA Nationals at Cedar Lake Speedway in New Richmond, Wis.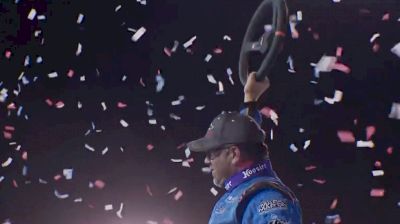 VIDEO: Hear from Jonathan Davenport and the rest of Saturday's top finishers.
Davenport's latest big-money conquest had its degree of difficulty reduced before a lap was completed when his top rival for Driver of the Year honors, Chris Madden of Gray Court, S.C., ran into immediate trouble. Starting outside of Davenport on the front row of a crown jewel race for the second week in a row, Madden was outside of J.D. in turn three on the opening circuit when his car hit the cushion awkwardly and bounced several times. Madden's car came to an abrupt stop, his hopes done due to a broken j-bar and driveshaft.
Would Madden have been a more formidable challenger to Davenport? Perhaps, but the driver known as Superman appeared ready for all comers with a Double L Motorsports Longhorn machine that ran to perfection.
"We just made one adjustment from last night," Davenport related. "I said our car was pretty good (on Friday) but there was just one thing we needed to work on. We talked about it all day and just made one little adjustment.
"These Longhorn chassis, they react to the smallest adjustments that you make to 'em, so that's definitely a blessing. That just tells you how good these cars are. We were just one little adjustment away from being great right there."
The only worry Davenport had during the 100-lapper was making the right lane choice as the race wound down. His "cautiously aggressive" approach with lapped traffic helped him build an edge of over two seconds on Overton, who grabbed second place from McDowell on a lap-56 restart, but the gap proceeded to shrink gradually over the final 20 circuit and, on lap 95, Overton had it under one second.
It appeared Overton was primed for a final push to become the first back-to-back North-South 100 winner since Don O'Neal of Martinsville, Ind., in 2012-13. But after the 31-year-old driver closed within a half-second as lap 98 was scored, he drew no closer and actually lost a half-second to Davenport on the final lap.
"The groove moved around quite a bit right there and I didn't really know where to be at the end," said Davenport, who previously won the North-South 100 during his historic 2015 campaign. "It got so slow and slick, I was just trying to mash the gas less and less. Then, I don't even know if it was (crew chief) Jason (Durham), I just seen somebody in the infield just started waving one of those (signal) sticks, and I saw the 76 (Overton) on the board and I knew he was getting closer to me so we just moved up there (higher on the track).
"I guess it was just in enough time because (Overton) must have been coming pretty strong up there. I figured it was just way too dirty up there and there was no line to be had, but obviously he was making it work."
Overton most definitely closed in on Davenport, but his hopes rested on one factor.
"For him not to move," Overton said of Davenport. "We wascatching lapped cars so I was starting to move around a little bit. I don't know if I could gain on him, but I could definitely get a better run off (turn) two here.
"When he moved up in front of me the lapped cars were dirtying the bottom back up … so congrats to them, man. They're getting after it and everything's going their way, so we'll just take our second and go home."
Overton ran a smooth, steady race, slowly moving up from the sixth starting spot to net a $20,000 runner-up finish in his David Wells-owned Longhorn car.
"I could see Dale (McDowell), just kind of judging off him (early in the race)," Overton said. "We always have a caution here — I don't think it ever goes a hundred all green — so I just got behind him and rode and just made sure I didn't mess with the lapped cars to hurt my tires so if we did have a restart I could make a charge at the end.
"I saved as long as I could. Just didn't save enough I guess."
The 56-year-old McDowell got as close to Davenport as anyone — for laps 13-20 he raced within a couple car lengths of the leader — but ultimately didn't have sufficient speed in his Team Zero car.
"Early I thought we had a shot," said McDowell, a 13-time North-South 100 feature starter who matched his career-best finish in the event (he was also third in 2013 and '16). "I think all of us had our times in the race when we'd go and fade. I was a little bit tight, a little bit rigid … it took me long runs.
"But heck, I'm happy. These young guys are really showing out. J.D.'s had an awesome year, and Brandon … just all these guys. It's fun to race with these guys as I'm getting a little older."
After Madden brought out a caution flag without a lap in the books, the race was slowed just twice more: on lap 56 when Tyler Erb slowed a flat right-rear tire and lap 63 when Hudson O'Neal stopped on the track. Both drivers lost potential top-10 runs due to their troubles.
Notes: Davenport, who made his 10th career North-South 100 feature start, became the 11th driver with multiple victories in the event. … Seventh-starting Zack Dohm of Cross Lanes, W.Va., briefly climbed as high as third (lap 57) before slipping to a sixth-place finish. It was one position worse than his career-best run in the North-South 100 and his fourth top-10 finish in five career feature starts. … Tim McCreadie of Watertown, N.Y., advanced from the 20th starting spot to finish seventh. He pushed his Lucas Oil Series points lead to 200 markers over Brandon Sheppard of New Berlin, Ill., who was never a factor in finishing one lap down in 15th. … Heat winner Spencer Hughes of Meridian, Miss., briefly slipped past McDowell to run second for laps 2-4 but faded badly during the race's second half, finishing one lap down in 14th. … Earl Pearson Jr. of Jacksonville, Fla., pitted during the pace laps because a loose oil line spewed oil all over his car's hood. His car tightened up the line and he salvaged an 11th-place finish after starting at the tail. … Pre-race favorite Josh Rice of Verona, Ky., was added to the field as a track provisional after smacking the wall while holding a transfer spot in his heat. He made no headway in the feature, however, gong a lap down by the 28th circuit and retiring three laps later. … Daulton Wilson of Fayetteville, N.C., started the feature from the rear in his teammate Justin Rattliff's car after experiencing mechanical trouble with his mount. ... Florence promoter Josh King and Lucas Oil Series officials announced before the race that the 2023 North-South 100, scheduled for Aug. 10-12, will again be part of the national tour.