2022 Knoxville Nationals
Donny Schatz Upends David Gravel For 11th Knoxville Nationals Title
Donny Schatz Upends David Gravel For 11th Knoxville Nationals Title
Now an 11-time champ of The Granddaddy of Them All, Donny Schatz adds to his legacy in Knoxville.
Aug 14, 2022
by Kyle McFadden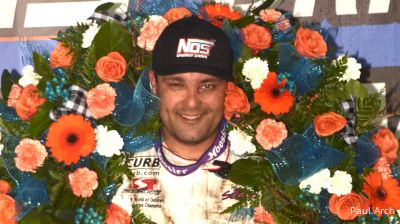 It's been five years, but add another Knoxville Nationals title to Donny Schatz's prolific resume.
The future National Sprint Car Hall of Famer righted the ship after the halfway break of the 61st running of The Granddaddy of Them All, turning the tide from sixth to overtake David Gravel with five laps to go and win his 11th Knoxville crown jewel.
Gravel, the 2019 event champion, finished in the runner-up spot 0.747 seconds behind Schatz at the checkers. Logan Schuchart rounded out the podium with his drive from the 17th-starting position.
"It feels like the first time, I can tell you," Schatz said. "It definitely feels harder and harder and harder (to win the Knoxville Nationals).
"We dug ourselves a hole there at the start. Stayed on the top and guys were going by on the bottom. I had to change it up. I just could not get the right-rear stuck. I couldn't get the motor to quit spinning the tires. I didn't think we'd get the motor to quit spinning the tires, but (crew chief Steve Swenson) knew how frustrated I was at the break.
"We've been racing together a long time and he knows how to push the buttons. He always has. He pushed the buttons and got us in a spot where we had a car that I could get myself slowed down and get myself caught up. And finally get to David at the end."
This year's Knoxville Nationals race for the title seemed more wide-ranging and wide open than years past, as no Sprint Car driver gave the impression of a clear-cut favorite entering the week.
On the same token, Schatz emitted the vibe all week in Knoxville that he was in no way going to lose Saturday's main event.
"We're done with seconds," Schatz said during an interview with a track announcer during a B-main caution period on Saturday night.'
Hang around Schatz long enough — or watch how he races intently enough — and it's obvious he hates losing more than he rejoices in winning itself. On Saturday, Schatz willed another memorable Knoxville moment into existence, needing to track down and dismantle Gravel in open track on a restart with 11 laps to go.
Traditionally, open track for the leader running predominantly around the top in the final laps means the threshold of a trip to victory lane. But Schatz, who sold out on his hallmark bottom groove in the climatic stages, knew Gravel had been a "sitting duck" even if the laps were clicking away.
"He couldn't see what was going on behind him, me coming to him," Schatz said. "That's one of the natures of the beast. I've been in that position before, so had he moved around — had he hit traffic — he might've moved around and found something. We hit it just perfect."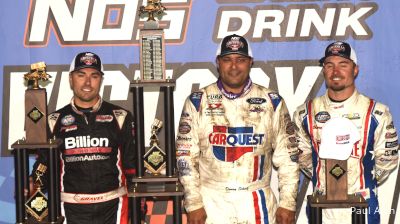 David Gravel can't outlast Donny Schatz at Knoxville.
One move was required of Schatz to put away Gravel, who on lap 28 passed Tyler Courtney for the point position, when he cleared the Big Game Motorsports driver via a slide job into turn three. Schatz came on so quickly that Gravel didn't nearly have as much time to counteract.
"I typically hate running the top here at Knoxville, but after they tilled it up, it was just so fast around the top; literally wide-open around one and two," Gravel said. "I felt pretty good. Had a couple wiggles there off of two. I was really close to the wall. In the perfect world, I should have searched around. But nothing showed me to really to do that. Usually if he was going to be diving into one I would have seen his nose going into one. I never did. He got a good run down the backstretch and was able to slide me going into three.
"Yeah, I like running the lane that Donny ran, but it's one of those things it's better to run second and search around. You have a little bit less to lose. I felt like if I went low and missed a corner, he was going to pass me anyways. I was just trying to get to the end. We just came up a little short."
Reigning Tezos All-Star Circuit of Champions champion Tyler Courtney led a race-high 26 laps and finished fourth.
Polesitter and Knoxville regular Austin McCarl led the opening lap, but couldn't keep Courtney — the outside polesitter — behind him for long. McCarl actually stayed in a podium position through lap 31. On lap 37, he brought out a caution for a flat right-rear tire.
McCarl eventually finished 16th, and he also wasn't the only frontrunner who got bit by tough luck. Reigning champion Kyle Larson lost the fifth spot on lap 13 because of a flat right-rear tire and while he rallied to finish sixth never reentered the top five.
Carson Macedo, too, was inside the top-five with 13 laps to go as a flat right-rear spiraled him down the running order. Brent Marks didn't suffer any flat right-rear tires, but had an issue with the new right-rear tire he bolted on at the halfway break in the second-half of the race.
Marks had swiftly moved from seventh to fourth before the lap-25 break and put McCarl under duress for third. After the break, Marks seemed poised to challenge for the win, but the opposite scenario played out as Marks stalled out to finish seventh.
2018 champion Brad Sweet moved to fourth from the ninth-starting spot on lap 13, but couldn't advance any further and eventually finished where he started.
So, in the end, Schatz was the narrator of his own fate. His win had been destiny all week after all.
"Second's a good position. It pays good. But we come here to win," Schatz said. "That's what the car owners are here for. I have the most incredible car owner and he wants to win. He said, man, if you have to wear a car out or wear something out to win, let's do it. That's typically not me, but when it comes to these big races, when the dynamic changes you have to change with it. I feel like I can do things as good as anybody else to this day, so I had to change. We changed, and got it right."
Feature finish
Donny Schatz (3)
David Gravel (4)
Logan Schuchart (17)
Tyler Courtney (2)
Jacob Allen (11)
Kyle Larson (6)
Brent Marks (7)
Sheldon Haudenschild (23)
Brad Sweet (9)
Daryn Pittman (8)
Buddy Kofoid (14)
Justin Peck (19)
Rico Abreu (21)
Aaron Reutzel (16)
Kerry Madsen (22)
Austin McCarl (1)
Carson Macedo (5)
Tasker Phillips (15)
James McFadden (20)
Brian Brown (24)
Justin Sanders (18)
Giovanni Scelzi (18)
JJ Hickle (10)
Parker Price-Miller (12)