2022 Front Row Challenge at Southern Iowa Speedway
As Knoxville Nationals Loom, Kyle Larson Rekindles Confidence At Osky
As Knoxville Nationals Loom, Kyle Larson Rekindles Confidence At Osky
The reigning Knoxville Nationals champion rediscovered the kind of speed Monday at Osky that could lead to a familiar result by week's end.
Aug 9, 2022
by Kyle McFadden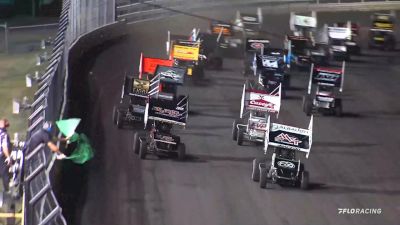 It is no secret that this summer Kyle Larson hasn't won at the astounding rate that ultimately propelled the multi-discipline star to one of the greatest seasons in motorsports history a year ago.
But to think the reigning NASCAR Cup champion would this year replicate the array of crown jewel wins in the Chili Bowl, Coca-Cola 600, NASCAR's All-Star Race, Prairie Dirt Classic, Kings Royal, Knoxville Nationals and BC39 Midget race seems more overzealous than practical.
Perhaps Larson, whose 2022 features 11 wins but none of serious prestige thus far, has felt the pressing need to muster more zeal from within ahead of the biggest week in Sprint Car racing, the Knoxville Nationals. Monday's win in the Sage Fruit Front Row Challenge at Southern Iowa Fair Speedway, however, might have been the remedy for Larson's searching spirit — aboard the Sprint Car at least.
"I thought we were going to be a lot better at the 360 Nationals, but we were horrible. Confidence was pretty much nonexistent … until tonight," Larson said, initially speaking to his quiet 11th-place finish Saturday in the 360 Sprint Car Nationals at Knoxville (Iowa) Raceway. "My car felt really good (on Monday). Like really, really good. Osky is a totally different track (compared to Knoxville), though. I know it's shaped similarly and stuff, but it's still different."
"Who knows what will happen," Larson added of what Monday's victory could do ahead of his quest to win back-to-back Knoxville Nationals this week. "I just felt really good."
Last year, Larson's Front Row Challenge victory had been his 20th win of a 33-win season. It was also the final stepping stone that went into Larson's anticipated arrival as a Knoxville Nationals champion, a feat he'd repeatedly been denied of since first racing the event in 2012.
But Larson had won so much at the time, the win didn't carry as much oomph and weight as Monday, or in this case, relieve as much weight in the sense of scurrying to find more speed ahead of Thursday's preliminary night.
The newly-turned 30-year-old started fifth and made all his headway in a nonstop 30 laps. It took Larson from laps 13 to 19 to put away the nation's winningest driver at 17 wins in Anthony Macri for second, and once polesitter Carson Macedo appeared in his cross hairs on lap 20, it took Larson two corners to complete the winning move.
In short, the way Larson took care of business looked very much like his decisive self from this time a year ago.
"Yeah, really happy about it," Larson said. "My car felt really good from hot laps on. We've been struggling a little bit here, like at Knoxville in the 360 Nationals, and came here and felt way different than I did there. We're happy about that. Yeah, had a really good car and was able to get by (Giovanni Scelzi for fourth and Brian Brown for third) there early in the race and then started picking cars off. We were putting some good laps together.
"My car felt good to where I could run anywhere I wanted, which is nice," Larson added. "You could make (the bottom) work for a few laps, but if you did it too many times in a row, it'd clean that lane off. Then you'd have to get up top and wait for the guys that are on the bottom to spit crumbs up to the middle to get grip. My car was good enough to carry a lot of speed on entry and still kind of stay in those crumbs in the center of the corner."
Make no mistake, it's not like Larson had been way amiss before Monday. His sixth Sprint Car win of the year in the Front Row Challenge puts him in the top-10 in the statistic nationally. His four World of Outlaws NOS Energy Drink Sprint Car wins are fifth most in the series in limited action (17 of 47 series races).
He's also finished second six times, too, giving him 12 top-two finishes in 24 races this year, which is more than this time last year. Interestingly enough Larson's only runner-up finish in the Sprint Car last year was his Knoxville Nationals preliminary night and his nine wins ahead of The Granddaddy of Them All accounted for all his top-two finishes of 2021.
Perhaps it's a subjective assessment, but it seems every Knoxville Nationals in recent memory has ended with the perceived favorite at large as champion. For instance, Donny Schatz upheld his status as the sport's golden standard from 2006 to '17 by winning 10 of 12 event titles.
Tim Shaffer in 2010 and Jason Johnson in '16 were the only outliers in the midst of Schatz's invincibility. Shaffer's crown jewel win was part of a 17-win season, whereas Johnson's victory two years before his eventual and sudden death was an emotional upset over Schatz.
Brad Sweet coupled his first World of Outlaws title in 2018 with his first Knoxville crown. In 2019, David Gravel strung together a perfect week at Knoxville, winning the Capitani Classic, his prelim night and of course Saturday's grand finale.
Last year, Knoxville had been another fitting crown jewel along Larson's glittering campaign.
This year, perhaps there isn't a distinct favorite as in years past. The wins have been spread evenly across the sport's front-runners in 2022. But if Monday indicates anything, it's that Larson echoed the notion, like a top-seed in college basketball's March Madness, that Knoxville glory still runs through him.
"Last year, we were winning a lot, so I probably expected to win here (at Osky) and knew we'd have a shot to win (the) Nationals," Larson said. "We've been good this year, just haven't been as great. Tonight, the way I felt, I feel pretty confident again."