2022 Front Row Challenge at Southern Iowa Speedway
Kyle Larson Gets A Shot In The Arm With Front Row Challenge Win
Kyle Larson Gets A Shot In The Arm With Front Row Challenge Win
NASCAR Cup Series champion Kyle Larson scored his third career Front Row Challenge win on Monday night at Southern Iowa Speedway.
Aug 9, 2022
by Brandon Paul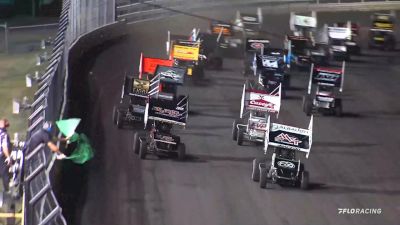 Heading into the biggest week of the year for Sprint Car racing, Kyle Larson received a shot in the arm Monday night at Southern Iowa Speedway. The defending NASCAR Cup Series champion claimed his second consecutive Front Row Challenge win, while gaining confidence and momentum during the process.
Following his victory in Oskaloosa, Larson admitted that he hadn't felt as comfortable and fast as he'd like to be behind the wheel of the No. 57 Paul Silva owned machine recently. That all changed during hot laps when Larson had a much better feeling behind the wheel, and that feeling ultimately resulted in a $21,000 victory against a stout field of challengers.
"I felt really good," Larson said in victory lane. "I haven't felt very good here lately. We struggled at the 360 Nationals and I know Paul, Hayden and Doug have been working hard to get this 57 car faster. I finally felt really good there. I'm excited about the Knoxville Nationals now and feel like we have a shot to win. I did not feel that way before hot laps tonight but in hot laps I knew we had a much different feeling than we had. I'm excited for the rest of the week."
Larson's victory did not come easy, however. He started the main event fifth after a foot race on the frontsretch determined the first eight starting spots in the 30-lap main event.
The winner of that foot race, Carson Macedo started from the pole position and jumped out to a big advantage early on. Meanwhile, Larson methodically moved his way to third prior to the halfway mark and began pressuring Pennsylvania standout Anthony Macri for the runner-up position.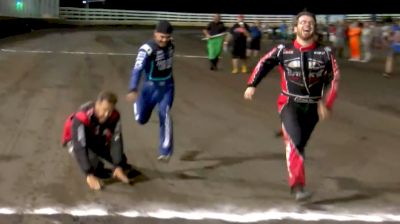 VIDEO: Watch the foot race that determined the top eight starting positions in the Front Row Challenge.
Larson eventually made his way by Macri for the second position before a lapped car held him up a few laps later and relegated him back to third. Larson remained on the attack and quickly took the position back from Macri as the two drivers battled slower traffic.
From there, Larson began cutting into this sizable advantage held by Macedo. He threw a slider on Macedo with 11 laps to go; however, Macedo quickly cut back under Larson in the middle of turns three and four. Off of turn four, Larson powered under Macedo and cleared him as they powered down the frontstretch with 10 laps remaining.
Larson never looked back from there on the way to winning his third Front Row Challenge.
"My car just felt extremely good," said the Oak Grove, California native. "I didn't do a great job at the start but I could instantly tell we probably had the car to beat. I put some good Iaps together to get by Macri and then a lapper kind of lane changed in front of me and I got stuck behind him for a corner and had to work to get back by Anthony. I could just really go anywhere. As I caught Carson, I got a good run off of two and knew I had to get going. Battling with Carson it gets tough, and then the rest of the pack will be coming behind you. Thankfully my car was good enough to drive to the lead there."
Macedo crossed the finish line in second, followed by Anthony Macri, Brian Brown and Daryn Pittman.
With the Front Row Challenge in the books, focus now shifts to the prestigious Knoxville Nationals at Knoxville Raceway.
One year ago, Kyle Larson won the Knoxville Nationals five days after winning the Front Row Challenge. With momentum and confidence from Monday night's win, he'll now look to do the same thing again In 2022.