USAC
Dream Granted: 2022 USAC Indiana Sprint Week Review
Dream Granted: 2022 USAC Indiana Sprint Week Review
After 13 years of trying, Justin Grant captured his first USAC Indiana Sprint Week championship last week.
Aug 1, 2022
by FloRacing Staff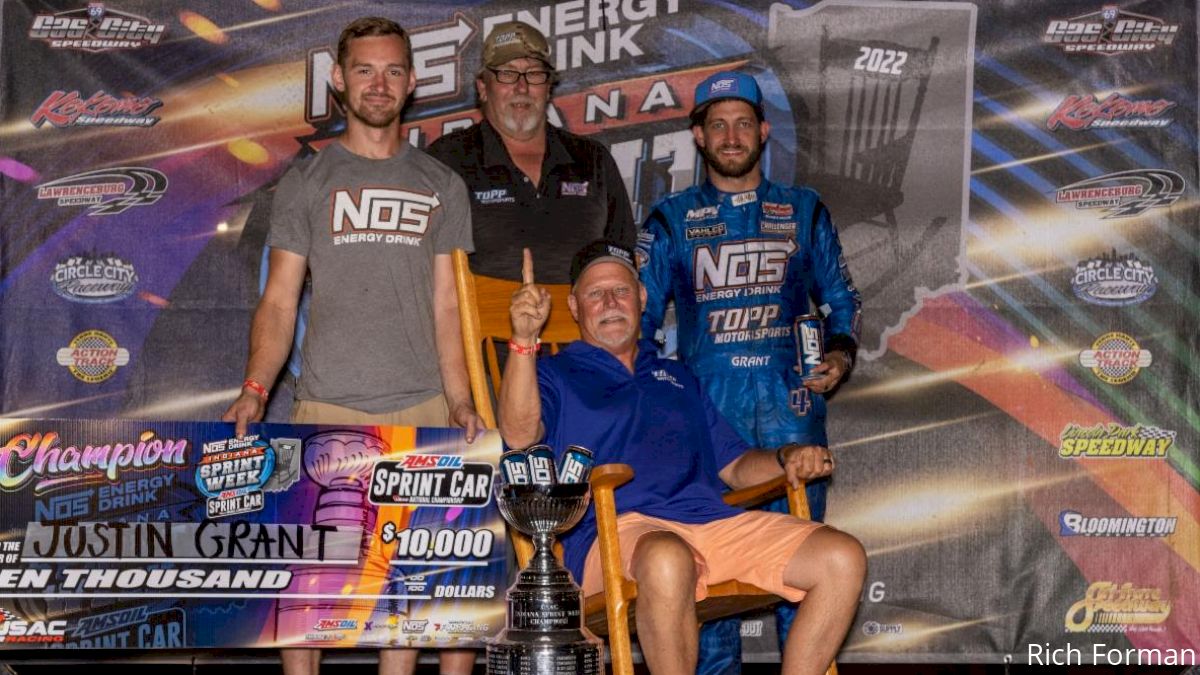 Speedway, IN -- Thirteen years of trying. Thirteen years of frustration. Thirteen years of yearning to become a USAC NOS Energy Drink Indiana Sprint Week champion.
All of it came to fruition in 2022 for Justin Grant, who had won from coast-to-coast in USAC AMSOIL Sprint Car National Championship competition but had this particular piece missing from his impressive racing resume.
A myriad of close calls has marked Grant's ISW career, including in 2020 when he led the standings entering the finale, but saw it slip through his fingers.
Grant was adamant, and made it abundantly clear from the outset, that Indiana Sprint Week 2022 was going to be dictated on his terms and his alone.
"It feels incredible to finally get it done," Grant exclaimed. "To add my name to all the huge names on that trophy, it feels like my name is a little out of place on there, but I'm happy to have it. Hats off to the guys. It's a long week and it's a lot of work. I can't say enough good things about (crewman & right hand man) Dylan Cook. He works his tail off for me and 99 percent of the time, it's just him and me on the car. He's got a big, big workload and he handles it incredibly well."
Only one driver finished inside the top-five of all six features. Only one driver finished inside the top-ten in all six features. For both categories, the answer was Grant as he tallied a succession of quality runs with a 2nd at Gas City, a 2nd at Circle City, a 1st at Kokomo, a 5th at Lincoln Park, a 3rd at Bloomington and another 3rd in the closer at Tri-State to become a first-time series champ.
It was a notable turn of the tables for the Ione, Calif. native who took a level-headed approach to all scenarios when finding himself on the mountaintop or dwelling in the valleys throughout the rigorous and grueling week.
"In the past, I've tended to fall apart in these deals when the going got tough," Grant admitted. "I've worked really hard on that and tried to be more prepared this year than I've been in the past and I feel like it's paid off."
Meanwhile, longtime car owner Kevin Birchmeier of TOPP Motorsports has also been on the waiting list for several years, coming close to the Indiana Sprint Week brass ring with Tyler Courtney initially followed by Grant since 2018.
Like his driver, Birchmeier has weathered the storm and pounded up and down the road. As a result, the Rochester, Indiana car owner earned himself a seat in the coveted John Youngs-designed rocking chair, which has been a longtime tradition of the event and is presented annually to the Indiana Sprint Week entrant champion.
It wasn't all smooth sailing initially for Grant, however. During a couple of nights throughout Indiana Sprint Week, the task required Grant to overcome being buried somewhat deep in the field. His Circle City charge to the 2nd position came from a starting spot of 12th. Likewise, his Lincoln Park run to 5th came from even deeper, back in 14th. The perseverance of those performances was substantial in Grant's and TOPP's pursuit of the crown.
"We had a good week, but it wasn't without hiccups," Grant acknowledged. "We buried ourselves a few times and had to come from deep a few nights, but our car was just so good all week, we were able to dig out of those holes when we did get in them. Dylan and I have been working really well together and we found a package that we really like and can work with."
Six different winners emerged in the six feature events that were run: Shane Cottle (Gas City), C.J. Leary (Circle City), Justin Grant (Kokomo), Mitchel Moles (Lincoln Park), Kyle Cummins (Bloomington) and Robert Ballou (Tri-State). It marked the first time, since six years earlier in 2016, that each round featured a different winner.
Two race winners started in a double-digit number starting position. Both Cottle and Cummins began their charges to the front from outside of the fifth row (10th) during their respective triumphs.
On the wild statistic side, Cottle has now won two career Indiana Sprint Week features with both coming at Gas City (2019 & 2022) and each coming in a situation in which he led only one lap – the last one.
Grant also ended an unusual streak of four consecutive seasons in which the Indiana Sprint Week champion went winless throughout the week.
The 63-point margin of championship victory by Grant was the third largest in Indiana Sprint Week's 35-year history. In 2000, Jay Drake prevailed by 76 points over Tony Elliott while, in 2003, J.J. Yeley stormed to the title by 75 points over Jay Drake.
Audiences were captivated by the performances of Indiana Sprint Week first-timer Mitchel Moles (Raisin City, Calif.), who not only scored his first career ISW win during the week, but also set Fatheadz Eyewear Fast Qualifying time on five occasions in seven tries. The time trial prowess of Moles was the second best ISW performance of all-time, trailing only Richard Griffin's six fast times in six appearances during the 1997 edition.
Eleven drivers started all six features throughout the week: Emerson Axsom (Franklin, Ind.), Brady Bacon (Broken Arrow, Okla.), Robert Ballou (Rocklin, Calif.), Briggs Danner (Allentown, Pa.), Justin Grant, C.J. Leary (Greenfield, Ind.), Jason McDougal (Broken Arrow, Okla.), Mitchel Moles, Logan Seavey (Sutter, Calif.), Chase Stockon (Fort Branch, Ind.) and Matt Westfall (Pleasant Hill, Ohio).
Several events were plagued by the wrath of Mother Nature. The first Saturday's originally scheduled Kokomo round was a complete washout and rescheduled successfully to Tuesday. Sunday at Lawrenceburg witnessed unrelenting showers just as the feature was pushed to the track and was not reschedule. Wednesday's go at the Terre Haute Action Track was the lone complete washout cancellation. Thursday at Lincoln Park saw 49 of 52 qualifiers complete their time trial run before rain hit the speedway, forcing a complete requalifying session and the continuation of the evening after a lengthy delay.
Ninety-nine drivers participated in Indiana Sprint Week with 13 United States represented: Alabama, Arizona, California, Colorado, Illinois, Indiana, Iowa, Kentucky, Missouri, Ohio, Oklahoma, Pennsylvania and Texas. California drivers won three features (Ballou, Grant & Moles), two for Indiana (Leary & Cummins) and one for Illinois (Cottle).
Three countries were represented with 96 from the United States, two from Australia (Troy Carey and Todd Hobson) and one from England (Tom Harris).
While each feature event throughout Indiana Sprint Week paid $6,000-to-win and $600-to-start, a $23,000 total purse was up for grabs for the top-eight in the final standings of the tour throughout the Hoosier state.
Grant, the new ISW champion, collected a top reward of $10,000 in addition to his weeklong earnings followed by Leary ($5,000), Bacon ($2,500), Stockon ($1,500), Moles ($1,250), Ballou ($1,100), Cummins ($900) and Axsom ($750).