2022 Short Track Super Series at Bridgeport Motorsports Park
Ryan Godown Defends Home Turf Against Short Track Super Series Stars
Ryan Godown Defends Home Turf Against Short Track Super Series Stars
Ryan Godown defended his home turf on Tuesday night, beating the Short Track Super Series stars at Bridgeport Motorsports Park.
Jul 27, 2022
by FloRacing Staff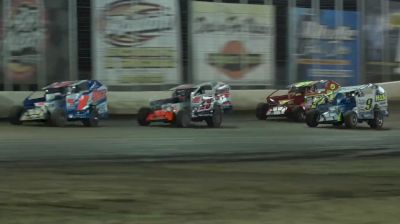 BRIDGEPORT, NJ – Ryan Godown defended home turf for his ninth win of the season at Bridgeport Motorsports Park, outrunning Matt Sheppard and then Ryan Krachun in the final laps to bag the 'South Jersey Shootout' on Tuesday night, under the Bob Hilbert Sportswear Short Track Super Series (STSS) Fueled By Sunoco banner.
Godown, who is enjoying a career season, sits third on the STSS all-time wins list with 11 now, including an impressive three during this 2022 campaign.
'The Ringoes Rocket' has been especially terrific in STSS competition this year, entering the night as not only the point leader for the Hurlock Auto & Speed Supply South Region, but also in the Halmar International 'Elite' Series. Godown's three STSS victories this year have come at Cherokee (S.C), Port Royal (Pa.) and now Bridgeport.
The Ringoes, N.J., driver earned more than $5,000 in Round No. 5 of the series' Hurlock Auto & Speed South Region.
"The car was awesome tonight," Godown said in Victory Lane. "It fired off really well out of the gate, and sometimes you don't want to be too good, too early, but it was awesome all night."
Cale Ross and Danny Bouc led the 26-car field to the green and, after a slider on lap three, Bouc took control of the race as Godown and Sheppard quickly raced to the front from their fifth and 11th starting spots, respectively.
Godown wasted just five laps to get to second and then snatched the lead from Bouc on lap seven. Once in the lead, Godown's first challenge came from Jordan Watson, who kept pace with the leader until a right-rear flat ended his night on lap 13.
With Watson's departure, Sheppard, who entered the evening with more than 20 wins on the season, moved into the front row, outside of Godown. Meanwhile, Krachun, who drew No. 9 on the starting grid, was up to third, Bouc sat fourth and Billy Pauch Jr. rounded out the top five.
Godown chose the bottom and defended Sheppard's early-run advances just about perfectly on restarts on laps 13, 17 and 20, never relinquishing the lead. Behind them, Krachun held third ahead of Pauch Jr., a hard charging Matt Stangle, Bouc and Ryan Watt, another consolation qualifier.
"Can you imagine restarting next to Matt Sheppard all those times," Godown jokingly asked in front of a stellar crowd. "I didn't know what to do; I didn't know if I should go early, go late, run the bottom, run the middle, he's just so good it's hard to get that edge on restarts."
Just after halfway, Ross slowed to bring out the caution on lap 27. Disaster struck for Pauch Jr. on the ensuing restart, as he entered too high and made heavy contact with the turn-one wall, bouncing him from fourth to outside the top 10 as the field clicked off lap 30. Max McLaughlin, who had driven into the top five, suffered a similar fate, getting into the fence between turns three and four, costing him a few positions.
Meanwhile up front, Krachun slipped by Sheppard to claim the runner-up position with 19 laps remaining, just before the devastating caution for Stangle on lap 35. Stangle, who came from the 23rd starting spot, was solidly in fourth spot when he slowed down the backstretch, ending his night.
On the final restart of the night, with 15 to go, Godown chose the inside once again and gained control of the race, ahead of Krachun, Sheppard, Watt and Bouc.
Just when it looked like Godown was going to cruise to another win at the 'Kingdom of Speed,' a record fifth in a row at the New Jersey facility, Krachun inched closer and closer with 10 laps left. On lap 40, Krachun, who was running a line just a tick below Godown's, pulled alongside of the leader in turn one. Down the backstretch, Godown crept ahead and then moved his line down a hair to stay in the rubber and keep Krachun at bay.
After mounting one final charge with five to go, Krachun settled for second, his best career finish under the STSS banner.
"I could see where I was faster than him," Krachun said on the home stretch. "When I got under him, I got tight and I could either put him in the fence or get out of the gas and I chose option No. 2.
"He saw me and moved down and his experience showed tonight."
Sheppard, who trailed Godown by just 15 points in the Hurlock Auto & Speed Supply South Region points chase, earned another podium finish in third.
"We had a good car, drew a bad number, but got up there and felt every bit as good as the 26," Sheppard said. "I thought I had a good enough car to win, but it's still a good night to drive from 11th to the front, battling for the win and landing on the podium."
Watt, who advanced through the consolation and started 18th in the 50-lap feature, finished fourth and Bouc, who sat just three tallies out of third place in the STSS South Region point standings, rounded out the top five with another consistent night.
Finishing sixth through 10th, respectively, were: Alex Yankowski, who was involved in a few mid-race skirmishes yet advanced back through the field to finish sixth; Mike Gular, another driver who had to come back from the rear after being involved in the same incident, managed to work a seventh-place result after entering the night in third in the South Region standings; pole-sitter Cale Ross was forced to the pits, but rebounded for eighth; Richie Pratt Jr. started 12th, was battling for a top-five spot and spun before settling for ninth; and Davey Sammons rounded out the top 10 from 20th.
Joe Toth sliced through the field from 12th, ran down race leader Brian Papiez and made the winning slider in lapped traffic with just two laps to go after exchanging slide jobs to capture the 25-lap Crate 602 Sportsman feature win worth $1,500.
Newtown, Pa.'s Toth, who leads the Belmont's Garage South Region standings, beat Papiez, Tom Sherby, Matt Ellery and Steve Davis.
A healthy field of 42 STSS Crate 602 Sportsman registered for competition.
The Hurlock Auto Speed & Supply South Region returns to action in the First State on Tuesday, August 30 for Georgetown Speedway's 'Blast at the Beach.' For just 35 laps, the winner will pocket $6,000. The STSS Crate 602 Sportsman will be in action for a $1,500 top prize.
Bridgeport Motorsports Park is located at 83 Floodgate Rd in Swedesboro, NJ 08085. The official website is www.bridgeportmotorsportspark.com/ and can be reached by phone at 856.467.4407.
To learn more about the Short Track Super Series Fueled By Sunoco, visit www.shorttracksuperseries.com, e-mail bdmotorsportsmedia@gmail.com, check out 'Short Track Super Series' on Facebook or @ShortTrackSS on Twitter or Instagram.