2022 Lucas Oil Silver Dollar Nationals at I-80 Speedway
Jonathan Davenport Becomes First Three-Time Silver Dollar Nationals Winner
Jonathan Davenport Becomes First Three-Time Silver Dollar Nationals Winner
Jonathan Davenport made a late-race pass on Tim McCreadie to claim his third Lucas Oil Late Model Dirt Series Silver Dollar Nationals win at I-80 Speedway.
Jul 25, 2022
by FloRacing Staff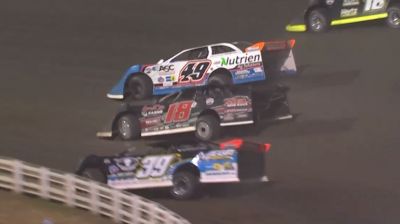 GREENWOOD, Neb. — If Jonathan Davenport has competed for the final time at I-80 Speedway, his memories of the 4/10-mile oval will certainly be sweet.
Coming alive in the final 10 laps, the 38-year-old Blairsville, Ga., driver caught race-dominating Tim McCreadie of Watertown, N.Y., amid traffic and took command with an outside pass on the frontstretch on lap 74, pulling way for an 80-lap Imperial Tile Silver Dollar Nationals victory worth $53,000.
In becoming the lucrative event's first three-time winner, Davenport took the checkers 1.473 seconds ahead of McCreadie and collected the hardware with the track's closure all but certain with the Kosiski family's plans to sell the property that rests between Lincoln and Omaha.
"I don't know what the future holds for this place," Davenport said in victory lane, "but it's an awesome racetrack."
Davenport, whose career-richest season includes a seven-figure payday at Ohio's Eldora Million, notched his third Lucas Oil Late Model Dirt Series victory of the season and denied the series points-leading McCreadie his second Silver Dollar Nationals victory after he led 73 laps. Devin Moran of Dresden, Ohio, improved nine positions in finishing third while pole-starting Mike Marlar of Winfield, Tenn., who held the second spot from laps 47-61, was fourth and Earl Pearson Jr. of Jacksonville, Fla., rounded out the top five in a race postponed by Saturday rain.
For most of the race, McCreadie cruised comfortably ahead of contenders who mixed it up among the top-five spots, but after a lengthy caution on the 60th lap — pitted cars and lineup issues appeared to drag the caution out for several minutes — Davenport's fortunes became brighter.
Taking the second spot from Marlar on lap 62, Davenport was able to stay closer than anyone ever had with McCreadie, who frequently had led by margins of three seconds or more through the race's middle stages. And when the leader was coming upon slower cars in the late stages, Davenport quickly closed within striking distance.
With a pair side-by-side slower cars ahead and McCreadie in the low groove trying to get underneath, Davenport used the high side and swept into the lead on the 74th lap, nipping McCreadie at the flagstand to take the point. It wasn't close the rest of the way.
Davenport said the timing of the traffic played in his favor.
"These cars are so aero-dependent. And I didn't think we was that good, really, until we finally got some clean air on the nose and I could start moving around a little bit," Davenport said. "And once we got to third or fourth there, I think Devin was on the inside of me. I never could arc my corner and come all the way down to catch traction. But once we finally got clear of him and could start running about same line McCreadie was, we started tracking (him) down there a little bit.
"Then just lapped traffic. You know, that's the only way we got by him. I'd rather pass anybody in the pit area but him. He's one of my best buddies on the road and we share a lot of information, so it's good to see him running good, too, and hopefully he can get this championship."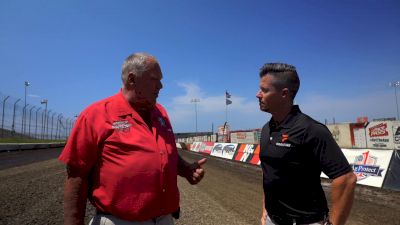 VIDEO: I-80 Speedway owner Joe Kosiski talks about the what's next for one of Nebraska's best dirt tracks.
McCreadie, who hadn't felt well Sunday because of issues with kidney stones, preferred long green-flag stretches and said his car didn't quite fire the same on the final restart.
"I don't think it helped, but I didn't think we changed a ton until we caught traffic because we just got hung under a couple of cars there where I just couldn't get all the way by 'em, you know what I mean?" McCreadie said. "I wouldn't say his car was way better than ours at the end, it's just one one little deal where I got hung up and he got by."
Moran had a chance to steal a spot from Davenport in the second half of the race when he tried to work underneath him, but couldn't quite make the pass.
"I was kind of married to that bottom (groove), but as the race went on, the grease went away and really at the end, it felt like it was the most grip it had," the third-place finisher said. "Once I could clear cars and arc out and get down to it, it was really good. I got up the J.D. at one point in time and I was right there on him. I just couldn't get enough air off of him to get by him."
Like Davenport, Moran will miss racing at I-80 if the series never returns.
"This place (never) ceases to amaze me you know?" he added. "I thought for sure they didn't do enough (track preparation) for it and I thought it was gonna rubber and we were gonna run around here one-laned. The Kosiski family does an awesome job at this place and it races awesome each and every time. Super sad we don't get to come back, but we definitely had a lot of fun tonight."
Marlar saw all the frontrunners as near equal where things might've played out different if things had developed differently.
"It's kind of situational out there, really. I feel like I had a shot at winning with 20 (laps) to go and we had that long caution and the track got kind of dirty and crummy and muddy, and then I never could steer after that restart," said Marlar, who extended a personal streak of 16 consecutive top-five finishes. "I would love to have won the race, but as tough as the competition is in Dirt Late Model racing, to be up there in the top five all these races is pretty cool, too. Congratulations to Jonathan and Timmy and Devin, and Earl back there. We had a really fun race there. We're all so close, it's just real situational on how it finishes."
Three cautions slowed the action, none for wrecks. Garrett Alberson lost power on lap 61. Jesse Sobbing and Kyle Strickler slowed simultaneously on lap 49 for the first slowdown while a lap-59 yellow fell when the slower car of Tyler Erb headed pitside.
Notes: Jonathan Davenport notched his 11th overall victory of 2022. ... He has 61 career Lucas Oil victories, third on the all-time victories list. ... Fifth-place finisher Earl Pearson Jr. of Jacksonville, Fla., was eager to head home with expectations of becoming a grandfather for the first time in a few weeks. ... While I-80's future isn't completely clear, before Sunday's race the series announced the event would be held July 20-22 next season with details — and a venue — to be announced. There's been speculation the event will move to Huset's Speedway in Brandon, S.D., which hosted its first Lucas Oil Series event last week. ... Nineteen of 33 starters completed 80 laps.