2022 Hampton Heat 200 at Langley Speedway
Jared Fryar Executes Perfect Strategy For Hampton Heat Win
Jared Fryar Executes Perfect Strategy For Hampton Heat Win
Jared Fryar executed a perfect strategy to beat the heat and the field in Saturday's Hampton Heat 200 at Langley Speedway.
Jul 24, 2022
by NASCAR Roots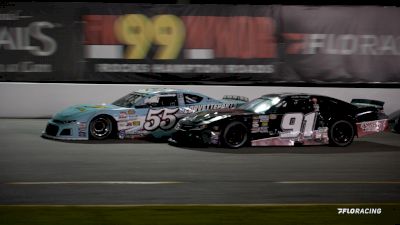 The 2022 edition of the Hampton Heat 200 at Langley Speedway proved to be equal parts similar and different to the first leg of the Virginia Triple Crown.
While no massive pileup took place in the closing laps like during the Thunder Road Harley-Davidson 200 at South Boston Speedway, a slew of cautions during the second half of the Hampton Heat 200 dramatically slowed the pace and altered the tire conservation strategy many drivers were utilizing.
Jared Fryar promptly took advantage of the late cautions to pull away from the rest of the field and win the Hampton Heat in his third attempt. In doing so, he became the 10th different driver to claim Langley's crown jewel in as many events.
With his victory, Fryar also established himself as a contender for the Virginia Triple Crown heading into the ValleyStar Credit Union 300 at Martinsville Speedway on Sept. 24 following an evening that saw several drivers atop the standings endure struggles of their own.
Below are the key takeaways from the Hampton Heat 200 at Langley Speedway on Saturday evening.
Consistency guides Jared Fryar to victory
Ever since his career began, Jared Fryar has had a reputation of being one of the most consistent drivers on track.
Consistency was a vital part of Fryar's victory in the Hampton Heat at Langley on Saturday, as he had to properly manage his tires to maintain solid track position before taking control during the second half to obtain one of the biggest victories of his career.
"I'm speechless honestly," Fryar said. "We checked all the boxes and did everything right during the race, but we also made all the right adjustments. We weren't that good when we unloaded, but we kept working on it and that allowed us to get this win. I've had a lot of good runs [at Langley] and it means so much to finally win here."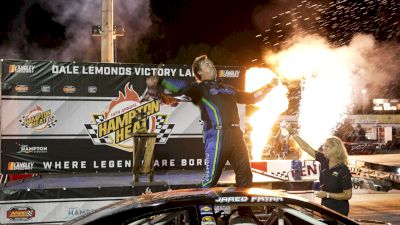 VIDEO: Jared Fryar talks with FloRacing about his Hampton Heat 200 victory.
Driving the same car that was badly damaged in the Thunder Road Harley-Davidson 200, Fryar knew that he had to put down a solid lap in qualifying for him to be a factor and avoid any potential chaos with 32 cars on track.
Fryar's third-place qualifying effort allowed him to run at his own pace while the rest of his competition implemented different tire conservation strategies of their own. Despite facing plenty of challenges during restarts, Fryar was able to go maintain the lead during the final green flag run.
The win gives Fryar an average finish of 5.5 between South Boston and Langley. While Fryar will be among those battling it out for a Virginia Triple Crown title at Martinsville, he is more focused on winning the race itself by using the same patience and commitment that has yielded him numerous victories during the last few years.
"Our goal is to win the clock," Fryar said. "If you win the clock, the Triple Crown will take care of itself."
Mark Wertz puts up impressive run at home track
Two-time Langley track champion Mark Wertz fought valiantly to keep the Hampton Heat trophy in Virginia Saturday night.
After falling back early to save tires, Wertz methodically carved his way back through the field and briefly led the Hampton Heat before settling for second. While Wertz ultimately came up short of a victory, he was more than thrilled with the efficiency his team displayed through all 200 laps.
"What a great feeling for our team," Wertz said. "I don't know exactly where we'll be [in the Virginia Triple Crown] standings going into Martinsville, but we did everything we needed to early on to preserve. We brought our car home in P2 and that feels like a victory for us."
VIDEO: Watch Hampton Heat 200 highlights on FloRacing.
In 12 previous Hampton Heat appearances, Wertz' best finish had been fourth, which he obtained in 2009 and '13.
Since that last fourth place run, Wertz has only placed inside the Top 10 once in the Hampton Heat, but the Langley veteran has remained determined through the years to join an elite list of drivers who have won the event like C.E. Falk III, Lee Pulliam and Peyton Sellers.
Wertz felt that Saturday was his best opportunity to win the Hampton Heat in his career thus far. He credited his crew for their strenuous effort to make his car competitive, but admitted that he simply could not catch Fryar during the closing stages.
"I needed a little more turn through the middle," Wertz said. "I ran as hard as I could during the last 25 laps to try and catch [Fryar], but I overheated the right front. The car cut through the middle good and we never lost drive off, but [Fryar] was better than me right through the center of the corner."
Wertz' second place finish is expected to put him in a tie with Mason Diaz for the Virginia Triple Crown points lead after Jacob Borst, who led the standings coming into the Hampton Heat, finished 30th Saturday night following a mechanical failure.
Late charge for Carson Kvapil comes up short
Carson Kvapil comes away from the Hampton Heat disappointed over what he believed was a missed opportunity.
The son of 2003 NASCAR Camping World Truck Series champion Travis Kvapil was exceeding the lap times of leaders Fryar and Wertz during the final laps, but said that a relentless amount of cautions prevented him from showing just how fast his JR Motorsports Late Model actually was.
"All the caution laps killed us," Kvapil said. "We were able to pass cars on the short run, but we could run the same pace with everyone else on the long run. There were only about 60 green flag laps during the second half with all the cautions. What we needed was more laps."
Kvapil had plenty of advice to lean on during the Hampton Heat, as he was driving a car similar to the one that Josh Berry took to Victory Lane in the event last year.
The main thing Berry told Kvapil was to place a heavy emphasis on tire conservation. Kvapil felt that he executed that strategy perfectly during the first half of the Hampton Heat and was ready to charge towards the front with the aid of several green flag laps.
Instead, Kvapil was left to reflect on how the Hampton Heat could have played out with fewer cautions. Despite this, Kvapil carries plenty of optimism going into the rest of his busy Late Model Stock schedule that will include the ValleyStar Credit Union 300 in a couple of months.
"I'd like to get a few more wins," Kvapil said. "Everything has been going pretty good for us [with Late Model Stocks]. We've had a few tire issues over our past few races, but if we keep running like we are, we'll get those wins."
NOTES:
Defending Virginia Triple Crown champion Bobby McCarty appeared poised to bounce back from a rough outing at South Boston by qualifying on pole for the Hampton Heat. McCary kept his track position for most of the night but fell to eighth by the time the checkered flag was displayed.
Three-time Virginia Triple Crown champion Peyton Sellers was never able to mix it up with the lead pack. Sellers' tire strategy nearly saw him lose a lap during the first half of the Hampton Heat and he was only able to salvage a 14th place finish by the end of the night.
Brenden Queen, who had only lost one race at Langley all year, saw his hopes for a second Hampton Heat victory get derailed by a faulty battery that cost him two laps. Queen managed to get both of those laps back, but he could only fight his way back to 13th.
Justin Carroll was another Langley regular that put on a show for the home crowd. Carroll led most of the Hampton Heat's opening stages and ended up finishing fifth after his tires started to fade during the final green flag run.