2022 Southern Nationals at Beckley Motor Speedway
Things Go Cory Hedgecock's Way In Southern Nationals Opener
Things Go Cory Hedgecock's Way In Southern Nationals Opener
Cory Hedgecock secured his first super late model win since May during Friday's Southern Nationals season opener at Beckley Motor Speedway.
Jul 16, 2022
by Kyle McFadden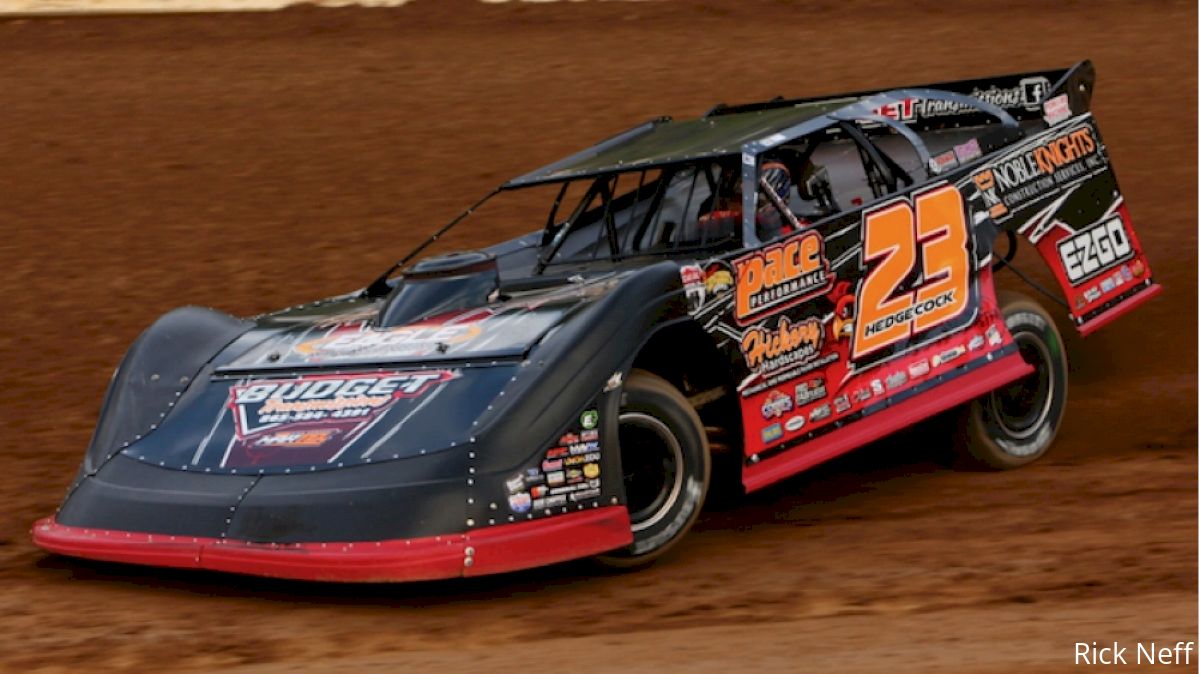 BECKLEY, W.Va. (July 15) — Cory Hedgecock milled around the Beckley Motor Speedway pit area late Friday night following his opportune Schaeffer's Oil Southern Nationals victory when a bystander reminded the Tennessean that it had been since May 7 he last triumphed in a Super Late Model.
"Is that what it was? If you say so," the Loudon, Tenn., driver said. "I can believe it. It feels longer actually."
Indeed, Hedgecock, in large part to flat tires that coincidently thwarted front-row starters Ashton Winger and Carson Ferguson from contention during the same lap-17 caution period, led the final 36 laps with ease for his first win in Late Model's highest class in more than two months.
The thing is that Hedgecock started the year as perhaps the hottest Late Model driver in the country when he exploded for seven victories throughout his first 21 races, a kind of burst akin to the sport's current gold standard, Jonathan Davenport and Chris Madden, of late.
But as Hedgecock recounted the long days between his XR Southern All Star Series win May 7 at I-75 and Friday's $10,053 energizer, then came the reminder that momentum is prone to recede as much as it could persist. And vice versa.
"It goes so quick," Hedgecock said. "Like me and wife (Katie) was talking while I was winning, when it was going so good, it was a deal that races just fall your way. I also told her, I know it can flip the next day. And it did. We've had speed, it's just nothing's went our way. Tonight, everything finally went our way."
Believable or not, Hedgecock's goal Friday was to simply run inside the top-12. That seemed like an unreasonably low bar considering he earnestly sought to rekindle some kind of momentum. Hedgecock is, however, anticipating a full run at the 12-race series this July, so pacing himself wouldn't be the worst place to start.
"We wanted to make it in the heat, wanted it to slick up, and then finish around the top-10," Hedgecock said. "When we started fifth, I told dad (Chad) even if we still run top-10, I'll still be happy. We just had a good car and everything lined up. … Can't get much of a better start. Hopefully we can maintain."
Hedgecock clocked a smooth enough qualifying lap to start second in his heat race, where he ultimately finished runner-up to Winger, the polesitter. It was all that was required to slide into the right place at the right time when the Black Gold 53 main event intensified.
As the young Ferguson and Winger dueled ahead, Hedgecock picked off row-two starters Will Roland and Jensen Ford to lock down the third position, ultimately the place to be on the lap-18 restart.
The hollow, stadium-like Beckley oval is nowhere near the top of Hedgecock's best tracks — "you get too much wheelspin here," he said, denoting the track's demands on braking entering the corners and precision to get up to speed exiting the corners. If there was one piece of secret knowledge Hedgecock leveraged Friday, it was to stay as low as possible, away from treacherous rubble that brushed up the banking.
Ferguson and Winger didn't follow such blueprints and paid the price because of it, as both drivers needed new right-rear tires during the lap-17 caution period.
"Best thing I can do was stay in the groove," Hedgecock said. "I think they (Ferguson and Winger) ran over something. I'm sure they did. They were more up top. Even when I try to get around a lapped car, I'd run through the middle. I didn't want to get up there."
Hedgecock added: "It was hard to judge how fast they were. I knew the way they were racing each other, I had a better car. I was faster. I just didn't know how it'd pan out if one of them finally cleared one or the other. Ultimately, we had at least a top-three car, at least in my mind. Everything just fell our way to pick up the win."
It hadn't necessarily been a tedious road back to victory lane for Hedgecock — only 69 days separated his previous and most recent Super win — but there were certainly complications.
On Mountain Moonshine preliminary night June 17 with the Lucas Oil Late Model Dirt Series at Smoky Mountain Raceway in Marysville, Tenn., Hedgecock barrel-rolled his No. 23 Black Diamond race machine.
Before the wreck, Hedgecock had diagnosed a sore spot on the race car — that the rear end had been bent from an April 22 wreck at Crossville (Tenn.) Speedway — and thought he had remedied the issues.
Hedgecock returned to action on June 25 at nearby 411 Speedway in Seymour, Tenn., where he drove the car too hard off the fence too many times in an 11th-to-fourth run, worsening the rear end.
"There's obviously a difference between camber and caster, or camber and toe in the rear end. And it was bent the wrong way, the other side of it was bent," Hedgecock said. "It was 100 percent our fault. We overlooked it honestly."
Hedgecock apparently seldom counts the days between victories. But if there's one thing he does track, it's a mental tabulation of respecters and those who brazenly disrespect, especially the latter.
"When we don't win, we aren't happy. A lot of people take us the wrong way because we are not here to make friends," Hedgecock said. "Some are (friends), some aren't. It is strictly business. We own a business. We build engines for this stuff (Eagle Racing Engines). So, when we get to the racetrack, we mean business. We're ill whenever we run second or worse. It doesn't mean the world to us. It's not like racing is the only thing out there for us to do. We love it. … We're very competitive. It's obviously the reason we do it, and we all have an ego. Again, the reason we do it.
"You get to know me, I'm not trying to be an asshole about it. I'm here to win, and I take it extremely, extremely personal when somebody tears my race car up. I have no desire to work on my sheetmetal. None. Zero. Nobody does. It's one thing to rub, and in a sense, quote-unquote, rubbing is racing. I don't believe that. If you can't pass me clean, you don't deserve to pass me. There's some of those scenarios and track conditions, and the racetrack we're dealt, if that's how you have to race, it's all OK. But whenever you door-slam someone, slide across and park it on my nose … man, it's totally uncalled for. I have no desire to deal with it. I really get ill. I have a hot temper, a really short wick, so it shows really, really fast. It was worse when I was younger."
Hedgecock continued: "As I said, you can't please everyone. I don't care to. The only people I please are the people who buy my apparel and my sponsors. Other than that, I really don't care. … We all have a list in our head as to who we owe one to. And people owe me one, rightfully so. We all run out of talent every once in a while. It's called racing. There's definitely people out there I feel like I owe even more to, and it's like there's an invoice in my head on what I'm going to ultimately cost them. Whether it's a win or how much I'll cost them, maybe tearing up a race car? And I hate to do that."
Who Hedgecock might be discreetly targeting? Perhaps time will tell. He does, however, have a friend in Ford, who interrupted Hedgecock's victory interview to say "hey, remember we're going to the casino on the way to Tri-County (Racetrack in Brasstown, N.C.)"
"Everybody knows me. I love gambling," Hedgecock said. "Yeah, we'll ride the wave as long as we can. Hopefully we ride it enough before hitting the bottom. When it does, it feels like (you stay down) forever apparently. Apparently May 7 was the last time we won, so we had not won for almost three months.
"Last year I won one race until August, and then 11 the rest of the year. This year, it's like we won a ton of races the first half of the year, and then can't get one to save our ass the second half. Hopefully this will turn us back around. It's an ego. All this is is an ego trip. It puffs your ego up and gets your head a little bigger. It's confidence, too. If you don't have confidence, you'll do nothing."