2022 Dirt Late Model Dream Make-Up at Eldora Speedway
Eldora Adds Unique Wednesday Event To World 100 Weekend
Eldora Adds Unique Wednesday Event To World 100 Weekend
Eldora Speedway recently announced the addition of the "Chasing the Dream" program to Wednesday's schedule during World 100 weekend.
Jul 5, 2022
by FloRacing Staff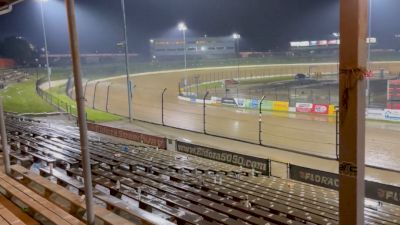 The Dirt Late Model Dream was halted by rain in June with 14 laps complete in the A-Feature. The remaining 86 laps will be contested on Wednesday, September 7th. That will now be lead in to the World 100 weekend, which runs September 8-10.
Along with those Dirt Late Model Dream laps, a unique event will be added to the card on September 7 that is open only to drivers that fit the following criteria: A) they have never won a Late Model A-Feature at Eldora, and B) they are not one of the 24 cars in the Dirt Late Model Dream Feature.
This program, known as 'Chasing the Dream' will consist of only A-Feature events. Drivers will participate in timed hot laps with the results of those timed laps being used to lineup the A-Features. All drivers will run an A-Feature and we'll run as many as the car count dictates. Each A-Feature will pay $5,000-to-win and $600-to-start. Eligible drivers will have an opportunity to sign up for this event later in the summer.
All tickets and pit passes that were valid for entry on Saturday, June 11 will be valid for entry on Wednesday, September 7. Patrons who were not at the Dream but want to attend the September 7 event will have the opportunity to purchase new tickets (info below). FloRacing will provide live video coverage throughout the entire four-day stretch of racing action, including the newly announced Chasing the Dream program.
Following the conclusion of the Dirt Late Model Dream, attention will turn to the Fan Zone for the SRI Fan Jam featuring the Dirty Grass Soul band! Entrance to the SRI Fan Jam will be free to all race fans.
TENTATIVE WEDNESDAY TIME SCHEDULE
6:30 PM – Hot Laps for all cars
7:30 PM – First 'Chasing the Dream' Feature -20 laps
7:50 PM – Second 'Chasing the Dream' Feature – 20 laps
8:10 PM – Third 'Chasing the Dream' Feature – 20 laps (if necessary)
8:45 PM – Conclusion of the $128,000-to-win Dirt Late Model Dream – 86 laps
9:30 PM – SRI Fan Jam ft. Dirty Grass Soul (Fan Zone)
DREAM RUNNING ORDER
At the lap 14 stoppage, the running order looks like this:
1)Chris Madden, 2)Brandon Overton 3)Hudson O'Neal 4)Carson Ferguson 5)Tim McCreadie 6)Kyle Strickler 7)Zack Dohm 8)Chris Ferguson 9)Kyle Bronson 10)Gregg Satterlee 11)Josh Rice 12)Dale McDowell 13)Devin Moran 14)Brandon Sheppard 15)Brian Shirley 16)Tyler Erb 17)Bobby Pierce 18)Ricky Thornton Jr 19)Shannon Babb 20)Jonathan Davenport 21)Scott Bloomquist 22)Johnny Scott 23)Mason Ziegler 24)Earl Pearson Jr