2022 Lucas Oil Late Model Dirt Series at Davenport Speedway
Brandon Sheppard & Rocket1 Reset Goals, Aim For Peak
Brandon Sheppard & Rocket1 Reset Goals, Aim For Peak
Brandon Sheppard and the Rocket1 Racing team have shifted their intentions into high gear after a Lucas Oil Late Model Dirt Series win this past weekend.
Jul 5, 2022
by Kyle McFadden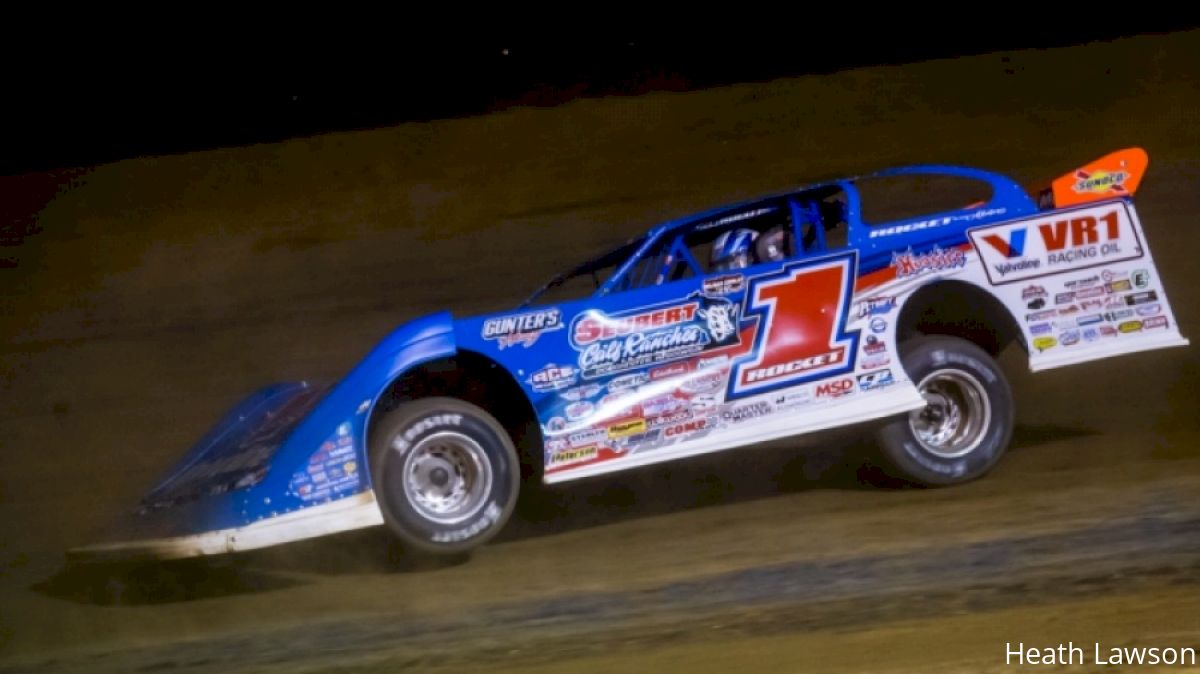 ZANESVILLE, OH — If April 26 was the day Brandon Sheppard and the Rocket Chassis house car team announced Lucas Oil Late Model Dirt Series title intentions, then mark Independence Day weekend as the point in 2022 those intentions shifted into high gear.
The New Berlin, Ill., driver has topped Lucas Oil Series standings since February's Georgia-Florida Speedweeks, where he clicked off four victories, but since March through June on the national circuit? Zero victories, a heap of near-misses and the impression that the vaunted blue Rocket No. 1 wasn't quite up to speed.
"The public gets down sometimes on maybe we don't perform every night as well as we should, but we went through a phase that we had to get better," team owner Mark Richards said. "Hopefully, this is headed in the right direction."
Richards speaks of Sheppard's masterful weekend at Muskingum County Speedway, where Sheppard dominated the Elite Munitions Freedom 60 to collect $30,000 in looking the part of his four-time World of Outlaws Case Late Model Series championship stature.
On Saturday, Sheppard went untouched in a five-second victory in his 20-lap, 12-car preliminary feature, which put him outside the front row — alongside a surging third-in-points Ricky Thornton Jr. — in Sunday's main event.
As the runner-up position changed hands three times and eight other drivers took turns inside the top-five, Sheppard ran unbothered at the point once he snatched the lead from Thornton on the third lap. Sheppard led 58 of the 60 laps and commanded the feature familiar and satisfying fashion.
"We really needed this, to get the attitude turned back around, just the morale boosted back up," Sheppard said. "Like you said, there's a lot of big money coming up. It helps to have some confidence to go into that. We're just super-excited we're able to get that win there, and just really boost the morale and the confidence going into the next couple months. We have a lot of money on the line. We've been back and forth. We haven't been consistent. I think this is the start of us getting our consistency back. We just have to stay with it and keep digging."
Obviously if Sheppard has led the tour's points virtually all season, nothing's wildly off kilter. Even before winning twice at Muskingum County, Sheppard had been tied with Devin Moran for most series victories at four. He also leads the series in podium finishes (11), top-fives (16) and heat race victories (13).
Following Friday's fifth-place finish from the 14th-starting spot at Portsmouth (Ohio) Raceway Park, however, Richards and Sheppard called for a team meeting.
"We thought we were getting close to where we need to be, then we went to Portsmouth on Friday and we weren't as good as where we thought we should have been," Sheppard said. "So, we sat down after the races last night and made a decision to not get back to what we always run, but get closer to what I'm comfortable with."
Richards added: "We got everybody together, got everybody back on the same page, to look toward the goal. It's a tough situation to drive this car because this car is the flagship of our company. We have to test. We have to try things."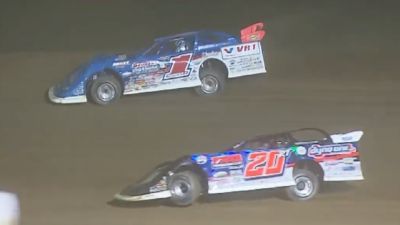 VIDEO: Watch highlights from Sunday's Lucas Oil Late Model feature at Muskingum County.
Richards isn't explicitly stating that the Rocket house car goes out of its way to schedule one-off test sessions. What he's saying is, given the evolving nature of Dirt Late Model racing and the responsibilities that come with the Rocket house car, they've occasionally ventured outside the proverbial box.
"Sometimes we're off, and sometimes we're on," Richards said. "It's been work in progress all summer. I feel like right now our testing's paid off. We're starting to show results. (At Portsmouth), we were a little behind in qualifying, but feature time, our car was really good. Sunday and Saturday we could show what we've been working on."
Viewed through a wider lens, Sheppard feels the reverberating pressures to keep pace with co-No. 1 drivers Jonathan Davenport and Chris Madden, who have combined to capture seven of the 11 overall events paying more than $50,000-to-win so far during the sport's most lucrative ever season.
Sheppard is known to win in bunches, and just last week became the World of Outlaws all-time winningest driver behind the wheel of his family-owned No. B5. While Sheppard has won his share of major events, Sunday's $30,000 triumph marks his richest since he won the $100,000 Dirt Track World Championship nearly two years ago. So when Sheppard looks at the glittering ledgers of Davenport and Madden, there's a pressing desire of keeping up with the Joneses.
"One hundred percent," Sheppard said. "Those guys (Madden and Davenport) have been the class of the field for quite a while this year so far. That's part of why we switched to the Lucas deal so we can race against those type of guys more and race these big races, and get better at these big, long races, because we want to win races like Knoxville and Eldora. To be able to do those and win those, you've got to race those races. I feel like our long game is pretty good right now. So we'll keep working on that and try to make it better."
Sheppard's historic WoO victory at his home track, Jacksonville (Ill.) Speedway, revitalized his drive to bask in the midst of special atmospheres, even if he didn't anticipate it.
"Don't get me wrong, the record is awesome, but I didn't even think about it until the feature was over, to be honest with you," said Sheppard, who in the moments of reflection realized depths of what he had accomplished.
Ultimately, it's the spark to kindling equally great achievements, like more crown jewels, more money won — and perhaps his first Lucas Oil championship.
"I would have been disappointed (in hindsight) if I didn't win that (at Jacksonville) to be honest," Sheppard said. "To get the win, it really lit a fire under me because I want to win every night, if we can.
"To do that, then to have a decent weekend like we had, I feel like our weekend was solid. Obviously, it's not where we want to be. But we busted our tails all weekend, and this is the end result of that hard work. We just need to capitalize on this and keep it rolling, keep trying to work with what we have here and make it better. I think Mark and the guys are on board with that and ready to get rolling these next couple months. We're excited."
Sheppard tacked on 40 points over the weekend, too, carrying a 55-point lead on Tim McCreadie heading to series races in his Midwest wheelhouse. That starts Wednesday at Davenport (Iowa) Speedway, a track where Sheppard has won four times the past two years. With the World of Outlaws record stashed away along with his most lucrative victory since joining the Lucas Oil Series tour, it's onto the next significant accomplishment.
"It's tightening up for sure," Sheppard said of the points battle with McCreadie and other series challengers. "Mark and the guys are working really hard. We should be able to do it, I think. I felt really comfortable right there. This is a tough sport. Everybody knows it. It's very up and down. One week, you're on top of the world. The next week you're wondering what the hell you did wrong to mess it up from last week.
"I think we have a really good setup here that we can go and race with, tune on a little bit, and just really make some good laps and have some consistency again. That's going to be our goal for the next couple months, to have some consistency. I say it all the time, with consistency, the wins will come. We have to start rattling off some podium runs, sprinkle some wins in there, and we should be all right.
"We're just super-excited for these next few months. We're just super-appreciative for all the money that's on the line the next, really, the rest of the year. I just want all the series and everybody to know how grateful us drivers are to be able to race for that kind of money. Lord knows we all (complain) about a lot of things, but at the end of the day, we're super-excited."