2022 Greg Hodnett Classic/PA Speedweek at Port Royal Speedway
PA Speedweek Notebook: Dewease Missing Port Royal After Hard Crash
PA Speedweek Notebook: Dewease Missing Port Royal After Hard Crash
Lance Dewease will miss Saturday's Greg Hodnett Classic Pennsylvania Speedweek race due to a hard crash Friday at Williams Grove Speedway.
Jul 2, 2022
by Kyle McFadden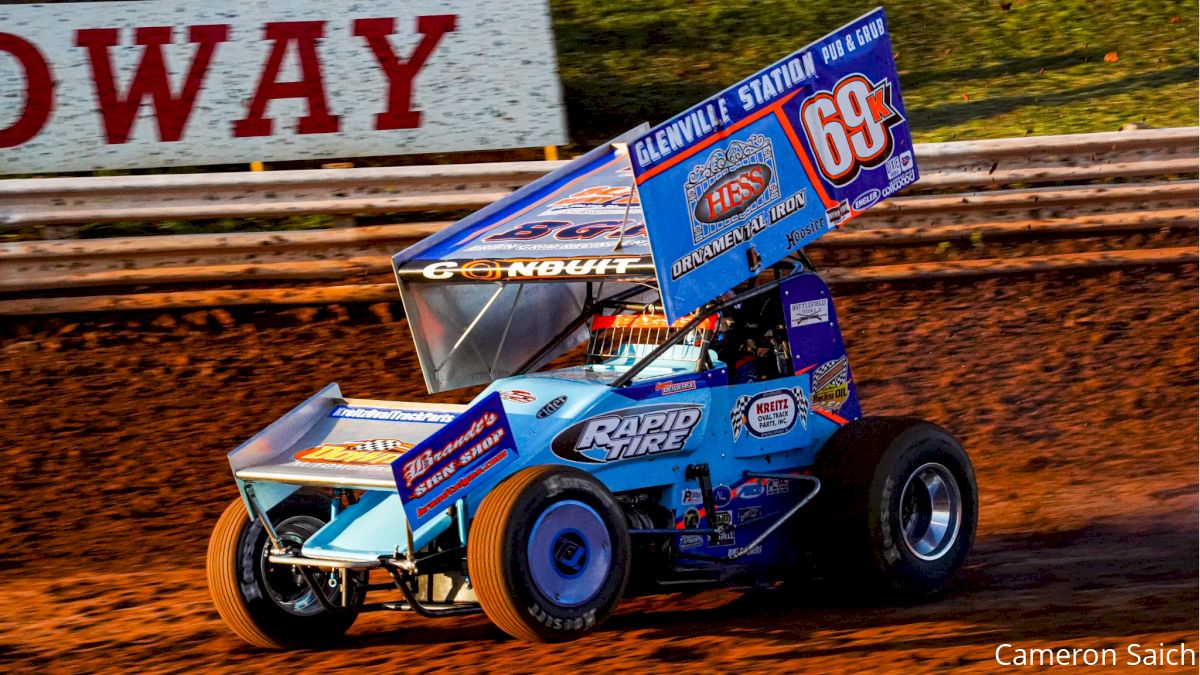 A hard crash during the Mitch Smith Memorial on Friday at Williams Grove Speedway in Mechanicsburg, Pa., will consequently force Lance Dewease to miss Saturday's Greg Hodnett Classic as part of Pennsylvania Speedweek at Port Royal (Pa.) Speedway.
"We'll be all right. I'm just really sore and tight," Dewease said immediately after the wreck on lap 10 of 30 as he nursed a bag of ice wrapped in a towel on the back of his neck.
Dewease, whose mechanical issues to start the night kept his Kreitz Racing No. 69K team from turning a lap in qualifying, clobbered the inside frontstretch wall when a three-wide skirmish in the middle of the pack went awry.
After racing from eighth to finish third in the eight-lap heat, the National Sprint Car Hall of Fame driver lined up 14th in the $15,000-to-win main event, knowing he'd have to navigate close quarters on his push to the front.
Rounding turn four on lap 10, Devon Borden — stuck in the middle of the three-wide battle — ran out of room to maneuver, and that's when accidental contact shot Dewease head-on into the inside wall. His car stayed on four wheels, but still left him dinged up.
"It was a racing deal, I think," Dewease said. "We got three-wide coming off four and I was on the inside, and I guess Devon and Danny (Dietrich) — I don't know if they touched — but Devon was in the middle and next thing I knew, I got hit and turned head-on into the wall."
Dewease added the incident was simply a nasty byproduct of Friday's tricky racing conditions.
"It's so fast. It's so narrow. It doesn't widen out anymore where we can race on it," Dewease said of Williams Grove, the track he's the all-time wins leader at. "That's what we get. You have to shove it in places you probably shouldn't be shoving it. That's what you get. If we wouldn't have had our problems at the beginning of the night, we probably wouldn't have been back here racing with those guys. It really all stems to that, the beginning of the night put us in that position."
Dewease entered PA Speedweek race eight of 10 having won the past six of eight miniseries events at Williams Grove. He was also the reigning winner of the Mitch Smith Memorial, which at this point last year marks his seventh win of the season.
A year later, Dewease's win total is stuck at two, which he describes as "not very good. Not very good for us."
He won Port Royal's opening day event on March 6 and at Williams Grove on May 20. Dewease doesn't know his next race, simply because he didn't know his schedule on the spot Friday. As far as the bruises from Friday's wreck, Dewease said "I've raced a lot worse" and that the No. 69K team will need to spend extra work in the shop before a return to the track.
"This kind of car we liked that we switched to is now junk," Dewease said. "We'll keep plugging away."
Masterful Marks
Brent Marks rolled to his fourth win of the week Friday at Williams Grove Speedway, a race he led all 30 laps from the pole and extended his PA Speedweek lead to 80 points ahead of Anthony Macri with two races remaining.
"This team is just amazing right now. I know I keep saying that, but they really are," Marks said. "They work super hard. All their hard work is paying off. This is really great to see. Not just myself succeed, but all the other guys on this car."
With the fourth win in five days, Marks additionally earned an eighth-straight podium in as many miniseries races. Two more podiums, and he'd be the second driver in PA Speedweek history to finish on the podium in every miniseries race. Fred Rahmer accomplished the feat in 1993 in five races and 2008 in three races.
Marks has the chance to run on the podium an unprecedented 10-straight times.
"We've been working really hard to get that consistency," Marks said. "I feel like we have that right now and have to keep up with it and not let it slip through our fingers. I know a lot of guys get wrapped up in the hype of running good and winning a lot. We celebrate our wins, but we also know we have a race the next night. We celebrate, but we look toward the future."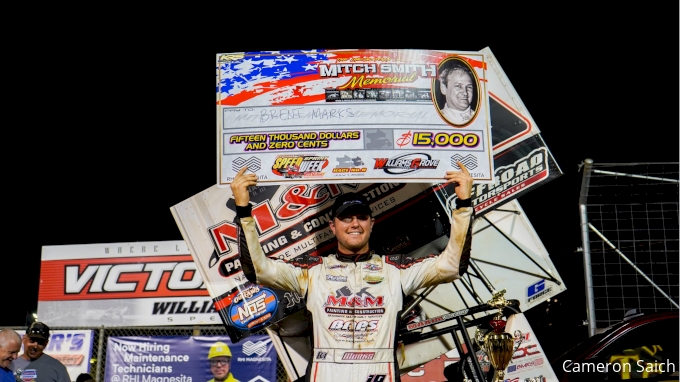 Photo: Brent Marks celebrates his fourth win of Pennsylvania Speedweek Friday night at Williams Grove Speedway.
Macri, who started the week as the PA Speedweek leader 73 points ahead of Marks, nearly rallied in the nick of time Friday to upend Marks' mastery. Behind a lapped car, Marks lost momentum rounding the backstretch on the final lap, which opened the door for Macri to attempt a slidejob for the win in the final corner.
Marks stayed in the gas around the top and squeezed past Macri exiting turn four to seal the win.
"I knew Macri was going to have a run on me there," Marks said. "I made a mistake getting into turn one behind a lapped car. I thought he was going to go to the bottom, but he went to the top and I turned too late and got myself stuck in the middle — spun my tires down the backstretch and I looked up on the leaderboard a couple laps before and knew he was in second.
"I knew he was obviously good and running really hard behind me. These straightways are so long, once you spin your tires, it's hard to catch up to them. When we got to three, I got to the top and held it wide-open, hoping for the best he didn't get that big a run. I felt like I ran a good race all the way until the last lap."
If Marks closes out the miniseries title, he'll join National Sprint Car Hall of Fame drivers Fred Rahmer, Lance Decease, Greg Hodnett, Steve Smith and Stevie Smith as lone winners of the Williams Grove National Open, Port Royal's Tuscarora 50 and PA Speedweek.
"It's been an honor to win those races we have won in the past," Marks said. "I definitely really want to get myself a Speedweek title. We're obviously enjoying these wins. We come to win every night. I've come so close to winning a PA Speedweek title in the past, and I just couldn't get it done. I really want to get it done this year. And we're going to try our damndest to do that."
Macri's rally cap
Eighty points isn't insurmountable to overcome with two races left, but Anthony Macri knows if he's going to catch and pass Brent Marks to win this year's PA Speedweek title, on-track happenings will have to fall in perfect order.
"Everything has to go our way. Stuff's got to not go his way," Macri said. "As I said, we're both pretty equal right now. We're both pretty good. I'd like to say we have an advantage going into the last two tracks (tonight at Port Royal and Sunday at Selinsgrove) but we really don't. We have to do our part and work to get just a tiny bit better than him."
Macri did everything he could do to cut into Marks' 63-point lead at the time Friday. Macri out-qualified Marks and finished a position better in his heat race. The difference was that Marks drew the pole whereas Macri drew the seventh-starting position.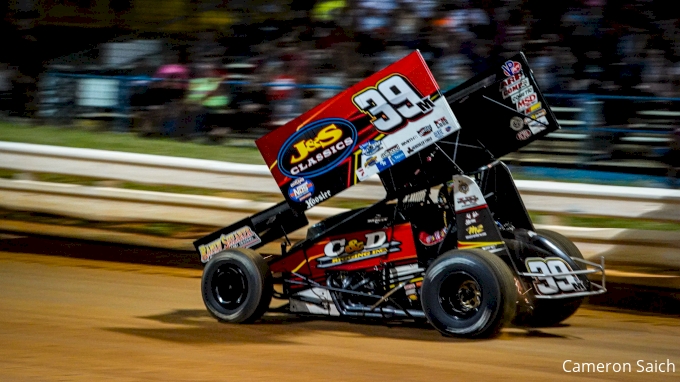 Photo: Anthony Macri enters the final two races of PA Speedweek trailing Brent Marks by 80 points.
Macri raced to second in the final laps and almost executed a last-ditch slidejob for the win on the final corner, but the window to complete the winning pass was too narrow in large part to the lapped car of Sye Lynch taking up the bottom groove.
"I felt like if (Lynch) was maybe a car length ahead of where he was, I could have drove in a little bit deeper to try and clear Brent a little more," Macri said. "Then it goes the other way. If (Lynch) was ahead, maybe Brent would go to the bottom and try to protect. I don't know what would happen there. I kind of felt like I wasn't quite close enough. Once I drove in the corner I realized I was closer than I thought. I was pretty close.
"At the last second, I heard him, but didn't see him. I rolled out of the gas and pitched the car sideways, so we didn't crash. That's not how I want to race. I don't wan to crash us. I have more respect for Brent than that. I raced him clean and we'll keep trying to play catchup."
Macri hasn't won in five races, since last Saturday at Lincoln Speedway, his longest losing streak since going seven races without a win in May. The national 410 wins leader at 14 triumphs says circumstances only separate himself and Marks' red-hot team.
"Honestly I feel like we're pretty equal right now. Maybe he's a tad bit better," Macri said. "Positioning and everything … it's not just positioning. When me and him are as good as we are right now, him starting on the pole and me starting seventh, that's huge. We switch positions, the story might be the other way. You just never know."
PA Speedweek after race eight of 10: 1. Brent Marks (1088); 2. Anthony Macri (1008); 3. Justin Peck (896); 4. Danny Dietrich (692); 5. TJ Status (686); 6. Lucas Wolfe (678); 7. Freddie Rahmer (676).
Odds and ends
Four-time Port Royal champion Logan Wagner broke out of Friday's race running in the ninth position. … Chili Bowl Nationals champion Tanner Thorson ran his last race of PA Speedweek on Friday, finishing 14th in his Sprint Car debut at Williams Grove. Thorson finished eighth in the B-main Saturday at Lincoln, seventh from 17th Monday at Lincoln, sixth at Grandview and 19th with a heat win Thursday at Hagerstown. … Wet weather cancelled last year's Greg Hodnett Classic at Port Royal. Kyle Larson won the Hodnett Classic in 2020.