2022 PA Speedweek at Port Royal Speedway
Notebook: Marks Eyeing PA Speedweek Title; Timms Limited By Age
Notebook: Marks Eyeing PA Speedweek Title; Timms Limited By Age
Following his win at Port Royal Speedway on Wednesday, Brent Marks is eyeing the 2022 Pennsylvania Speedweek championship.
Jun 30, 2022
by Kyle McFadden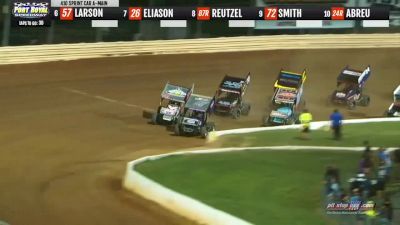 No matter how hard Brent Marks tried to will himself to victory Tuesday at Grandview Speedway in Bechtelsville, Pa., ill-timed cautions and a racing surface that narrowed in the climax of action denied him of the feat.
But Pennsylvania Speedweek round six Wednesday at Port Royal (Pa.) Speedway? Marks could do no wrong. The Myerstown, Pa., driver led all 30 laps from the outside pole to claim his second win of the week and, ultimately following Anthony Macri's engine issues, a 20-point lead in the miniseries.
Like Tuesday, Marks' car ran superbly well. It's just Wednesday all four cautions worked to Marks' favor, which became even more evident in his victory lane interview.
"I got really lucky. I ran out of fuel as soon as I crossed the checkered," Marks said. "Seriously, seriously got really lucky there. This is awesome to get the win here. We've been racing Macri and (Logan) Wagner all year long here, trying to get wins. It's been those two that's always kept beating me. It feels great to get the win tonight. The car felt great all night long. Really proud of this team.
"We really want to win this championship and we're trying our best to do that."
The win, his eight of the year, propels Marks into a five-way tie for second in most 410 wins nationally. Macri, who leads the nation at 14 wins this year, had his night end in thick smoke when his engine expired while he ran in the third position with five laps to go.
If Macri would have held onto third — earning 95 points instead of 15 for his 19th-place finish — he'd hold a 60-point lead with four races left.
"I don't give up, and neither do these guys," Macri said.
It's a role reversal for Marks, who in this race last year lost a 78-point lead when a faulty spark plug dropped him out of round six contention on lap two. Dietrich left Wednesday's Port Royal stop last summer with a 10-point lead and went on to win the miniseries title.
It's been so far, so good for Marks, who hasn't finished off the podium with finishes of third, second, first, third and first.
"It's a long, grueling week," Marks said. "We'll just keep plugging away and try to get better every night.
"(Port Royal) was really good. I had a really good car. There towards the end, I just felt really comfortable, making the top work really good. I felt good in lapped traffic, but I was happy to see the yellows come out. I felt much better in clean air obviously. I think it would have been really hard for somebody to get by me there in clean air. Yellows kept falling for me at the right time tonight. Usually they fall and hurt me. It worked out."
If Marks takes care of business the rest of the way, he'd become the 10th miniseries winner in its 31-year history and effectively join 13-time champion Fred Rahmer, Greg Hodnett, Lucas Wolfe, Lance Dewease, Danny Dietrich, Stevie Smith, Keith Kauffman, Steve Smith and Kyle Larson.
Next up is Hagerstown, the half-mile Marks finished second to Larson in 2020. Hagerstown's miniseries race was cancelled last year because of rainy weather.
"Hagerstown's OK. When they get moisture in it, it's a fun racetrack," Marks said. "We'll see what they give us tomorrow."
Timms' limited PA Speedweek schedule
Ryan Timms would have liked to run most, if not all, of this summer's 10-race Pennsylvania Speedweek miniseries, but he universally doesn't fit minimum age requirements.
Needing to wait until Aug. 26 to turn 16 years of age also means that Timms will have to wait until then to legally race at Williams Grove Speedway in Mechanicsburg, Pa., Lincoln Speedway in Abbottstown, Pa., BAPS Motor Speedway in York Haven, Pa., and Selinsgrove (Pa.) Speedway due to insurance policies.
Despite a meager miniseries schedule that includes Wednesday's 17th-place finish at Port Royal (Pa.) Speedway, tonight at Hagerstown (Md.) Speedway and Saturday again at Port Royal, Timms is still receiving his baptism of fire that Pennsylvania newbies can't evade.
"First off, this place is the toughest I've been to, track-wise and competition-wise," Timms said of Port Royal. "Especially tonight, I feel like, it was a really stout field of cars. Yeah, maybe I could have done some things better in that race. We didn't do too good. I could have done something better. The car could have been better. We're coming out here to get laps, really. It'll all benefit us in the long run."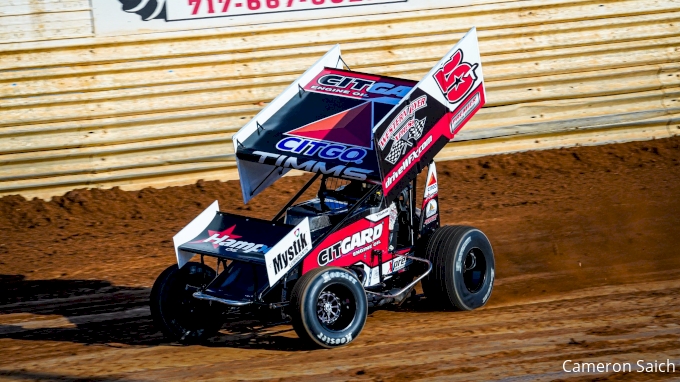 Photo: Ryan Timms rockets around Port Royal Speedway during Wednesday's PA Speedweek event.
Timms, one of the nation's finest open-wheel prospects, is quite comfortable back at home in the Midwest. The 15-year-old already owns more than 100 dirt-track feature wins, with eight of those accrued this year in 410 Sprint Cars, 360 Sprint Cars and Midgets.
His six wins in the 410 put him tied for seventh nationally with Tyler Courtney, and he entered Wednesday's talented 39-car field on a three-race winning streak. But that high quickly came tumbling down when eventual winner Brent Marks lapped him midway through the 30-lap feature, which Timms recalls as the first time he's been lapped all season.
"It's a humbling week," Timms said. "It's going to be for the next three or four days."
Timms called the Port Royal half-mile "definitely the gnarliest it gets" in comparison to the tracks he's accustomed to in the Midwest.
"The dirt's different. They're all shaped different," Timms said of Central Pennsylvania. "These guys race here two to three times a week. They just have a lot more experience. I think I'll get there eventually."
The racing itself, however, isn't even the most striking development that grabs Timms attention.
"The fans here are insane," Timms said. "I think they like me. I definitely needed to put on a better show for them I feel like. We'll just keep digging and see what happens, I guess. We're here to get laps. We'll eventually get there."
This year, Timms and team are aiming to build the sturdiest notebook possible, so come next year when age restrictions won't come into play — especially with the World of Outlaws NOS Energy Drink Sprint Car Series and Tezos All Star Circuit of Champions — a true outlaw schedule can be formed.
Notable Sprint Car races on Timms' remaining schedule include the Front Row Challenge on Aug. 8 at Southern Iowa Speedway in Oskaloosa, Iowa, the Gold Cup Race of Champions from Sept. 8-10 at California's Silver Dollar Speedway with the World of Outlaws, and the Trophy Cup from Oct. 14-16 at California's Tulare Thunderbowl Raceway.
The handpicked schedule and needing to face new venues like Port Royal and Hagerstown is all relative to Timms' greater mission of one day becoming a full-time World of Outlaw.

"It's the same thing for (mechanic) Jimmy (Jones). It's our second time here, so they're still getting the setup tuned in," Timms said. "We'll see what happens the rest of the week."