2022 PA Speedweek at Port Royal Speedway
PA Speedweek Notebook: Abreu Finally Scores First Win Of 2022
PA Speedweek Notebook: Abreu Finally Scores First Win Of 2022
News and notes from PA Speedweek after Grandview Speedway
Jun 29, 2022
by Kyle McFadden
Rico Abreu has never been more invested in a Sprint Car season than 2022, so in return, tremendous expectations are attached to his every move.
"This is by far the best team I've had together that's spread across the board of crew chief and mechanic that works on the cars," Abreu said.
Over the winter, a longstanding friendship with Ricky Warner evolved to the point of luring the multi-time World of Outlaws Sprint Car Series champion crew chief away from Donny Schatz at Tony Stewart Racing and to Abreu's St. Helena, Calif., team. With that gigantic splash, Abreu announced an aggressive 2022 schedule that'd put him on track to race full-time with the World of Outlaws perhaps as soon as next year.
The future ultimately is dependent upon results. After 29 winless races laced with ebbs and flows, Abreu at last checked off arduous win No. 1 with his revamped unit Tuesday night in front of a standing-room-only crowd at the third-mile Grandview Speedway in Bechtelsville, Pa.
"I'm lucky enough to be racing with such a great team," Abreu said. "I'm very fortunate to have somebody with so much knowledge working on my race car. I thank the guy upstairs everyday for putting me in this position. We've got off into a patch here of a lot of inconsistency, but we've been working through it all. That's what it comes down to: Chemistry. We all believe in each other."
Grandview, the most intimate setting of the 10-race Pennsylvania Speedweek due to its crammed seating and general layout, couldn't have served as a better venue to satisfy Abreu's winning need. The round five Pennsylvania Speedweek race honoring the late Greg Hodnett added extra meaning, too.
"Greg Hodnett's legacy will go on and on, far greater than I'll ever be here. Just fortunate to be here, fortunate to be racing in front of the best fans in the world," Abreu said. "I go all over the country and race. I did all this — NASCAR and USAC and West Coast racing — and there's all different atmospheres of fans. (Pennsylvania) fans are very loyal people to race car drivers.
"They find a driver they love then and they want to know everything about them. It's been a fun ride for me, to be able to showcase that and just interact. That's what life's all about."
Abreu led all 35 laps Tuesday from the pole and will finish out the rest of the Pennsylvania Speedweek tonight at Port Royal Speedway, Thursday at Hagerstown Speedway, Friday at Williams Grove Speedway, Saturday at Port Royal Speedway and Sunday at Selinsgrove Speedway.
Not only did Abreu check off the first win with a team led by the prolific Warner, but it snapped a five-race streak of finishes outside the top-10 and a full month without a podium finish. May 14 with the World of Outlaws at Williams Grove and June 4 at Knoxville (Iowa) Raceway had been Abreu's lone podiums before Tuesday, where he proceeded to disband a 37-race losing streak.
"It's such a statement for us," Abreu said. "Going forward, and I said after Huset's, we had such a (crappy) week. I just said, hey, we're starting over. This is the second half of our season. We're going seven days in a row here and put a whooping on these guys.
"It takes time. I kind of thought it'd be a little faster, but we've been in position a few times."
Abreu was in prime position to win the Bob Weikert Memorial with the Tezos All Star Circuit of Champions on May 29 at Port Royal — leading the field early from the pole — but ran into the turn two outside fence on his lonesome, resulting in a flat right-rear tire.
"You just can't make mistakes," Abreu said. "That's what it comes down to. Minimize all that stuff and put it on. When you're in position, you can't make mistakes."
With Warner, the mechanical mastermind behind Schatz's legendary career at Tony Stewart Racing, Abreu has everything he needs.
"Rick's the best. I'm just lucky to be racing with a guy like him," Abreu said. "I tell everybody, he's my Midwest father. His wife, she's my Midwest mother. Just a really organic relationship between us. We just both believe in each other. I know he believes in me. He makes me feel like he believes in me. It's hard to find somebody like that in our industry, and that's what creates confidence in me. He tells me it ... that I can do it. I know it. We just vibe off each other."
Peck's Bid to Make History
Though he's 105 points behind Anthony Macri in the Pennsylvania Speedweek standings, Justin Peck still holds onto the hope that he can make history come Sunday night.
With his Ohio Speedweek championship, the Tezos All Star Circuit of Championship regular can be the first to win both Ohio and Pennsylvania Speedweek in the same season.
"Sitting third in points behind Macri and Brent, we have a lot of ground to make up," Peck said. "Podiums and top-fives are nice, but to do it, we need to be a little better in qualifying — a little better all night, really — and put ourselves in position to win these races.
"We've got a lot of speed. It just seems like every time I try to get to racing those guys, I might make some bad moves, or some untimely moves, or I need the car to be a little more hooked up. I think we're working towards that direction. All around, if we can get that last little bit out of the race car, and out of myself, we'll be in a pretty good position."
In years past, the backend of Ohio Speedweek blends into the beginning races of Pennsylvania's miniseries, but that's not so this year. And since the All Star Circuit of Champions are on a bye week, Peck and Pennsylvania team owner Tom Buch figured to take a full swing at the 10-race jamboree.
"We kind of already had it on the schedule. We talked about going to Huset's (for the World of Outlaws Huset's High Bank Nationals) From a car owner's standpoint, it's easier to stay closer to home. It's more races and it's grueling, but it's nice to be able to sleep in your own bed, so it's just kind of a bonus. Now we're kind of in a position to make some history and win a second one."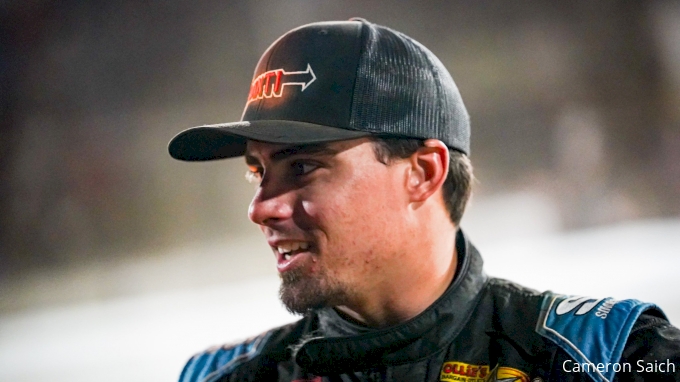 Justin Peck still has hopes of being the first to win the PA and Ohio Speedweek championships in the same year.
Based in Brownstown, Pa., the Buch race shop is conveniently located within two hours from practically every racetrack in Central Pennsylvania.
Peck couldn't one-up Macri and Marks at his favorite Pennsylvania track in Lincoln Speedway on Saturday and Monday, but two tracks remain throughout the remaining five-race stretch that he's won at: Port Royal Speedway and Williams Grove Speedway.
Last Friday at Williams Grove, Peck finished third, but not ahead of Macri — the winner — and runner-up Marks. On Saturday at Lincoln, Peck was again in contention and finished second, but one spot behind Macri, who notched a national-leading 14th win of the season.
Peck then placed fifth in Monday's return to Lincoln and seventh Tuesday at Grandview.
"When we're a little off … my style, and I've become more attuned to what I'm feeling and how I drive, knowing that I tend to overdrive the car a lot," Peck said. "So if we're a little off, I tend to make it look way worse than what it is. Sometimes you have to back down a little bit, take what the car gives you, and try to make the most of it."
Even if Pennsylvania Speedweek doesn't pan out with more hardware, a miniseries title in Ohio is enough of an indicator that Peck — 38 points behind Tyler Courtney in the All Star Circuit of Champions race — is evolving at a fine pace.
"We've always felt like we had the speed," Peck said. "Our consistency wasn't there for 10 straight nights. It'd be there for eight of the 10. We'd be a winning car three times and then the rest of them we'd been hanging around sixth … seventh … top-10 stuff. We're trying to figure out how to get a little bit extra out of it consistently, myself and the race car.
"I think we stumbled upon some stuff here, fine-tuning our stuff, that we don't need to make big changes. We're pretty dialed in. As I said, if we get a little bit better, we'll give these guys a run for their money."
Macri Extends Points Lead
With polesitter Rico Abreu on the proverbial ropes Tuesday at Grandview, another opportunity had been at hand for Brent Marks to draw closer to Anthony Macri in the Pennsylvania Speedweek standings.
That is, until, a caution with 12 laps to go debunked Marks' run for the win. Instead of possibly cutting the 62-point deficit in half heading into round six of the 10-race miniseries tonight at Port Royal (Pa.) Speedway, Macri passed Marks in the final laps to snatch the runner-up finish.
The 30-point swing now puts Marks 84 markers behind Sprint Car's winningest driver in the miniseries.
"It's a little frustrating. I definitely think we had the race won," Marks said. "Cautions just kept falling at the wrong time for me at this place."
Marks shaved 11 points — from 73 to 62 — off Macri's lead in his victory from the 13th-starting position Monday at Lincoln Speedway in Abbottstown, Pa.
The Myerstown, Pa., driver again ran at his own pace Tuesday, intentionally waiting for the right window to open around what became a bottom-dominant oval to attempt his winning move. Once the track took rubber following the final restart on lap 23, Marks' chances vaporized as Macri found just enough room to take second.
"We feel good. I feel like our car is really good and we can compete for the win. We just have to be on our game and do the best we can."
Macri's performance, meanwhile, adds on to his stellar miniseries that now includes two wins, a runner-up and third-place finish as he heads to his best track, Port Royal, in control to close out his first PA Speedweek title.
"Just trying to race in the moment," Macri said. "We've worked really hard to get our short-track program better. I think we've successfully did that. We'll take the rest of the week one race at a time, and hopefully come out with a Speedweek championship."
PA Speedweek points after Grandview: 1. Anthony Macri (658); 2. Brent Marks (574); 3. Justin Peck (553); 4. Lucas Wolfe (410); 5. T.J. Stutts (397); 6. Freddie Rahmer (367); 7. Danny Dietrich (358); 8. Jeff Halligan (325); 9. Dylan Norris (289); 10. Chase Dietz (269).