2022 PA Speedweek at Lincoln Speedway
PA Speedweek Notebook: NASCAR Champ & Open Trailers At Lincoln
PA Speedweek Notebook: NASCAR Champ & Open Trailers At Lincoln
The front row for Monday's PA Speedweek event at Lincoln Speedway featured a NASCAR Cup Series champion and a local who arrived on an open trailer.
Jun 28, 2022
by Kyle McFadden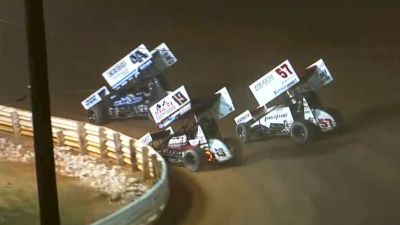 ABBOTTSTOWN, Pa. — The beauty of Pennsylvania Speedweek, or dirt-track racing for that matter, could be succinctly described through Lincoln Speedway announcer Wayne Harper's rundown of Monday's miniseries feature lineup.
"You got a NASCAR Cup Series champion and a local who drove in on an open trailer tonight on the front row," Harper, the track's longtime commentator, said of Kyle Larson and Troy Wagaman Jr. leading the 30-lap main event to green.
One driver needs no introduction within racing circles. The other is a warehouse worker for South Central Pennsylvania-based League-Legacy whom, of late, has played the underdog role to an absolute tee.
Wagaman, the third-year 410 driver, never led laps, but held his own among Sprint Car's finest during round four of Pennsylvania Speedweek, finishing fourth in a top-five that consisted of Brent Marks, Kyle Larson, Anthony Macri and Justin Peck.
The compelling part is how Wagaman makes it work with one car, one engine and one of the few competitors pit-side Monday without an enclosed trailer.
"I try to zone that out because we have a good car," said Wagaman, whose modest team sits seventh in PA Speedweek points but can't run the miniseries in full because of limited resources. "The open trailer is all we can afford right now. One motor, one car. We make it work."
Monday's impressive run was no fluke either, marking his fifth-straight finish inside the top-six at his weekly 3/8-mile home. Wagaman's yet to win since graduating from 358s to race with the Pennsylvania Posse in 2020, but he's never been closer to victory. Among those front-pack finishes are a trio of podiums with two runner-ups, too.
For a few moments Monday, Wagaman thought he'd break through in one of the biggest ways imaginable.
"I thought I was reeling him in, then Brent (Marks) flat drove by us," said Wagaman, who held onto second behind only Larson until Marks got by on lap nine. "He was pretty good. We'll take fourth. It was a good battle with those guys. I was able to hang with them and get back by Peck. Just thought I was reeling Larson in there. I was setting a good pace. And (Marks) surprised me. We'll take it."
Wagaman's best chance to upset the top-heavy lineup would have been flawless execution on the initial start, which needed three takes to successfully send the 30-lap feature on its way. Two caution periods for Danny Dietrich, Billy Dietrich, Dylan Norris and Chad Trout gave Wagaman additional time to maybe snooker Larson from the point.
"I just couldn't get him. There was so much moisture on the bottom, being stuck on the outside," Wagaman said. "I wish I started third. I thought I'd have a better shot. It's tough sitting in the dirt up there when the moisture is on the bottom. We did the best we could. I thought I was setting a good pace like I said, but we'll take fourth."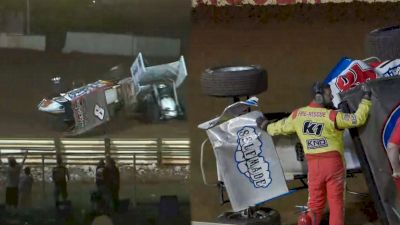 VIDEO: The Dietrich brothers -- Danny and Billy -- both flipped on the opening lap of Monday's race.
Wagaman might not have the resources like his top-five counterparts Monday, but a new Mach 1 Chassis built by fellow Pennsylvania racer Mark Smith with a change to Factory Kahne Racing Shocks has paid dividends.
"The combination of the two seems to be working really good," Wagaman said. "When you get up there and race with those guys, it builds confidence, and actually race and learn. When you're driving through the field, it's good. But when you actually have to be methodical and learn your moves — the diamonds and the sliders and when to make a move, keep the wheels under you, don't burn them off and save off tires. It's all new. Get better at it and see where we end up."
One race, the Mitch Smith Memorial on Friday at Williams Grove Speedway in Mechanicsburg, remains on Wagaman's schedule this week. Until then, it's work at the L2 Brands warehouse in Hanover, Pa., and putting himself in position so he can again maximize one-car operation.
"Long year," Wagaman said. "We'll keep fighting."
Marks wins from 13th
Brent Marks' drive to victory Monday at Lincoln Speedway from the 13th-starting spot where he ousted race-long leader Kyle Larson demonstrated how he's taken the next level in his Sprint Car career over the past year.
The Myerstown, Pa., driver downright botched his two qualifying laps, only turning a best time of 14.291 seconds, which put him 17th of 21 drivers in session one. Buried so deep, Marks and his Murray-Marks Motorsports team went to work, ultimately springing back into competition with a statement.
"It was just a misjudgment on the car, but the track did slow up a lot, too," Marks said of his qualifying effort. "But we were definitely better than what we timed there. After that, we just got to work and really tightened this race car up, tried to build grip in it, and kept working on the thing all night long. We just never gave up, and put all our efforts into it."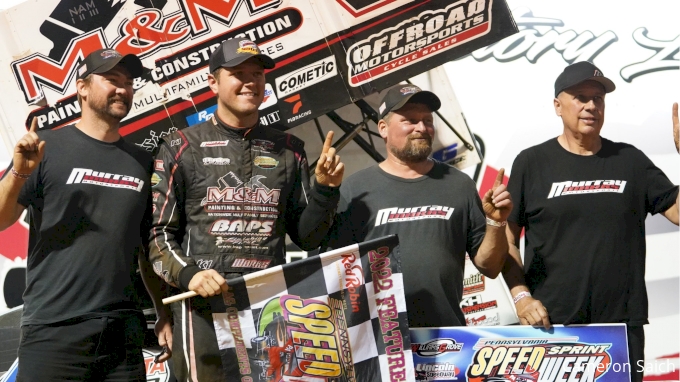 Photo: Brent Marks and team celebrate his PA Speedweek victory Monday night at Lincoln.
Marks tallied win No. 7 of the season in his drive from the mid-pack, which ranks him alone in sixth nationally behind Anthony Macri's 14 wins and the eight wins apiece from Danny Dietrich, A.J. Flick, Carson Macedo and Sheldon Haudenschild.
It was also the first time all season that someone had won from outside the top-10 at Lincoln, and if there's anyone to accomplish the feat, it's Marks, a 22-time winner the past two years. On Monday, Marks ran up to seventh on lap one and then second by lap nine.
On lap 10, Marks caught Larson in traffic and had been running laps roughly a half second faster than the field catfishing around the bottom.
"The track just got so wide. You could still carry momentum around the top, but once you got to the straightaways, they were so dirty and so slick, I was just able to hug the bottom and rotate really nice," Marks said. "And stay as low as I could down the straightaway, using as much moisture as I possibly could, and I just got such good runs on those guys down the straightaways.
"That was kind of plan going into it. … Just figured, man, we have to get this car rotated around the bottom and try to work our way up through there. As I said, the top you could build momentum, but I didn't think it was passable. We just needed to move around and do something different."
With the outing, Marks shaved 11 points off Macri's PA Speedweek lead, from 73 points to 62 with seven races remaining.
"I knew we could run up to the top-five, but with Macri, Larson and Peck all starting up there, we knew it was going to be really hard," Marks said. "But, yeah, we did it. Made it happen and it was a lot of fun."
Larson's deja vu at Lincoln
For whatever reason, Pennsylvania Speedweek's round four at Lincoln Speedway routinely turns out to be Kyle Larson's toughest sprint car race of the Keystone State miniseries.
On Monday, the reigning NASCAR Cup Series champion led 18 of 30 laps at the 3/8-mile oval in the Pigeon Hills until another foreseeable win had been wrangled from his grasp. Brent Marks stormed not just Larson, but the field to win from the 13th-starting position.
That left Larson wishing he had mustered more somewhere along the way — just like 2018 when he led 20 laps but lost a fierce battle to Danny Dietrich, like 2019 when he finished second to Brian Montieth, like 2020 when laps 27 were led but Dietrich again came on late, and like last year when Justin Peck handed Larson yet another runner-up result.
"Yeah, I've been in contention here a lot, so that's always good. But I've lost a lot more than I won," Larson said. "I remember when Danny beat me (in 2020) he was quite a bit better than me, too. Tonight was a lot like that. Brent was, I feel, a good ways better than I was."
Larson grabbed fast time honors in his session by nearly two tenths with a lap of 13.860 seconds, but that top rate speed leveled off as the night progressed. Even as Larson raced out to a straightaway lead by lap 10, he could never truly settle in. Marks additionally had advanced 11 positions and clicked off lap times roughly a half second faster midway through the running.
"I didn't feel very good when I was out in clean air," Larson said. "Then when I caught traffic, I was definitely not good. Yeah, and (Brent) was able to maneuver really well. Yeah, I don't know. We have to just work on our stuff a little bit and we'll be good."
Larson had been relatively committed to the top side until Marks showed the faster way around the bottom. Time could still be made around the top of turns three and four through to the finish, but not turns one and two. Maybe if the track hadn't narrowed, Larson could have kept momentum rolling enough to counteract Marks' catfishing ways.
"Yeah, that would have helped my options, but it would have given him more options, too," Larson said. "He would've been better if they track had been higher also. Shoulda, coulda woulda. He beat us."
Larson, who jetted from Nashville (Tenn.) Super Speedway following his fourth-place NASCAR Cup Series run Sunday to partake in four Pennsylvania Speedweek events this week, now heads to his finest venue of the miniseries: Grandview Speedway in Bechtelsville, Pa., the third-mile oval he's won at four of the last five years.
"It'll be good to go to Grandview, a track we've won quite a bit," Larson said. "Hopefully (we'll) win another one."
PA Speedweek points after night four of 10: 1. Anthony Macri (500); 2. Brent Marks (438); 3. Justin Peck (431); 4. T.J. Stutts (330); 5. Lucas Wolfe (310); 6. Jeff Halligan (280); 7. Troy Wagaman Jr. (270); 8. Freddie Rammer (269); 9. Chase Dietz (259); 10. Lance Dewease (256).
Odds and ends
NASCAR Cup Series driver Christopher Bell started seventh and finished eighth aboard Kevin Swindell's No. 39 sprint car. Bell is scheduled to race twice more this week at Grandview Speedway tonight and Port Royal Speedway on Wednesday. … Chili Bowl Nationals champion Tanner Thorson finished seventh from the 17th-starting spot Monday. Thorson's slated to run four more races this week in Aaron Long's sprint car adorned in a throwback wrap to the late Stevie Smith's Black Bandit No. 19 days from the 1980s and 90s. … Reigning PA Speedweek champion Danny Dietrich battled back from an opening-lap flip to finish 10th.