2022 Dirt Cup at Skagit Speedway
Tyler Courtney Earns Big Dirt Cup Payday At Skagit Speedway
Tyler Courtney Earns Big Dirt Cup Payday At Skagit Speedway
Tyler Courtney earned one of the richest paydays in west coast Sprint Car history by winning Saturday's Dirt Cup at Skagit Speedway.
Jun 26, 2022
by Brandon Paul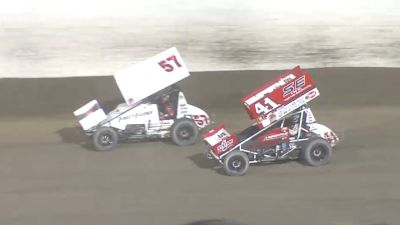 Tyler Courtney made his first visit to Skagit Speedway a memorable one on Saturday evening. Driving the No. 57 Sprint Car owned by Kevin Kozlowski, Courtney earned a payday worth over $76,000 by winning the 50th Jim Raper Memorial Dirt Cup.
"What can I say? This is badass," Courtney said in victory lane. "First time here at Skagit and two wins out of the four. Started at the back for the prelim night shows. The crowd kept getting bigger and bigger each night. This is cool and I hope this event gets back to where it needs to be."
The Indianapolis native known as "Sunshine" started from the front row after winning the pole shuffle. However, it was outside polestiter and current NARC Racing Series points leader Dominic Scelzi jumping out to the early lead.
Scelzi led the first 24 laps of the 50-lap main event before Courtney made his move while navigating slower traffic. Courtney's slide-job in turn two on lap 25 proved to be the winning move, as he dominated the final 26 laps after taking the race lead.
"That was a lot more technical than I thought it would be," Courtney stated. "That hole that got created up in turn four made it interesting. It was a matter of hitting it right or not. Dominic set a really fast pace there at the beginning, which is what I wanted to do but he got the jump out of two there. I got to follow him there for a little bit and I felt like we were better as the race went. We got him there in traffic and got to set our own pace. He showed me a nose right before the stop there.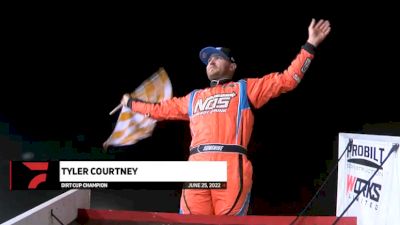 VIDEO: Tyler Courtney discusses his Dirt Cup victory at Skagit Speedway.
In addition to the $50,000 guaranteed payout, Courtney collected $26,000 in lap money for a total payout of $76,000 before other bonuses.
"[The money] doesn't hurt either," he said. "It would have been nice to take a hundred grand out of here but Dominic made sure that didn't happen. I still think we made some decent money, so thank you to everyone who put the money up. It's just really cool."
Kerry Madsen made a late pass on Scelzi to claim runner-up honors and the $26,000 check that came along with it. Scelzi completed the podium but walked away with $42,000 ($18,000 plus $24,000 in lap money) for his efforts.
Shane Golobic and Jason Solwold completed the top five.