2022 Dirt Cup at Skagit Speedway
Tyler Courtney Wins Dirt Cup Tune-Up In Skagit Speedway Debut
Tyler Courtney Wins Dirt Cup Tune-Up In Skagit Speedway Debut
Tyler Courtney topped a strong field of 410 Sprint Cars to win Monday's Dirt Cup Tune-Up at Skagit Speedway.
Jun 21, 2022
by Brandon Paul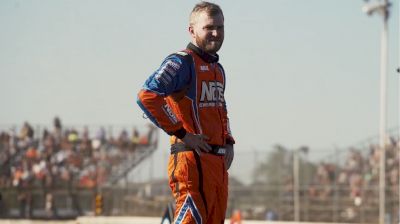 Alger, WA - The first stage of the Road to Dirt Cup is complete. On Monday night, the sun was shining bright as Indianapolis driver "Sunshine" Tyler Courtney claimed the 410 Sprint Car victory in the Dirt Cup Tune-Up at Skagit Speedway.
Courtney led all 30 laps of the main event, but the win didn't come easy. The defending champion with the Tezos All Star Circuit of Champions had to fend off heavy pressure from Corey Day to score the victory in his first appearance at Skagit.
"That was awesome. The track was pretty primo," Courtney said. "It was badass to put it at the slightest. This is just the first night. We have three more nights and fifty grand on the line on Saturday. I'm just excited. Cool first here trip to Skagit and hopefully we can have races like that the rest of the week."
Like most drivers in the field, Courtney was using Monday night's race to prepare for the 50th running of the Dirt Cup, which begins Thursday night and ends with a $50,000-to-win main event on Saturday.
"This is a completely different race car than what I drive back home," he said. "Just getting to come out here with an extra night to gel with these guys behind me and get acclimated with a different race car is pretty big."
Courtney started on the pole of Monday's 30-lap feature with Day to his outside. He jumped out to an early lead; however, a handful of early cautions slowed the pace and kept the field from getting spread out.
On the first extended green flag run that came after a lap five restart, Courtney finally dove into slower traffic, and that's when Day applied his heaviest pressure. For more than 20 laps, Courtney would zig and Day would Zag.
While Courtney officially led every lap, Day was ahead on the track numerous times thanks to a handful of slidejobs. Courtney had a beautiful counter move lined up each time and held the highly contested lead all the way through the end, finally escaping from Day with three laps left to take the $4,000 top prize.
"I was probably racing one of the best kids that's up-and-coming right now," Courtney said. "He races with a lot of respect and I was trying to give it back to him. Corey is fun to race and I'm looking forward to racing with him for a long time."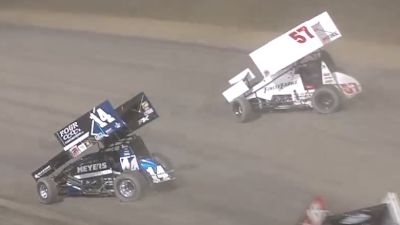 Highlights Dirt Cup Tune-Up 6-20-22 on FloRacing
Day, who was also making his Skagit debut, finished in the runner-up spot. Justin Sanders battled his way to a hard-fought podium finish.
Sanders, Tanner Holmes, Day and Willie Croft won the heat races. Courtney won the dash and set quick time, with Bud Kaeding winning the B-Main. A total of 37 410 Sprint Cars signed in for competition on Monday night's tune-up.
The 50th running of the Dirt Cup gets underway Thursday night with qualifying and a 30-lap feature for 410 Sprint Cars. Another night of preliminary action will take place on Friday with qualifying and a 40-lap feature. Throughout Thursday and Friday, drivers will earn points that will lock in the top 18 starters for Saturday's 50-lap, $50,000-to-win main event.
In addition to the $50,000 in guaranteed money, the Dirt Cup will pay $1,000 for each lap led on Saturday night. This means that one driver could walk away from Skagit Speedway with up to $100,000 on Saturday night.
If you can't make it to the race track this week, all three nights of the Dirt Cup will be streamed live on FloRacing. Become a subscriber today by clicking here.