2022 Tezos ASCoC OH Speedweek at Waynesfield Raceway Park
Tyler Courtney Returns To All Stars Victory Lane At Waynesfield
Tyler Courtney Returns To All Stars Victory Lane At Waynesfield
Defending champion Tyler Courtney returned to All Star Circuit of Champions victory lane Thursday during Ohio Sprint Speedweek at Waynesfield Raceway Park.
Jun 17, 2022
by Brandon Paul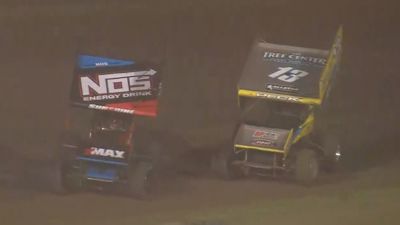 WAYNESFIELD, OH -- Defending Tezos All Star Circuit of Champions presented by Mobil 1 champion, Tyler Courtney, earned his way back to victory lane on Thursday night, earning top honors in round seven of Cometic Gasket Ohio Sprint Speedweek presented by Hercules Tires at Waynesfield Raceway Park. The victory, Sunshine's fourth of the season against the traveling All Stars, also bumping his career total to 12, was accomplished from the front row, utilizing the pole position by way of dash finish to ultimately lead every circuit of the 30-lap Rick Ferkel Classic.
Despite being basically untouchable in A-Main action, Courtney, who is currently third in the Ohio Sprint Speedweek championship standings, did face some challenges, most of which in the form of lapped traffic. In fact, the final five circuits were packed to the brim with traffic, ultimately allowing Buch Motorsports' Justin Peck to power himself within a few car lengths of the Clauson Marshall Racing No. 7BC. Peck's last-ditch effort would fail, allowing Courtney to secure his first-ever Speedweek victory.
"Definitely some weight lifted off our shoulders here tonight. It's been a trying last few months for this NOS Energy team, but my guys haven't given up and I'm really proud of their efforts," Tyler Courtney said in victory lane. "This win feels a lot more special than some other ones, only because of the situation we've had to overcome to get here. The car was so good from start to finish and I owe that all to my guys."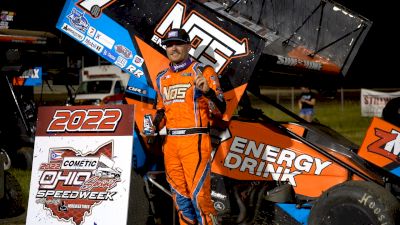 VIDEO: FloRacing caught up with Tyler Courtney after his win at Waynesfield on Thursday night.
Myerstown, Pennsylvania's Brent Marks finished just behind Peck in third, followed by Hunter Schuerenberg and Bill Balog. Peck remains in control of the Ohio Sprint Speedweek standings, holding down a 40-point margin over Republic, Ohio's Cap Henry.
Cometic Gasket Ohio Sprint Speedweek presented by Hercules Tires will continue with a $6,000 program at Limaland Motorsports Park on Friday, June 17. The All Star Circuit of Champions will conclude the 40th edition of Ohio Sprint Speedweek with Portsmouth Raceway Park's highly sought after Dean Knittel Memorial on Saturday, June 18.
For those who can not witness the All Star Circuit of Champions live and in person, FloRacing.com, the official media partner and broadcast provider of the All Stars, has you covered. To access live and on-demand racing action from the All Star Circuit of Champions, visit FloRacing.com and become an annual PRO subscriber. Race fans can see all the USAC and dirt late-model action they want in addition to Eldora Speedway's slate of races and those of the All Star Circuit of Champions. The subscription unlocks access to premium content across the entire FloSports network. Watch the events across all screens by downloading the FloSports app on iOS, Android, Apple TV, Roku, Amazon Fire and Chromecast.