2022 USAC Indiana Midget Week at Gas City I-69 Speedway
Gas It Up! USAC Indiana Midget Week Hammers Down Friday At Gas City
Gas It Up! USAC Indiana Midget Week Hammers Down Friday At Gas City
California's Buddy Kofoid is having a terrific 2022 USAC Indiana Midget Week, and he's looking to continue his success Friday at the Gas City I-69 Speedway.
Jun 8, 2022
by FloRacing Staff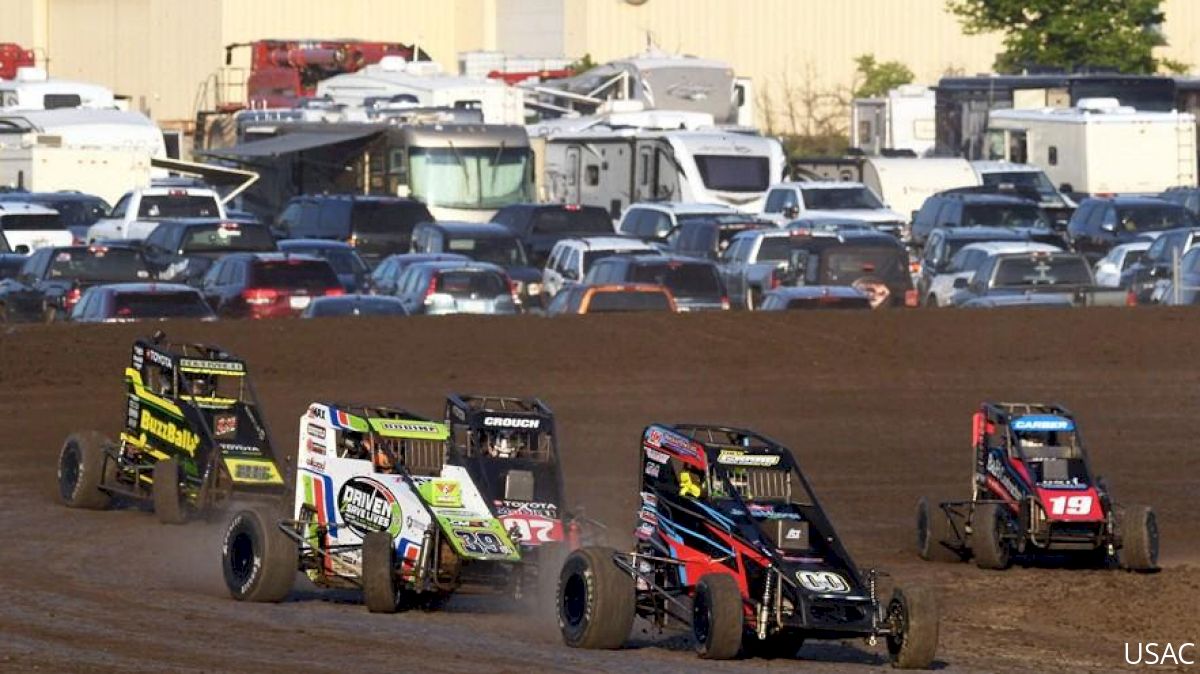 Entering last year's penultimate round of USAC Indiana Midget Week at Indiana's Gas City I-69 Speedway, all the chatter revolved around who could step up and carry on the streak that had a different driver and team winning a USAC NOS Energy Drink National Midget feature in each of the last eight races.
Buddy Kofoid and Keith Kunz/Curb-Agajanian Motorsports put the kibosh on that discussion, placing a period on the streak and writing their own exclamation point with a wire-to-wire victory, leading all 30 laps, to become 2021 Indiana Midget Week's first multi-time winner en route to the mini-series point lead and, ultimately, the title.
The chatter remains centered around Kofoid entering this sixth of seven rounds for USAC Indiana Midget Week at Gas City this Friday night. The Penngrove, California, native already has finished the first weekend with three results inside the top 2, including already establishing himself as a multi-time winner.
While all the discussion focused on whether anybody could stop the streak, the question this time around is whether anyone will be able to rope in Kofoid and catch him in pursuit of the IMW crown.
Interestingly, Kofoid's Indiana Midget Week record at Gas City nearly resembles his Indiana Midget Week output with nary a finish outside the top 2. He was a runner-up finisher in 2020 and comes in as the defending winner after scoring the 2021 event.
Kofoid is among a handful of past Gas City IMW feature winners in this Friday's driver lineup, along with Jerry Coons Jr. (2009), Tanner Thorson (2015) and Justin Grant (2019).
Coons (Tucson, Arizona) started the first IMW event at Gas City back in 2005, which marked the first of his six top-5 and eight top-10 results in the race. The 2007 Indiana Midget Week champ finished as the runner-up twice in 2006 and 2012, fourth in 2008, fifth in 2005 and 2007, seventh in 2015 and 10th in 2016.
The first career USAC National Midget feature win for Tanner Thorson (Minden, Nevada) came at Gas City during Indiana Midget Week in 2015. The 2016 USAC National Midget champ also was third in 2017, fourth in 2020 and fifth in 2019 during IMW. His run from 20th to eighth in 2021 made him the event's hard charger award winner.
Justin Grant (Ione, California) captured the IMW round at Gas City in 2019 and earned a fourth-place result in 2015. The 2020 USAC Silver Crown driving champion also boasts a single USAC AMSOIL National Sprint Car feature victory on his Gas City resume.
Cannon McIntosh (Bixby, Oklahoma) won the only non-Indiana Midget Week event ever held at Gas City in September of 2020. McIntosh did, however, nearly bank the victory at Gas City's IMW round in 2019, finishing second, then came back in 2021 with another fine run in fifth.
Thomas Meseraull (San Jose, California) claimed a midget victory at Gas City in 2021 on the USAC Regional Midget tour. The two-time Gas City Sprint Car track champion (2010 & 2019) won with the Buckeye Outlaw Sprint Series at Gas City in May of this year and owns a best official result of 10th in IMW at Gas City.
Logan Seavey (Sutter, California) snagged the Indiana Sprint Week feature wins at Gas City in both 2020 and 2021 and hopes to translate that performance to Indiana Midget Week this Friday night.
The 2019 Indiana Midget Week and 2018 USAC National Midget champion did have a noteworthy performance at Gas City's IMW round in 2020, though, setting quick time in qualifying before finishing seventh in the A-Main.
He had his best run, however, in the most recent, traveling from 11th to 3rd during IMW at Gas City in 2021.
Back on the gas at the 1/4-mile dirt oval on Friday are a pair of top-10 finishers during IMW at Gas City. Jason McDougal (Broken Arrow, Oklahoma) collected a fourth-place finish in 2019 and Kaylee Bryson (Muskogee, Oklahoma) was 10th in 2020 and ninth in 2021.
Kyle Cummins (Princeton, Indiana) was a third-place finisher at Gas City in September 2020, but his best IMW result there thus far is a 19th in 2021.
Brenham Crouch (Lubbock, Texas) and Bryant Wiedeman (Colby, Kansas) both made their USAC National Midget debuts at Gas City in late 2020. Both also made their first IMW starts in 2021, finishing 16th and 23rd, respectively. Ethan Mitchell (Mooresville, North Carolina) recorded a 17th-place finish in 2021, and Hayden Reinbold (Gilbert, Arizona) finished one spot behind in 18th.
First-time Indiana Midget Week appearances at Gas City come from the likes of drivers who previously have found success there in other forms of motorsports.
Jacob Denney (Galloway, Ohio) may own more midget wins than anybody in this Friday night's field. He's won four times in USAC Midwest Thunder SpeeD2 Midget competition at Gas City, twice in 2020 and twice more in 2021.
Chance Crum (Snohomish, Washington) experienced Gas City victory lane for the first time in July 2021 as a USAC Regional Midget feature winner. Bryan Stanfill (Bakersfield, California), a 2020 USAC IMRA SpeeD2 Midget champ, scored sixth in that same race.
Like Stanfill, Blake Brannon (Morgan Hill, California) has a resume that includes a USAC title on it with the 2016 Restricted HPD Midgets. He'll be looking to make his first IMW start at Gas City, as are top USAC National Midget rookie Mitchel Moles (Raisin City, California) and his CB Industries teammates, Jade Avedisian (Clovis, California), Jace Park (Overland Park, Kansas) and Dominic Gorden (Clovis).
Keith Kunz/Curb-Agajanian Motorsports' Taylor Reimer (Bixby), Cade Lewis (Bakersfield), Mariah Ede (Fresno, California) and Australian Speedcar champ Kaidon Brown (Sydney, New South Wales, Australia) are among the first-timers at Gas City as well.
Two different hemispheres will be represented in Friday's event, with Brown joined by Mike Griffiths (Melbourne, Victoria, Australia) and Kiwi Travis Buckley (Auckland, New Zealand).
Add Badger Midget champion Chase McDermand (Springfield, Illinois) and from the west coast, Bay Cities Racing Association Midget champs Maria Cofer (Macdoel, California) and Robert Carson (Concord, California), plus All Star TQ Midget winner Rylan Gray (Greenfield, Indiana), who made his first career USAC National Midget start last Friday at Bloomington Speedway in Bloomington, Indiana.
Friday's event will feature USAC Indiana Midget Week for the USAC NOS Energy Drink Midget National Championship, along with the Gas City Sprint Cars.
Pits open on Friday at 3 p.m. Eastern, with the grandstands opening at 5 p.m. Hot laps will begin at 6:30 p.m.
Tickets and pit passes will be sold at the gate. General admission tickets are $30, students are
$10 and kids aged 12 and under are free. Pit passes are $35.
All of USAC Indiana Midget Week and all USAC national events throughout the season can watched live and on-demand right here on FloRacing.
2022 USAC NOS ENERGY DRINK MIDGET NATIONAL CHAMPIONSHIP POINTS: 1-Buddy Kofoid-629, 2-Justin Grant-577, 3-Mitchel Moles-470, 4-Thomas Meseraull-467, 5-Bryant Wiedeman-466, 6-Cannon McIntosh-419, 7-Kaylee Bryson-416, 8-Logan Seavey-345, 9-Taylor Reimer-339, 10-Brenham Crouch-308.
2022 USAC INDIANA MIDGET WEEK POINTS: 1-Buddy Kofoid-245, 2-Justin Grant-203, 3-Thomas Meseraull-191, 4-Kyle Cummins-184, 5-Mitchel Moles-181, 6-Bryant Wiedeman-178, 7-Kaylee Bryson-169, 8-Taylor Reimer-150, 9-Jacob Denney-149, 10-Jade Avedisian-125.