2022 Eldora Million at Eldora Speedway
Five Drivers You May Be Surprised Are Racing Eldora Million
Five Drivers You May Be Surprised Are Racing Eldora Million
Here are five drivers that you may be surprised to see competing in this week's Eldora Million at Eldora Speedway.
Jun 6, 2022
by Brandon Paul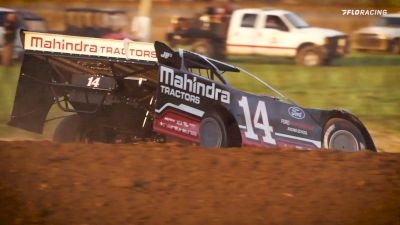 When the announcement was made that the Eldora Million would be returning to Eldora Speedway in 2022, the news sparked excitement throughout the racing industry. Dirt late model drivers were not the only drivers excited about the announcement. Motorsports stars from other divisions of racing also wanted to be involved with the historic event.
Working out the logistics to get behind the wheel of a dirt late model is easier said than done, but a handful of racing stars have been able to put together the pieces of the puzzle.
We've taken those drivers and mixed in a few surprising late model names to come up with a list of five drivers you may be surprised to see racing the Eldora Million.
Chase Briscoe
Although his name has yet to appear on the official entry list, Briscoe has publicly announced that he'll be competing in the Eldora Million during his "Chase'n Dirt" tour. Briscoe has partnered with Kent Robinson Racing to compete in select dirt late model events this season. The Stewart-Haas Racing driver has made three starts in a super late model thus far, including Castrol FloRacing Night in America at Brownstown Speedway and two races held at The Dirt Track at Charlotte Motor Speedway.
Tyler Courtney
When Tyler Courtney heard about the return of the Eldora Million, he started plotting his path to compete in the race. The defending champion on the Tezos All Star Circuit of Champions has teamed up with NASCAR crew chief Jeremy Bullins and will drive the Jeremy Bullins Racing No. 7 at Eldora Speedway. Courtney made his dirt late model debut at Eldora Speedway during Castrol FloRacing Night in America and charged from his 17th starting position to finish ninth.
Donny Schatz
The 10-time World of Outlaws Sprint Car Series champion is no stranger to dirt late models, but Schatz typically races his No. 15 late model closer to home in North Dakota. Schatz announced in April that he would be returning to Eldora, the track where he made his late model debut, for the Eldora Million. He has 18 career wins at the track including four wins in the Kings Royal.
Billy Moyer
Five years ago, it wouldn't be a surprise to see Billy Moyer's name on the entry list for a major event at Eldora Speedway. But after selling his equipment at the end of the 2021 season, it was unknown if and when we'd see the Dirt Late Model Hall of Famer behind the wheel this year. Insert Tim Lance, a dirt late model team owner and former NFL player for the Chicago Bears. Moyer has joined forces with Lance and will drive his No. 48 in a limited number of races. The duo recently competed in a pair of Memorial Day Weekend events to help prepare for the Eldora Million.
Carson Ferguson
Chris Ferguson won't be the only member of the Ferguson family chasing $1 million at Eldora Speedway. Chris' cousin Carson is set to make his Eldora Speedway debut during the biggest race in dirt late model history. Carson, a former FASTRAK Racing Series champion in the pro late model ranks, has made only a handful of super late model starts so far in his career.