2022 Eldora Million at Eldora Speedway
More Than 115 Drivers Now Entered For Eldora Million
More Than 115 Drivers Now Entered For Eldora Million
The latest entry list for this week's Eldora Million at Eldora Speedway includes the names of 116 dirt late model drivers.
Jun 6, 2022
by Brandon Paul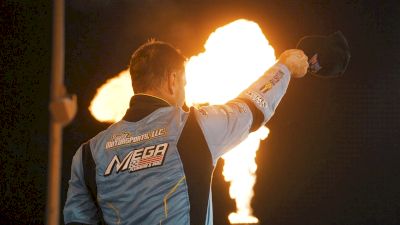 A man once asked, "if you had one shot or one opportunity to seize everything you ever wanted in one moment, would you capture it or just let it slip?"
This week, dirt late model racers will have the opportunity to seize everything they ever wanted during the second running of the Eldora Million at Eldora Speedway. As of Monday, 116 drivers from all over the United States and Canada are hoping to take advantage of that opportunity and capture the $1 million prize.
The current list of entries for the biggest race in dirt late model history features drivers from 27 states and two Canadian provinces.
Since our last entry list update on May 27, the number of entries has nearly doubled from 62 to 116. As expected, many of the sport's biggest names who were absent from the first update have officially filed their entries for the event.
Most notably, Brandon Overton has entered the event after picking up two Dirt Late Model Dream wins and a World 100 win at Eldora one year ago.
Overton isn't the only notable Brandon who has been added to the list. Brandon Sheppard, the current Castrol FloRacing Night in America and Lucas Oil Late Model Dirt Series points leader, has also filed his entry.
As expected, eight-time Dirt Late Model Dream and four-time World 100 winner Scott Bloomquist has made his plans to compete in the Eldora Million official.
In what would be considered more of a surprise, six-time World 100 winner Billy Moyer has thrown his hat in the ring for the $1 million payday.
A pair of former World 100 winners, Chub Frank and Tim McCreadie, have also been added to the entry list.
Other notables added to the latest entry list include UMP Modified standout Nick Hoffman, Illinois standout Shannon Babb, "Hunt the Front" star Joseph Joiner and former FASTRAK Racing Series champion Carson Ferguson.
The full entry list featuring the names of 116 dirt late model drivers can be seen below.
The second-running of the Eldora Million, paying $1,000,022 to the winner, begins on Wednesday, June 8 with qualifying and preliminary races. That will set the stage for the richest race in dirt racing history on Thursday, June 9 when one driver leaves Eldora Speedway a millionaire.
The fun doesn't end there, however.
Once the Eldora Million has concluded, focus will shift to the second-richest Dirt Late Model race of the year: the Dirt Late Model Dream. Qualifying and preliminary races will be held on Friday, June 10 before the $129,000-to-win main event on Saturday, June 11.
All four days of the historic week at Eldora Speedway will be streamed live on FloRacing. If you're not already a subscriber, click here to become one today.
Eldora Million Entry List (As of 6/6/22)
| | |
| --- | --- |
| Car | Driver |
| 0 | Scott Bloomquist |
| 0R | Ryan Scott |
| 1 | Brandon Sheppard |
| 1 | Tyler Erb |
| 1C | Chad Thrash |
| 1C | Kenny Collins |
| 1G | Ryan King |
| 1M | Eric Midkiff |
| 1R | Chub Frank |
| 1S | Jeremy Shaw |
| 1st | Johnny Scott |
| F1 | Coleby Frye |
| 2 | Nick Hoffman |
| 2S | Stormy Scott |
| 2x | John Henderson |
| 3 | Austin Neely |
| 3s | Brian Shirley |
| 5 | Mark Whitener |
| 5N | Dustin Nobbe |
| 5* | Bryant Dickinson |
| 6 | Victor Lee |
| 6JR | Parker Martin |
| 6M | Dona Marcoullier |
| 7 | Ross Robinson |
| 7 | Ricky Weiss |
| 7R | Kent Robinson |
| 8 | Kyle Strickler |
| D8 | Dustin Linville |
| 9 | Devin Moran |
| C9 | Steve Casebolt |
| 10 | Joseph Joiner |
| 11 | Austin Kirkpatrick |
| 11 | Gordy Gundaker |
| 11 | Spencer Hughes |
| 11 | Josh Rice |
| 12 | Doug Drown |
| 12 | Jason Jameson |
| 15 | Donny Schatz |
| 16 | Tyler Bruening |
| 17 | Cameron Weaver |
| 17 | Zack Dohm |
| 17M | Dale McDowell |
| 17ss | Brenden Smith |
| 18 | Chase Junghans |
| 18 | Shannon Babb |
| 18 | Trevor Landrum |
| 18D | Daulton Wilson |
| 18X | Michael Page |
| 18Z | Zane DeVilbiss |
| 19 | Logan Roberson |
| 19M | Will Herrington |
| 19R | Ryan Gustin |
| 20 | Jimmy Owens |
| 20 | Todd Brennan |
| 20RT | Ricky Thornton, Jr. |
| 21 | Billy Moyer |
| 21 | Mario Gresham |
| 21 | Robby Hensley |
| 21K | Dakotah Knuckles |
| 21RH | Gregory Haskell |
| 22 | Chris Ferguson |
| 22 | Daniel Hilsabeck |
| 22 | Gregg Satterlee |
| 22* | GR Smith |
| B22 | Bump Hedman |
| 23 | John Blankenship |
| 25 | Jason Feger |
| 25 | Michael Benedum |
| 25 | Shane Clanton |
| 25 | Chad Simpson |
| 26JR | Jimmy Sharpe, Jr. |
| M27 | Mike Provenzano |
| 28 | Dennis Erb Jr. |
| 28M | Jimmy Mars |
| 29 | Darrell Lanigan |
| 31 | Tyler Millwood |
| 31k | Kyle Blight |
| 32 | Bobby Pierce |
| 32 | Chris Simpson |
| 39 | Tim McCreadie |
| 40B | Kyle Bronson |
| 42 | Cla Knight |
| 44 | Chris Madden |
| 44W | David Webster |
| 45 | Kyle Hammer |
| 46 | Earl Pearson, Jr. |
| 48 | Colton Flinner |
| 48 | Tim Lance |
| 49 | Jake Timm |
| 49 | Jonathan Davenport |
| 50 | Ryan Missler |
| 51 | Mack McCarter |
| 55 | Jeep Van Wormer |
| 58 | Garrett Alberson |
| 71 | Hudson O'Neal |
| 71R | Rod Conley |
| 76 | Brandon Overton |
| 79 | Ross Bailes |
| 81 | Jason Riggs |
| 83 | Jensen Ford |
| 83 | Scott James |
| 88 | Dustin Smith |
| 88 | Trent Ivey |
| 88 | Andrew Reaume |
| 89 | Ashton Winger |
| 91p | Jason Papich |
| 93 | Carson Ferguson |
| 94 | Jason Miller |
| 95j | Jerry Bowersock |
| 99B | Rick Briggs |
| 111 | Steven Roberts |
| 111V | Max Blair |
| 145 | Chase Frohnapfel |
| 157 | Mike Marlar |
| K | Freddie Carpenter |
| KB | Kerry King |