2022 USAC Indiana Midget Week at Tri-State Speedway
Class Is In Session: Tri-State Readies For USAC Indiana Midget Week
Class Is In Session: Tri-State Readies For USAC Indiana Midget Week
USAC Indiana Midget Week will visit Tri-State Speedway on Sunday for USAC NOS Energy Drink Midget National Championship and Midwest Sprint Car action.
Jun 1, 2022
by FloRacing Staff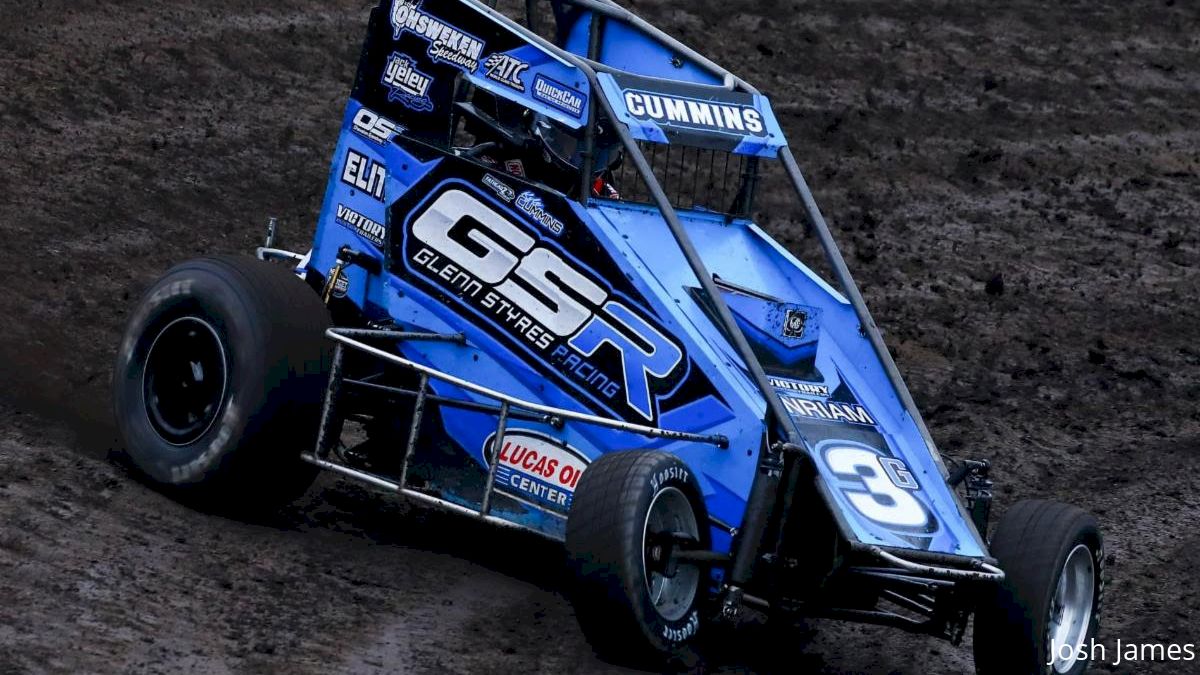 During the middle of last year's USAC Indiana Midget Week, if you needed any more evidence that, for all intents and purposes, Kyle Cummins practically owns Tri-State Speedway, the Princeton, Indiana, driver was there to cement that fact in the 1/4-mile dirt oval's IMW debut.
Cummins shot to the lead early, lost it, gained it back, then stood his ground in warding off constant pressure down the stretch to earn his first career USAC NOS Energy Drink Midget National Championship feature victory at his "home track."
Now, Cummins aims for deja vu to play out as he vies for win No. 2 this Sunday night during Round 3 of the seven-race mini-series at the Haubstadt, Indiana, venue's 30-lap feature, which pays $4,000-to-win.
Cummins' prowess in a sprint car at the southwestern Indiana track has been well-established with numerous victories, and he owns a record six career USAC AMSOIL National Sprint Car victories at Tri-State. He reiterated his dominance by snaring the Midwest Sprint Car Series feature just moments before hopping in the midget and winning again in 2021.
Since his first start in 2019, Cummins hasn't finished outside the top-six in USAC National Midget competition at Tri-State, scoring a third-place finish in the fall of 2019 and 2020, as well as a sixth-place effort in October 2021.
Thomas Meseraull (San Jose, California) broke through for his first career USAC National Midget feature win at Tri-State in October 2020. He backed it up with another victory there in the fall of 2021 to become the only multi-time USAC Midget feature in the history of the track. In seven Tri-State USAC Midget starts, he has finished third in 2011 and in the IMW round of 2021. He also was eighth in 2019 and 10th in 2010.
Zach Daum (Pocahontas, Illinois) captured his first career USAC National Midget win at Tri-State back in 2011 during the running of the Hut 100. Daum also finished fifth at TSS in 2010 and made his last appearance with the USAC Midgets at TSS in 2012. He picked up a POWRi victory at TSS in 2015, and his Bundy Built Motorsports teammate Ethan Mitchell (Mooresville, N.C.) was a 22nd-place finisher in his IMW run at TSS in 2021.
Jason McDougal (Broken Arrow, Oklahoma) can count himself among the winners of a USAC National Midget feature at Tri-State, taking the first of his career during the 2019 Harvest Cup, and he was sixth in the IMW round in 2021.
Justin Grant (Ione, California) took a personal-best third place with the series at Tri-State last fall. He has been a hard charger on multiple occasions in the midget at TSS, ripping from 16th to fifth in 2019 and from 19th to eighth in his first IMW go at TSS in 2021. He also recorded an eight-place finish in 2020 and was a winner with the USAC AMSOIL Sprint Car National Championship at the track in 2021.
Logan Seavey (Sutter, California) led the first seven laps of the 2019 USAC Midget race at TSS and wound up sixth in the final rundown. The 2018 USAC National Midget champ and 2019 Indiana Midget Week king was 13th in his IMW run there in 2021 but came back with a seventh-place finish in October. In August 2020, during the Indiana Sprint Week finale at TSS, Seavey set fast time.
Cannon McIntosh (Bixby, Oklahoma) corralled a seventh-place result in 2021's IMW stop at Tri-State, while defending IMW champion Buddy Kofoid (Penngrove, California) was 10th. Kaylee Bryson (Muskogee, Okla.) took ninth place in the fall of 2020 and 18th during IMW at TSS in 2021. Steve Buckwalter (Royersford, Pennsylvania) was a 10th-place finisher in his lone start at TSS in 2012.
Also returning to the fold is Overland Park, Kansas' Jace Park, who won the semi-feature and finished 12th in the A-Main during his USAC debut at TSS last fall, as well as Lubbock, Texas' Brenham Crouch (15th in 2021), Snohomish, Washington's Chance Crum (15th in October 2021), Colby, Kansas' Bryant Wiedeman (16th in 2021) and St. Peters, Missouri's Sam Johnson (16th in October 2021).
A wide swath of talent looks to make their initial mark at Tri-State, including third-place points driver Mitchel Moles (Raisin City, California), plus multi-time series fast qualifier Taylor Reimer (Bixby), 2017 BCRA Midget champ Maria Cofer (Macdoel, California), third-place Ocala finisher Jade Avedisian (Clovis, California), Badger Midget champion Chase McDermand (Springfield, Illinois) and two-time USAC Midwest Thunder SpeeD2 Midget titlist Jacob Denney (Galloway, Ohio), plus Kiwi Travis Buckley (Auckland, New Zealand), Hayden Reinbold (Gilbert, Arizona), CB Industries Rookie Dominic Gorden (Clovis) as well as Keith Kunz/Curb-Agajanian Motorsports newcomers Mariah Ede (Fresno, California) and Cade Lewis (Bakersfield, California) and more.
Sunday's USAC Indiana Midget Week event at Tri-State Speedway features the USAC NOS Energy Drink Midget National Championship along with the Midwest Sprint Car Series.
The pits open at 3:30 p.m. Central, and the grandstands will open at 4:30 p.m. The drivers' meeting will be at 5:15 p.m., and cars will be on the track at 6 p.m.
Tickets and pit passes will be sold at the gate. Adult general admission tickets are $30, students age 13-18 are $20 and kids 12 & under are free. Pit passes are $35.
Every Indiana Midget Week event will be streamed LIVE on FloRacing. Watch here.