2022 Short Track Super Series at New Egypt Speedway
Matt Sheppard Stays Hot With Short Track Super Series At New Egypt
Matt Sheppard Stays Hot With Short Track Super Series At New Egypt
Matt Sheppard won his second Short Track Super Series race in eight days on Tuesday night at New Egypt Speedway.
May 25, 2022
by FloRacing Staff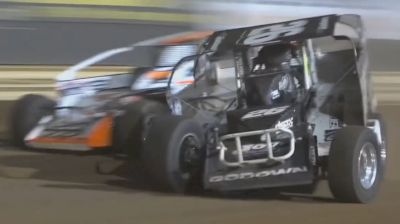 NEW EGYPT, NJ – For the 25th time in his career – and for the second time in eight days – Matt Sheppard dominates Bob Hilbert Sportswear Short Track Super Series (STSS) Fueled By Sunoco competition en route to a $5,000 payday on Tuesday night at New Egypt Speedway for the 'Dirty Jersey 8.'
Sheppard, the 2007 track champion at New Egypt, raises his season total to four wins on the STSS circuit, including his third in the last five races contested under the STSS banner. Just last week, Sheppard captured the 'Outlaw Showdown' in Dundee for his second win in three River Valley Builders North Region races. This, however, serves as Sheppard's first win in the Hurlock Auto & Speed Supply South Region.
"We are rolling around pretty good," Sheppard, of Savannah, N.Y., said in Victory Lane following a $5,600 payday. "We've had a lot of good luck and good draws, but we've been good enough to take advantage of those opportunities."
Sheppard led the final 36 laps after stealing the lead from Matt Stangle, who logged a terrific runner-up finish, on a lap-14 restart from his third starting spot. Ryan Godown advanced forward from 10th to score another podium finish, ahead of hard-charging, consolation qualifier Danny Bouc and Jeff Strunk.
At the drop of the green, Stangle jumped out front ahead of Sheppard, Strunk, pole-sitting Paul Mancini and Jimmy Horton. By lap two, Horton moved into fourth by Mancini with Frank Cozze, Mike Mahaney, Billy Pauch Jr., Godown and Stewart Friesen following along.
In the first 10 laps, the main battle on the racetrack was the fight for seventh involving Pauch Jr. and Godown. On lap 11, after pulling alongside multiple times, Godown cleared Pauch for the spot as they and Mahaney closed on fifth-place Cozze.
On lap 12, Stangle entered lapped traffic, but that was short-lived as Brandon Grosso, a five-time winner at New Egypt this season, slowed with a flat for the first caution of the night.
After a series of stops and starts due to a slew of cautions, including the final one of the race on lap 19, Sheppard led the way over Stangle and Strunk. Pauch Jr. leapt from sixth to fourth with a strong move around the outside of Godown and Horton as Godown shoved the nose and dropped two spots.
By that stage of the race, Bouc, who suffered a mechanical issue while leading his heat race, had driven all the way up to 10th from 21st. By halfway, Bouc had passed Mahaney and Cozze, in addition to Pauch Jr., who slowed and pulled in the infield off the backstretch, ending his night.
With 20 to go, Godown returned to fourth, passing Horton on the inside while Bouc inched closer to the top five with a slider on Friesen. Six laps later, Bouc moved by Horton for fifth as the lead trio entered lapped traffic for really the first time, on lap 35.
As the race neared 10 to go, Stangle slowly closed on Sheppard in traffic, but once the No. 9s rolled around a pair of cars, Sheppard quickly extended his advantage.
While Sheppard pulled away and cruised to his second win in as many Tuesdays, the race for second was heating up as Stangle fought to hang on.
"We had a good car, just not as good as Matt's (Sheppard)," Stangle said from the homestretch. "I felt I could hold with him through the middle of the race, but I may have killed my tires because the final five to six laps, I was just trying to hang on."
Stangle did scrap and claw to earn a runner-up finish, his best result in STSS competition, while Godown and Bouc passed Strunk in the final handful of laps as the trio finished third, fourth and fifth, respectively.
Godown, who entered Tuesday second in points and just five tallies behind Mike Maresca, who finished 14th, earned a hard fought third-place finish from 10th.
"I am proud of another top-three," Godown explained after the race. "I needed more laps or a couple more restarts; the car kept getting better and better throughout the race."
After Bouc and Strunk, finishing sixth through 10th, respectively, were: Friesen, who advanced from 16th after drawing dead last in his heat race; Mahaney, who notched another top 10 in STSS action; Max McLaughlin in eighth after quietly moving through the field from his 18th-starting spot; Horton, who flexed his muscle in and around the top five all night; and provisional starter Mike Gular from 27th.
Ryan Godown Jr. captured the top prize in the 25-lap 602 Crate Sportsman Belmont's Garage South Region feature event. Godown jumped into the lead on lap four and never looked back, crossing the checkered flag more than two-and-a-half seconds ahead of runner-up Steve Davis. Joe Toth, Justin Grosso, who came from the rear on more than one occasion, and Nick Van Wickle, the points leader entering the night, rounded out the top five.
In two weeks, the STSS resumes with a North/South combination event for the 'Battle at Bloomsburg,' a $7,000-to-win and $700-to-start event at Pa.'s Bloomsburg Fair Raceway.
To learn more about the Short Track Super Series Fueled By Sunoco, visit www.shorttracksuperseries.com, e-mail bdmotorsportsmedia@gmail.com, check out 'Short Track Super Series' on Facebook or @ShortTrackSS on Twitter or Instagram.