2022 Castrol FloRacing Night in America at Lincoln Speedway
Dennis Erb Jr. Wins The Show, Brandon Sheppard Is The Show At Lincoln
Dennis Erb Jr. Wins The Show, Brandon Sheppard Is The Show At Lincoln
Dennis Erb Jr. held off Brandon Sheppard's last-ditch effort to score the Castrol FloRacing Night in America victory at Lincoln Speedway.
May 13, 2022
by FloRacing Staff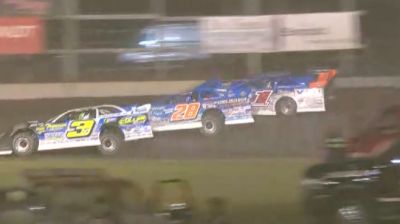 Unlock this video, live events, and more with a subscription!
Get Started
Already a subscriber? Log In
LINCOLN, Ill. — Dennis Erb Jr. appeared well on his way to stinking up Thursday's Castrol® FloRacing Night in America feature at Lincoln Speedway. But Brandon Sheppard made sure fans got their money's worth at the quarter-mile fairgrounds oval hosting the richest event in track history.
Furiously cutting Erb's three-second lead with 10 laps remaining to mere tenths of a second in the final laps, Sheppard's Hail Mary charge pushed Erb to the limit in a thrilling finish that saw Erb hang on by a half-second to secure a $22,022 paycheck for the second-richest victory of his career.
"We were just trying to finish it off there," the Carpentersville, Ill., winner said in victory lane.
"We did what we could," the runner-up from New Berlin, Ill., said a moment later.
Sheppard nearly pulled alongside Erb exiting turn two on the final lap, but his Rocket Chassis house car caught the backstretch fence and allowed Erb to escape in the 50-lap feature that marked the second round of an Illinois Speedweek that has drawn more than 50 entrants from over 20 states.
Pole-starting Garrett Alberson of Las Cruces, N.M., who led the first four laps before Erb took command, finished third for Iowa-based Roberts Motorsports with Chris Simpson of Oxford, Iowa, and another Las Cruces driver, Stormy Scott, rounding out the top five.
A hub-running Alberson led from the outset, but Erb's middle groove carried him into the lead as he pulled away from his pursuers, building a three-second lead before a lap-20 caution. Sheppard took the second spot on the restart, but Erb again built a huge lead while running successfully in any groove he chose.
Sheppard made up ground with 15 laps remaining as Erb faced a pack of slower cars, but Erb stretched his margin back to three seconds with 10 laps remaining and the race seemed all but over.
But with Erb continuing to face heavy traffic, Sheppard turned up the wick and nearly caught Erb in the closing laps, thrilling home-state fans watching the Prairie State drivers duke it out.
Erb seemed to downplay Sheppard's charge, but of course he hadn't seen the video before his victory lane interview.
"I didn't know who was back there, you know. I mean, I was just concentrating on hitting my marks," Erb said. "The car was pretty good where we were rolling through there, just trying to get through the lapped traffic smoothly. We had a good night tonight and I was able to keep this thing up front and had a real good car and it really didn't matter. We were just trying to finish it off there."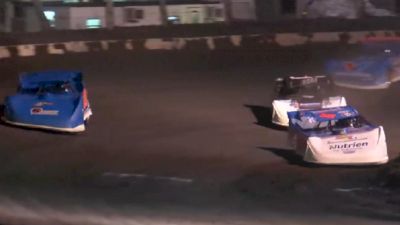 VIDEO: Watch highlights from Castrol FloRacing Night in America at Lincoln.
Sheppard said he struggled with steering for much of the race before finally getting his blue No. 1 rolling.
"About 10 laps to go I finally found the line that I needed to run in (turns) one and two, and that was the key to getting me up there a little bit," Sheppard said. "I don't know if we had the wrong tire on or what, but I couldn't steer very good through (turns) three and four really. But all in all, a pretty good night. Congratulations to Dennis. He did a really good job there.
"We were right there, man. We just, I don't know ... I wish I would have found my line in (turns) one and two a little quicker. But it was definitely treacherous up there. Another great night at Lincoln. (Promoter Bob Sargent has) got the track really good again — we did what we could."
Two cautions slowed the action.
The first appeared on the seventh lap when Mike Marlar and Ricky Thornton Jr. got tangled up in turn two. On the 21st lap, Cade Dillard spun in turn two just in front of the leading Erb, who slipped by unscathed.
While the Castrol® FloRacing Night in America portion of the inaugural FloRacing Illinois Speedweek has drawn to a close, there will be a pair of Mid-America Racing Series (MARS) Super Late Model sanctioned events on May 13-14 at Farmer City (Ill.) Raceway ($15,000-to-win) and Fairbury (Ill.) Speedway ($30,000-to-win). The latter two races will not be point's events for Castrol® FloRacing Night in America, but a stout miniseries point fund makes it lucrative for drivers to enter all four programs.
The four-race swing includes a $23,500 point's fund for the Top 6 in the FloRacing Illinois Speedweeks standings with $10,000 going to the champion followed by: 2)$5,000 3)$3,000 4)$2,500 5)$2,000 6)$1,000.
Meanwhile, Castrol® FloRacing Night in America rolls into Marshalltown (Iowa) Speedway on Wednesday, May 18 with a $22,022-to-win / $1,000-to-start event. The event will be the fifth round of the 2022 season for sophomore tour and marks its first appearance at the oval.