2022 NASCAR Weekly Racing at Autodrome Granby
Track Profile: Get To Know Quebec's Autodrome Granby
Track Profile: Get To Know Quebec's Autodrome Granby
Get to know Quebec's Autodrome Granby, NASCAR's only weekly dirt track to be streaming live on FloRacing in 2022.
May 6, 2022
by NASCAR Roots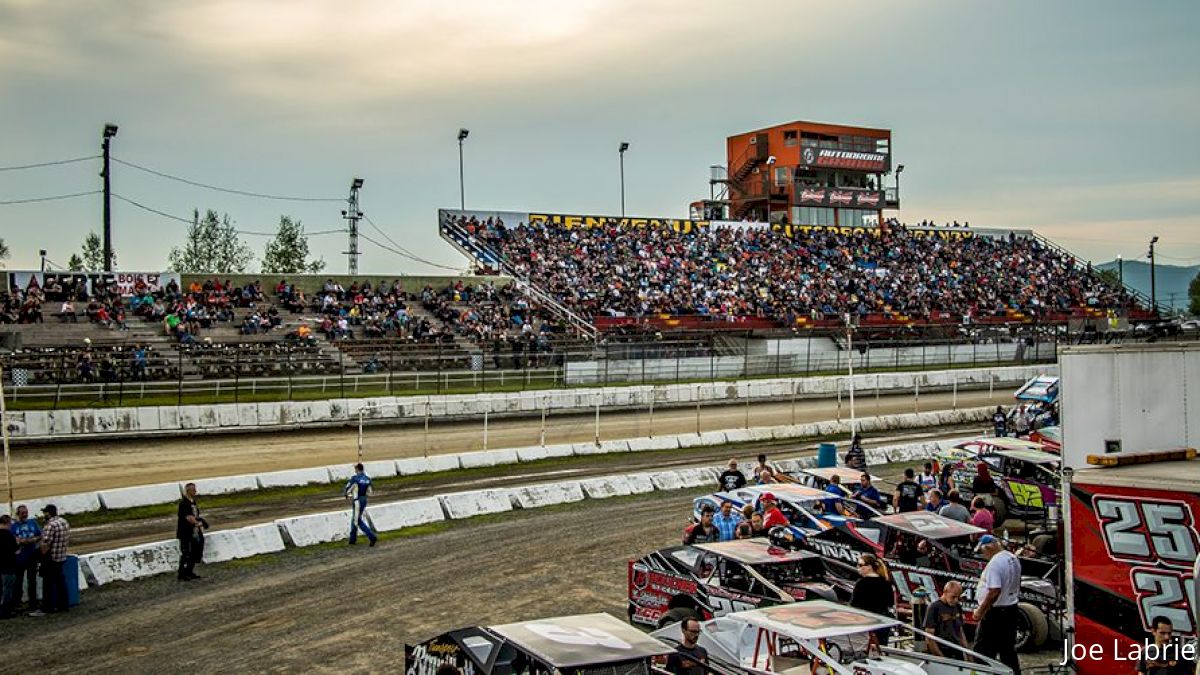 A new era for Autodrome Granby under NASCAR sanctioning is starting on Friday evening with a 75-lap feature in the track's Sportsman Superstar Series.
While not well known to motorsports fans in the United States, Granby has been one of the most popular dirt tracks in Canada since opening in the 1960s. Along with having healthy fields for their weekly divisions, Granby has also attracted competitors from Canada and the U.S. by hosting several events for major sanctioning bodies.
Having operated for two years at limited capacity due to Canada's COVID-19 restrictions, a capacity crowd is expected to descend onto Granby Friday night to watch more than 50 of the track's best drivers battle it out for a shot at $3,000.
Friday's season opener kicks off the most ambitious schedule in Granby's history with 21 races on the calendar. Among the notable events on the schedule include three days of racing around Fete Nationale, or Jean Baptiste Day, on June 24, as well as the year-end Rebel Weekend that will take place from Sept. 16-17.
Below is everything to know about Autodrome Granby.
Track Profile
| | |
| --- | --- |
| Track | Autodrome Granby |
| Location | Granby, Quebec, Canada |
| Opened | 1964 |
| Length | Half-mile |
| Surface | Dirt |
The vision Marcel Guillemette had when he first broke ground on Granby has evolved into a track cherished by nearly everyone in the adjacent town and throughout Quebec.
Originally going by the name Rebel Speedway, the facility experienced exponential growth after it was bought by Serge St. Sauveur, Normand St. Sauveur, Rene Pelletier and Bob Gatien in 1985, who formally changed the name of the track to Autodrome Granby.
For several decades, Martin Roy Jr. held the distinction of being the most successful driver in Granby's Modified division with four track championships. David Hebert eclipsed that mark in 2017 and currently has six track championships after claiming another last year, while Francois Bernier follows closely behind him with five of his own.
Despite being new to NASCAR sanctioning, plenty of drivers in the sanctioning body's top three divisions have found success at Granby, with Stewart Friesen scoring a Super DIRTcar Series Big-Block Modified win at the track back in 2018.
Other notable names that have visited Victory Lane at Granby include three-time World of Outlaws champion Sammy Swindell, former Richard Childress Racing development driver and Chili Bowl winner Tim McCreadie, as well as eight-time ARCA Menards Series winner Jimmy Horton.
More history will be added to Granby's prestigious legacy on Friday night as Hebert, Bernier and plenty more local heroes will look to become $3,000 richer at the end of a grueling 75-lap Sportsman Superstar Series feature.
Below are the complete list of Modified track champions at Autodrome Granby.
| | |
| --- | --- |
| Year | Track Champion |
| 1985 | Chuck Frazier |
| 1986 | Raymond Collette |
| 1987 | Martin Roy Jr. |
| 1988 | Marco Potvin |
| 1989 | Robert Ranger |
| 1990 | Martin Roy Jr. |
| 1991 | Martin Roy Jr. |
| 1992 | Real Lafrance |
| 1993 | Martin Roy Jr. |
| 1994 | Mike Romano |
| 1995 | Luke Plante |
| 1996 | Steve Paine |
| 1997 | Steve Paine |
| 1998 | Dave Camara/Leon Gone |
| 1999 | Marco Potvin/Luke Plante |
| 2000 | Steve Poirier/Real Lafrance |
| 2001 | Real Lafrance |
| 2002 | Claude Brouillard |
| 2003 | Steve Poirier |
| 2004 | David Hebert |
| 2005 | Steve Poirier |
| 2006 | Alain Boisvert |
| 2007 | Alain Boisvert |
| 2008 | Kayle Robidoux |
| 2009 | David Hebert |
| 2010 | Mario Clair |
| 2011 | Francois Bernier |
| 2012 | Francois Bernier |
| 2013 | Francois Bernier |
| 2014 | David Hebert |
| 2015 | David Hebert |
| 2016 | Francois Bernier |
| 2017 | David Hebert |
| 2018 | Steve Bernier |
| 2019 | Steve Bernier |
| 2020 | Francois Bernier |
| 2021 | David Hebert |