2022 Short Track Super Series at Delaware Int'l Speedway
Stewart Friesen Hits Short Track Super Series Diamond State 50 Trifecta
Stewart Friesen Hits Short Track Super Series Diamond State 50 Trifecta
Stewart Friesen collected his third straight victory in the Short Track Super Series Diamond State 50 at Delaware International Speedway.
Apr 28, 2022
by FloRacing Staff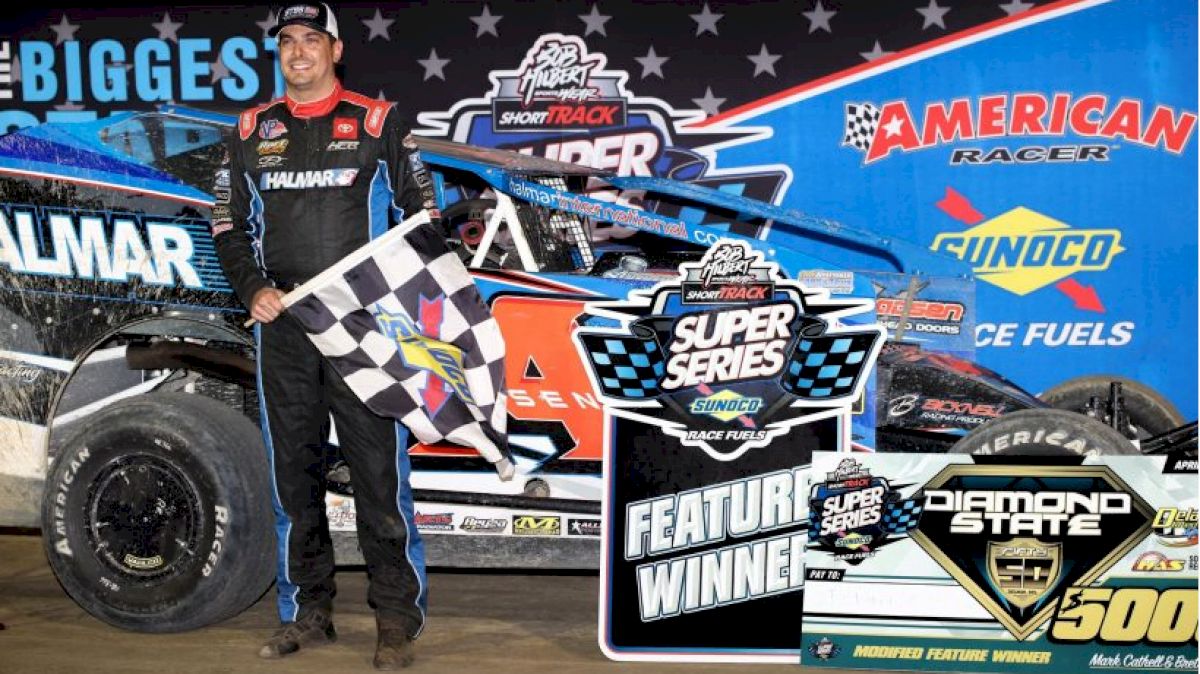 DELMAR, DE – The Bob Hilbert Sportswear Short Track Super Series (STSS) Fueled By Sunoco saw its all-time winningest driver claim another triumph on Wednesday night at Delaware International Speedway.
Sprakers, N.Y.'s Stewart Friesen raced from his fourth starting position to secure his third consecutive Hurlock Auto & Speed Supply 'Diamond State 50,' and his 34th career STSS victory.
The event was postponed by 24 hours after rain moved through the area on its scheduled Tuesday date.
"It had a 'Chili Bowl' feel to it. The top started out slimy but once it cleaned off the first guy up there to make it work had a good shot and fortunately it was us tonight after the redraw," Friesen said.
Friesen earned $5,700 for the victory, making the trip to the southern Delaware half-mile "worth it" as Friesen proclaimed in Victory Lane.
Milford, Del.'s Jordan Watson and Belle Mead, N.J.'s Brandon Grosso led the field to green following the Beyea Custom Headers Redraw. Friesen fell to fifth at the start, as Richie Pratt Jr. drove by him on the opening lap aboard the Dan Sommeling-owned No. 51.
Potsdam, N.Y.'s Michael Maresca was on the move early, climbing from the ninth starting position and methodically working his way forward. Maresca arrived in sixth within the first four laps.
Maresca's charge temporarily stalled in the sixth position, while Friesen made his way to the topside of the speedway and began marching his way forward. Friesen completed a pass on Pratt Jr. for third on lap 10, and then zeroed in on Grosso who was running second.
Three laps later, Friesen picked off another car, using his outside groove to drive by Grosso for the runner-up spot. Reigning track champion Watson had been setting a torrid pace in the early going, putting a straightaway between himself and the cars behind him.
Meanwhile, Maresca had found his rhythm again, racing around Trautschold and Pratt Jr. to move into fourth on lap 15. Savannah, N.Y.'s Matt Sheppard also began to make his presence known. Sheppard rose from his 12th starting position to take sixth before the race's first yellow on lap 19.
The lap-19 caution erased Watson's large lead and pulled Friesen up alongside for a double-file restart. When starter Joe Kriss unfurled the green flag, Watson slid up the track just enough in turns one and two for Friesen to drive underneath and take the lead away.
With the Halmar International No. 44 starting to drive away up front, Maresca and Watson commenced a fantastic battle for the runner-up spot. The duo ran side-by-side for four laps before Maresca finally cleared Watson for second on lap 27.
While Watson and Maresca waged war for second, Sheppard had risen into the fourth position. 'Super Matt' never mustered up enough speed to join the battle that was happening just car-lengths in front of him.
Matt Stangle slowed to a stop on lap 38, bringing out the second and final caution and giving Maresca a shot at Friesen on the restart.
Maresca did enough to show a nose underneath Friesen off the second turn. His bid was to no avail, as Friesen drove off the corner with the lead and pulled away.
Friesen clicked off the final 12 laps without a sweat, claiming his fourth-career 'Diamond State 50,' and his third consecutive: the only driver to do so in the event's history.
"This team is rolling. We got off to a bit of a slow start, but it feels like things are starting to turn. Hopefully we can keep it going," the winner said of his recent hot streak. Friesen is fresh off a $12,000 triumph at Fonda (N.Y.) Speedway on Sunday.
Maresca registered a $3,000-plus runner-up finish, his second consecutive podium finish on the Hurlock Auto & Speed Supply South Region.
"This is one of our favorite tracks to come to even though it's eight hours from home," Maresca said. "I thought maybe I could get under Stewie on that restart, but he ended up pulling away and we had nothing for him."
Watson rounded out the podium in his Brent Hall-owned No. 18. The First State star is still in search of his first career STSS victory at Delaware International, his longtime home track.
"We were just a little bit too good too early. It got away from us as the race went on," Watson said.
Sheppard, a two-time 'Diamond State 50' winner himself crossed the line in fourth and Ringoes, N.J.'s Ryan Godown rounded out the top five from his 15th starting position. The 10-position climb earned Godown the Rent Equip/Party Central Hard Charger Award worth $250.
Finishing sixth through 10th, respectively, were New Jersey's Pratt Jr., who ran inside the top-five for much of the 50-lap main; Anthony Perrego, who came from the 16th to grab seventh; Mike Mahaney, the defending South Region champion; Mike Trautschold, in a solid STSS performance; and Billy Pauch Jr., who battled from 14th to round out the top-10.
Three Modified heat races were run, paying $100 each courtesy of Mullins Auto Brokers and Bintelli Electric Vehicles. Friesen, Maresca and Mike Gular were the winners.
The consolation victor was Austin Hubbard.
The STSS Crate 602 Sportsman were finally able to kick off the Belmont's Garage South Region. Forty-six cars signed in for the opener and Edgewater Park, N.J.'s Nick Van Wickle claimed his first career STSS triumph.
Van Wickle used the pole starting position to control every restart, fending off the occasional challenge from Newtown, Pa.'s Joe Toth to claim the $1,850 top prize, after leading the halfway point worth $350 between Accurate Collision ($100) and Start 2 Finish Collision ($250).
Toth, the defending South Region champion began his title defense with a runner-up finish and Fleetwood, Pa.'s Dylan Swinehart rounded out the podium finishers.
Middletown, Del.'s Tom Moore Jr. raced from seventh to a fourth-place finish and Belle Mead, N.J.'s Justin Grosso rounded out the top-five.
Next up for the Bob Hilbert Sportswear Short Track Super Series Fueled By Sunoco is a trip to N.Y.'s Accord Speedway for the ninth running of the 'Battle of the Bullring' on Tuesday, May 10. The STSS big-block/small-block Modifieds compete in Round No. 2 of the River Valley Builders Region. The STSS Crate 602 Sportsman join the program for the opening round of the Precision Hydraulic & Oil North Region.
To learn more about the Short Track Super Series Fueled By Sunoco, visit www.shorttracksuperseries.com, e-mail bdmotorsportsmedia@gmail.com, check out 'Short Track Super Series' on Facebook or @ShortTrackSS on Twitter or Instagram.