2022 Castrol FloRacing Night in America at Eldora Speedway
Eldora-Loving Sprint Car Star Giving Fenders A Try
Eldora-Loving Sprint Car Star Giving Fenders A Try
Tyler Courtney is infatuated with Eldora Speedway, so it's no surprise the announcement that the Eldora Million would return in 2022 caught his attention.
Apr 26, 2022
by Kevin Kovac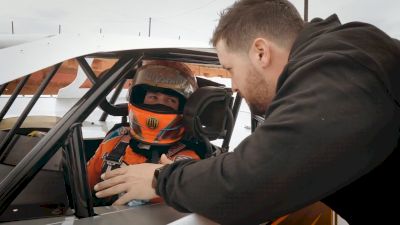 Tyler Courtney is infatuated with Eldora Speedway, so it's no surprise the announcement that the Eldora Million would return in 2022 caught his attention. Even though he's a sprint car driver who's never turned a competitive lap in a Dirt Late Model.
"I love Eldora," Courtney said of the famed half-mile oval in Rossburg, Ohio. "Obviously I race sprint cars, but I still feel like you gotta go be a part of an event like that to just give yourself a chance at winning a million dollars. It's an event that I felt like I wanted to be a part of, so I tried to get something together so I could be."
A 28-year-old talent from Indianapolis, Ind., who is the reigning Tezos All-Star Circuit of Champions Sprint Car champ, Courtney landed the Dirt Late Model opportunity he craved for the June 8-9 Eldora Million driving a Longhorn car owned by NASCAR Cup Series crew chief Jeremy Bullins. His first — and only — tuneup for the blockbuster event that pays $1,002,022-to-win comes Tuesday when he enters the Castrol FloRacing Night in America program at the legendary Ohio facility owned by Tony Stewart.
How did Courtney hook up with Bullins, a 44-year-old native of Walnut Cove, N.C., who worked on Dirt Late Models before beginning his career in NASCAR that now has him captaining the Penske Motorsports car piloted by Daytona 500-winning rookie Austin Cindric? He can thank Dirt Late Model superstar Brandon Overton of Evans, Ga., the winner of last year's two Dreams and a World 100 at Eldora.
Courtney stopped in at Eldora with his Clauson-Marshall Racing sprint car team for the first of last year's double Dreams on their way to the next night's All-Star-sanctioned Ohio Speedweek opener at Attica Raceway Park. He took in the pomp and pageantry of the Dirt Late Model action as a fan, watched Overton earn the $127,000 triumph and after the checkered flag hung out with the victorious Georgian.
"We all went down and had a few adult beverages and threw some cornhole and just started a relationship from there," Courtney said. "I kind of got to know him over the last year or so, just talking (by phone). When Eldora announced they were doing the Million, we kind of went back-and-forth with what I could do (to run it)."
There was some fleeting discussion about Courtney driving one of Overton's David Wells-owned cars, but Courtney knew that would make it tough on Overton and his crew with so much money on the line. Overton, though, regularly corresponds with Bullins, and when Bullins texted one day saying he wanted to send his Late Model to the Eldora Million and asked if Overton had a suggestion for a driver, Big Sexy shot back, "What about Sunshine?"
Sunshine, of course, is Courtney's nickname, and it turns out that Bullins had thought of the Hoosier as a possibility for his Million chauffeur because he figured "a sprint car guy who's good at Eldora" could be an outside-the-box contender. Courtney certainly fits that bill: he's won in every type of car he's driven at Eldora, including all four — USAC midget, USAC sprint, USAC Silver Crown and World of Outlaws NOS Energy Drink Sprint Cars — in a four-and-a-month span last year; he's one of just five drivers to reach double figures in USAC National feature wins at Eldora (five sprint, three midget, two Silver Crown); and last year he earned a $175,000 check for winning the WoO-sanctioned Kings Royal.
Bullins, 44, got Courtney's phone number from Overton and a deal was struck for them to run Eldora's $22,022-to-win Castrol FloRacing event — originally scheduled for April 12 before being rescheduled for Tuesday — and the Million. In early March, Courtney tested Bullins's machine at Cherokee Speedway in Gaffney, S.C., giving him at least a taste of the foreign vehicle before he hits the Eldora surface on Tuesday.
Courtney said the practice session gave him valuable track time in advance of his Dirt Late Model debut.
"I just wanted to get a feel for the car," Courtney said. "It was obviously way different than anything I've ever done. It took me the first few laps in the sessions to kind of get that feeling to where I was comfortable with it.
"It's almost a backwards feeling of what we do in the sprint car world. The winged car, we're driving with the left-rear down and the right-front doesn't go over. The Late Model, the left-rear comes up underneath you and pushes the right-front down, so it's just a whole different feeling from what I'm used to.
"I felt comfortable by the end of the day, and I think going to Eldora, a place that I know, will be a little more comforting," he added. "But obviously a Late Model there is a whole other animal. I'm just anxious to get going and hopefully not make too big of a fool of myself."
Courtney had an experienced Late Model racer in Chris Ferguson of Mount Holly, N.C., at his Cherokee test to offer insight and pointers like "how to work the throttle, how to keep the car underneath you and keep the attitude in the car right," he said. "Having a guy like that there was very beneficial for a guy like me."
The Late Model circuits also allowed Courtney to get accustomed to sitting inside a Late Model.
"It's more like an everyday car that you drive," Courtney said. "Your legs are out in front of you and the steering wheel is right in front of you, too. In a sprint car you sit kind of on top of the steering wheel and your feet and your legs go straight down, so that's all different. But it kind of felt more natural than I thought it would to start getting into a Late Model. It kind of felt like driving my truck down the road … just a lot faster."
Courtney has had several conversations with Overton since his test and "he'll obviously be a guy I lean on and we get into racing," he said of last year's DirtonDirt.com Driver of the Year. "Obviously it's nice to have guys like that in your back pocket to be able to ask questions."
Where will "Sunshine" Tyler Courtney finish at Eldora?
According to Courtney, NASCAR Cup Series champion Kyle Larson, who will also be in Eldora's Castrol FloRacing and Million fields, "kind of sparked a lot of sprint car guys' interest into venturing into that (Late Model) world." Courtney isn't banking on enjoying the type of immediate success that Larson did — he won a Lucas Oil Late Model Dirt Series event in his second Late Model start in August 2020 — but he noted that "we're race car drivers and we drive race cars, so a Late Model is just another race car to drive."
And Courtney also brightened when it was suggested to him that his quick adaptation to winged sprint car racing — he won last year's All-Star championship in his first year of full-time winged action after previously focusing on non-winged competition — might be a preview of how he'll get up to speed in a Late Model.
"Hopefully my learning curve in a Late Model is the same pace, but it's all new," said Courtney, who has three All-Star sprint wins this season. "No expectations. I just want to go and be respectable and see what happens after that."