2022 STSS Hard Clay Open at Orange County Fair Speedway
Matt Sheppard Can't Be Touched In Short Track Super Series Hard Clay Open
Matt Sheppard Can't Be Touched In Short Track Super Series Hard Clay Open
Matt Sheppard continued his string of success at Orange County Fair Speedway by winning Saturday's Short Track Super Series Elite Hard Clay Open.
Apr 4, 2022
by Brandon Paul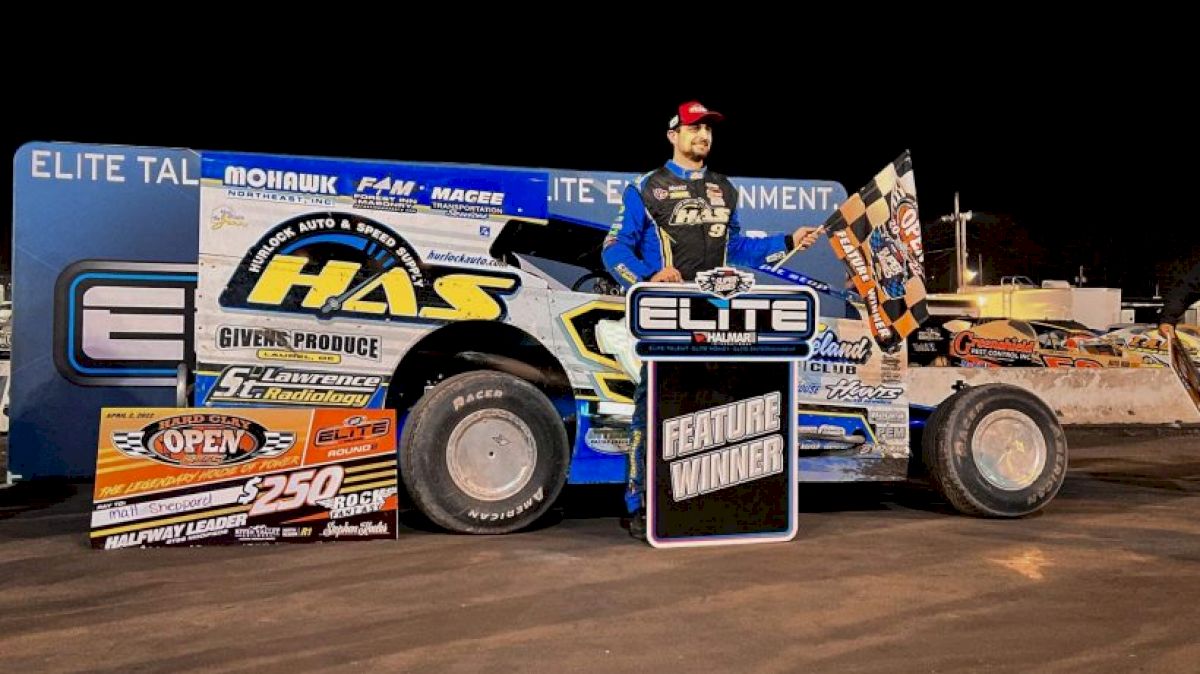 MIDDLETOWN, NY – Matt Sheppard dominated the field in the 50-lap 'Hard Clay Open' on Saturday night, continuing his incredible run at Orange County Fair Speedway.
"I don't know if it was pretty, but we're here in Victory Lane and we're really excited about that," proclaimed an elated Sheppard to the OCFS crowd.
Sheppard's triumph netted the Savannah, N.Y., driver a $25,000-plus payday in Round No. 2 of the Halmar International 'Elite' Series for the Bob Hilbert Sportswear Short Track Super Series (STSS) Fueled By Sunoco. The win was Sheppard's 23rd of his STSS career, and his second consecutive at the "Legendary House of Power" in STSS competition.
The 'Hard Clay Open' not only served as the second round of the 'Elite' Series; it also kicked off the River Valley Builders North Region $15,000 title fight.
A field of 71 STSS Modifieds signed into the pit area, with 31 starting the main event.
"It was just a good night for us. This place has been good to us recently and hats off to the track crew… we could race all over for all 50 laps," Sheppard said.
Mooresville, N.C.'s Max McLaughlin came home with a runner-up finish in the Heinke-Baldwin Racing No. 8H.
"There was no passing him (Sheppard) tonight," McLaughlin said. "I did everything I could to get a good run off turn two and by the time we were coming off the corner he was two car-lengths ahead of me."
Sheppard led the field to green alongside King Ferry, N.Y.'s Mike Mahaney after the Beyea Custom Headers Redraw. Mahaney quickly jumped to the front of the field at the drop of series starter Joe Kriss' green flag, leaving Sheppard to chase him.
Mahaney's fortunes changed quickly. Rear-end issues on the second lap led Mahaney's George Huttig-owned No. 35 to stop in turn four, handing Sheppard a lead he would never relinquish.
Wurtsboro, N.Y.'s Danny Creeden was on the march early, as he raced from his seventh starting position into the runner-up spot after just four laps. McLaughlin's charge became noticeable in just four laps as well, climbing from ninth to fourth in that time.
One lap later McLaughlin raced underneath Ringoes, N.J.'s Ryan Godown to take the third position away in the early going.
While the top-three raced away from the rest of the field and closed in on slower traffic, a five-car battle was shaping up at the back half of the top-five. Sheffield, Mass., star Andy Bachetti was working to hold off Middlesex, N.J.'s Alan Johnson, Covington Township, Pa.'s Alex Yankowski, St. Catherines, Ontario, Canada's Mat Williamson and Middletown, N.Y.'s Anthony Perrego.
Williamson was not to be denied. 'Money Mat' – who started 10th before falling back on the opening start – was racing his way forward using the outside line.
Meanwhile, the lead trio had reached lapped traffic and Sheppard began to truly flex his muscle. The Hurlock Auto & Speed Supply No. 9S was effective running both the top and bottom, allowing him to navigate traffic with ease.
Creeden and McLaughlin raced side-by-side for multiple laps as they worked to keep pace with Sheppard. McLaughlin raced underneath Creeden on lap 18 to claim the runner-up spot.
Williamson's assault continued, as he turned his attention to fourth-place-running Godown with Williamson clearing him on lap 22.
Things settled down in the top-five until a yellow on lap 37 for a slowing Billy Van Inwegen.
McLaughlin threw the proverbial kitchen sink at Sheppard on the ensuing restart, but Sheppard was too strong rolling through the middle of turns one and two. Williamson used the outside groove from his fourth starting position to his advantage, sliding around Creeden for the fourth spot.
After a yellow for Bobby Hackel's flat left-rear tire on lap 38, the remaining 12 laps clicked off without interruption and Sheppard raced his way to the $25,362 paycheck.
McLaughlin's second-place run was his best of the young STSS season.
"These guys have given me fast racecars every time out," he said. "Hopefully next time we can get a little better and finish one spot better."
Williamson rounded out the podium.
"Our guys worked hard, we went to Jeff's (Behrent) yesterday morning and the guys worked hard and we had a good racecar… we'll go back and work a little harder and see if we can get two spots better," Williamson offered.
Creeden came home with a solid fourth-place run and Godown rounded out the top-five.
Finishing sixth through 10th, respectively, were: Andy Bachetti, who settled into sixth after Williamson got around him for the top-five; Anthony Perrego, the defending big-block Modified champion at OCFS; Alan Johnson, who drew 75 – the worst number in the bucket – at the pre-race draw; Michael Maresca, who has now posted back-to-back top-10 finishes to open the 'Elite' Series; and Mike Gular, who qualified via a consolation.
Seven heat races were run in memory of Pete Gardner, with $112 going to each winner and $56 to the runner-up finishers. Winners were Creeden, Maresca, Yankowski, Jimmy Horton, Sheppard, McLaughlin and Mahaney.
Consolation victors were David Schilling, Billy Decker and Gular.
Next up for the Bob Hilbert Sportswear Short Track Super Series Fueled By Sunoco is a trip to Delaware International Speedway for the eighth running of the 'Diamond State 50' under STSS sanctioning. The STSS big-block/small-block Modifieds compete in Round No. 2 of the Hurlock Auto & Speed Supply South Region. The STSS Crate 602 Sportsman join the program for their third try at Round No. 1 of the Belmont's Garage South Region.
To learn more about the Short Track Super Series Fueled By Sunoco, visit www.shorttracksuperseries.com, e-mail bdmotorsportsmedia@gmail.com, check out 'Short Track Super Series' on Facebook or @ShortTrackSS on Twitter or Instagram.