NASCAR
Autodrome Granby Joins FloRacing Broadcast Schedule
Autodrome Granby Joins FloRacing Broadcast Schedule
Autodrome Granby becomes the first NASCAR-sanctioned dirt track to join the FloRacing broadcast schedule.
Mar 31, 2022
by Brandon Paul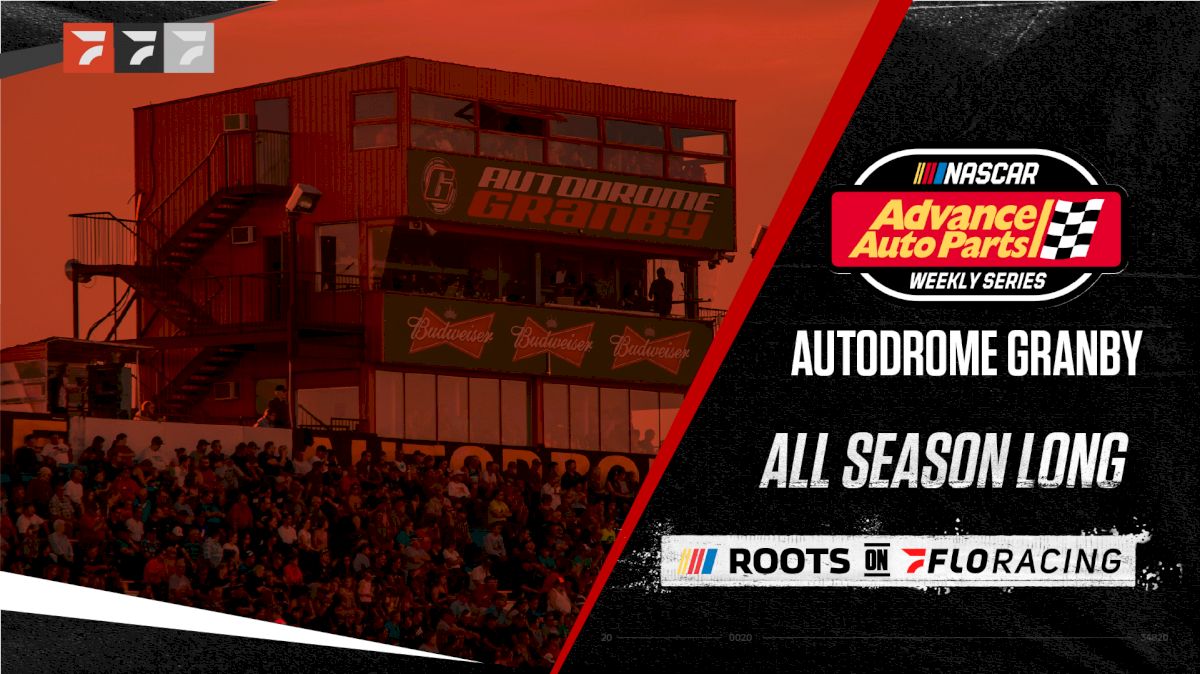 One of Canada's premier dirt track racing facilities is coming to FloRacing in 2022. Autodrome Granby, which will operate under the NASCAR Advance Auto Parts Weekly Series sanction this season, will have all of the track's events streamed live on FloRacing.
The half-mile, semi-banked dirt oval located in Granby, Quebec, hosts a weekly racing program that includes 358 Modifieds, Sportsman Modifieds, Pro Stocks, Sport Compacts and Slingshots.
With a large audience of Dirt Modified fans already watching Short Track Super Series events and other weekly Modified tracks on FloRacing, more fans than ever before will be exposed to the exciting racing held at Autodrome Granby.
''We're very excited about this opportunity to work with NASCAR and Floracing," said Dominic Lussier, Promoter of Autodrome Granby. "Having more DIRT racing on the platform is great and we're humble to be a part of it. We have the fastest dirt track in Canada and we're looking forward to showcasing our product on a national stage and for the fans to witness the kind of show that our drivers can be put on week in and week out.''
By joining the FloRacing broadcast schedule, Autodrome Granby becomes the first NASCAR-sanctioned dirt track to be showcased on the growing live-streaming platform. The addition is another example of NASCAR and FloRacing's investment into grassroots motorsports.
"Autodrome Granby is a unique track that puts on an incredible show each week," said Kevin Nevalainen, NASCAR senior director, weekly racing operations. "We're excited to add Autodrome Granby to FloRacing as the first NASCAR-sanctioned dirt track on the platform, and deliver its top-notch competition to our fans globally."
The first live broadcast from Autodrome Granby will take place on May 6 with a special $3,000-to-win Sportsman main event. Two weeks later on May 20, 358 Modifieds will be in action for the first time.
Special events on the schedule include the Quebec Bowl weekend featuring three straight nights of Modified racing on June 23-25. The Canadian Big-Block Modified Series will host a pair of 75-lap, $5,000-to-win races at the track on July 25 and August 19. The season will come to an end with Le Rebel Weekend on September 16-17.
Autodrome Granby joins a growing list of NASCAR-sanctioned tracks that will be broadcast live on FloRacing this season. That list already includes Meridian Speedway, Evergreen Speedway, Hickory Motor Speedway, Riverhead Raceway, South Boston Speedway, Florence Motor Speedway, Berlin Raceway, Jennerstown Speedway, Langley Speedway, and All American Speedway with more still to be announced.
FloRacing is also the home of the NASCAR Pinty's Series, ARCA Menards Series (11 events), ARCA Menards Series East, ARCA Menards Series West and NASCAR Whelen Modified Tour.
Motorsports fans can subscribe to FloRacing for $150/year to enjoy over 2,000 live motorsports events in 2022. A FloRacing subscription also provides unlimited access to the entire FloSports network, which includes FloFootball, FloHockey, FloWrestling, FloBikes, FloGrappling and more.
FloSports is available by visiting https://www.floracing.com/signup or by downloading the FloSports app on iOS, Android, Apple TV, Roku, Amazon Fire and Chromecast.