2022 Lucas Oil Chili Bowl Nationals
Tyler Erb Wins Wild West Shootout Duel Over Earl Pearson, Jr.
Tyler Erb Wins Wild West Shootout Duel Over Earl Pearson, Jr.
Tyler Erb emerged victorious after a duel with Earl Pearson, Jr. in Friday's Wild West Shootout at Vado Speedway Park.
Jan 15, 2022
by Brandon Paul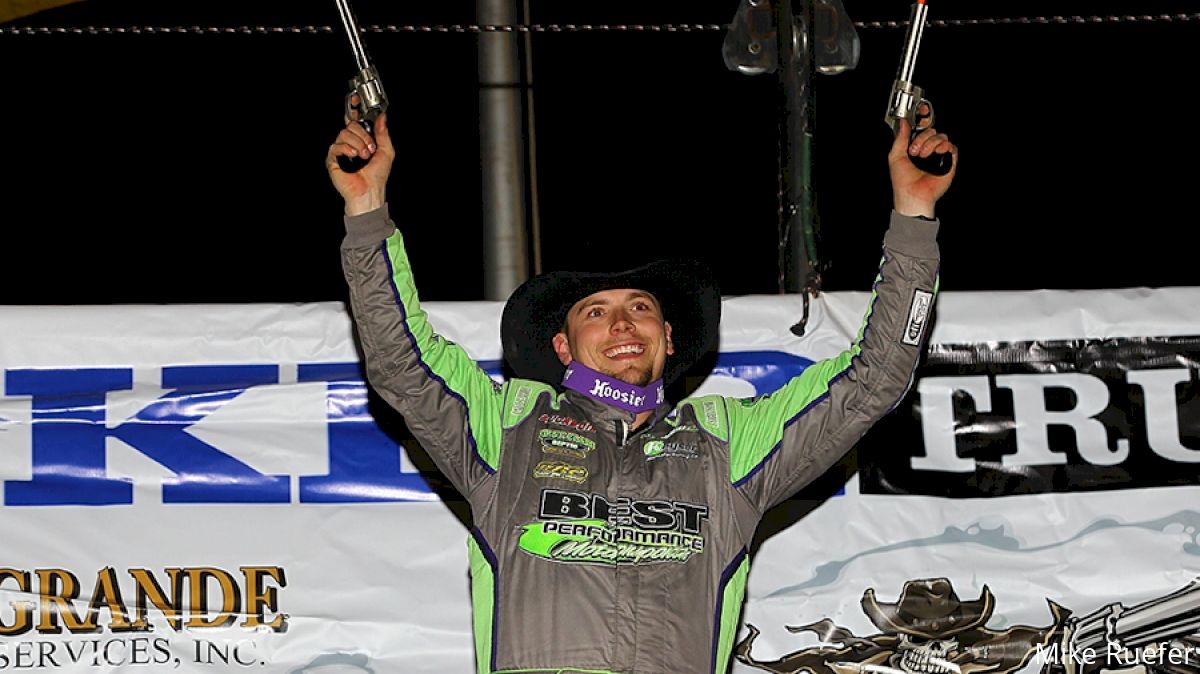 VADO, N.M. — Tyler Erb has been part of plenty of excitement during the Wild West Shootout presented by O'Reilly Auto Parts at Vado Speedway Park, including a near-miss victory. But grabbing a checkered flag is more satisfying than making the highlight reel.
"This has been my favorite night so far," the New Waverly, Texas, driver said Friday after his $5,000 victory in the fourth round of the miniseries.
The third-starting Erb won a mid-race, lead-swapping duel with pole-starting Earl Pearson Jr. of Jacksonville, Fla., and pulled away late by deftly handling traffic at the 3/8-mile oval that's hosting the Wild West Shootout for the first time.
Pearson finished 1.159 seconds behind Erb at the checkers while Bobby Pierce of Oakwood, Ill., improved six positions in landing on the podium. Johnny Scott of nearby Las Cruces, N.M., rallied from 13th to fourth and Mike Marlar of Winfield, Tenn., survived a couples of scrapes to round out the top five.
Pearson led the first 11 laps in his traditional low groove, but when he decided to give the high side a shot on a lap-12 restart, Erb pounced and grabbed the lead. Pearson quickly retreated to his favored low groove and inched back ahead on the 14th lap, but Erb regained the point at halfway and led the rest of the 30-lap main event.
"I hated to see that caution, because I don't think (Pearson) realized the top was getting any good yet. I just kind of committed to the top there. It bit me on Sunday by picking the bottom ... we raced side-by-side what felt like forever," Erb said. "I knew I needed to do something different here. Earl's a great racer. He's been good all week. I just got enough clear of him to kind of chop him getting into (turn) one, and could set my own pace from there."
Erb stayed comfortable in command the rest of the way, getting extra breathing room with seven laps remaining when he made short work of several backmarkers.
"I knew when I passed two or three (lapped cars) right there pretty good, then moved to the middle," said Erb, a two-time miniseries winner last year at Arizona Speedway near Phoenix. "I could tell I was a lot better and just the last lap slid (across the track) myself in both corners to be safe (and protect the lead)."
"You know, when you're a sitting duck out there by yourself in the lead, you just don't know which lane (to run). And on that restart, I just went around that top that one time there," Pearson said of the lap-12 restart. "Anyway, I found out that wasn't the place I needed to be. But anyway, we went around the bottom from there on out and had to move up (in turns three and four). But Tyler was pretty good there, ain't no doubt, and I had to defend Pierce off. I knew he'd be around the top there. We'll work on it. ... We're getting closer and closer and the track there, it's fitting my style, but it's going away too fast, then the top (groove) comes in."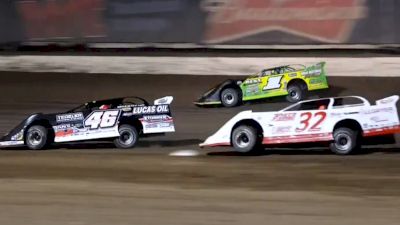 VIDEO: Watch highlights from Friday night at the Wild West Shootout.
Pierce was among the frontrunners again but the six-time miniseries winner is still looking for his first 2022 victory.
"I'm happy to have a solid night, you know, just a full night put together without anything going on. We've been (strong) all week, really, the whole time we've been here with as second the first night, and we were going to win (Wednesday), and that other night we were good and just had some issues with the car and the motor," he said. "We've been there. It's going to come eventually here. We've got two nights left and if it's not tomorrow night, the final night is the one we're looking forward to, the 25-grand-to-win on Sunday night. Hopefully we can lock that one up."
The main event's lone caution appeared on the 12th lap when third-running Brandon Sheppard abruptly slowed with a flat right-rear tire, triggering a backstretch scramble that sent Jeff Schildmeyer for a spin.
The flat tire ended Sheppard's chance for the $100,000, five-victory bonus that was part of the Penske Racing Shocks $300,000 Paydirt Jackpot. Sheppard, a two-race winner last weekend, still has a crack at $25,000 if he can win the final two miniseries events.
Wednesday's winner Garrett Alberson of Las Cruces won a heat race and started fourth, but he never contended up front and faded to an eighth-place finish.
Miniseries competitors return to action Saturday for a 40-lap feature paying $5,000-to-win while Sunday's 50-lapper finale puts $25,000 up for grabs.
Notes: Mike Marlar avoided a couple of near-disasters. He nearly spun trying to avoid Brandon Sheppard's slowing car at the turn-two exit on the 12th lap, then he got up into the turn-one wall briefly on the 18th lap. ... Sixteen of 24 starters finished on the lead lap. ... Earl Pearson Jr.'s team overcame a busted radiator hose in hot laps and time trials. ... Brothers Johnny Scott (improving nine positions) and Stormy Scott (starting 15th and finishing sixth) made strong charges toward the front.