2022 Lucas Oil Chili Bowl Nationals
Justin Grant Plays Defense Against Ricky Stenhouse At Lucas Oil Chili Bowl
Justin Grant Plays Defense Against Ricky Stenhouse At Lucas Oil Chili Bowl
Justin Grant held off a challenge from Ricky Stenhouse, Jr. to win Friday's Lucas Oil Chili Bowl preliminary feature.
Jan 15, 2022
by Brandon Paul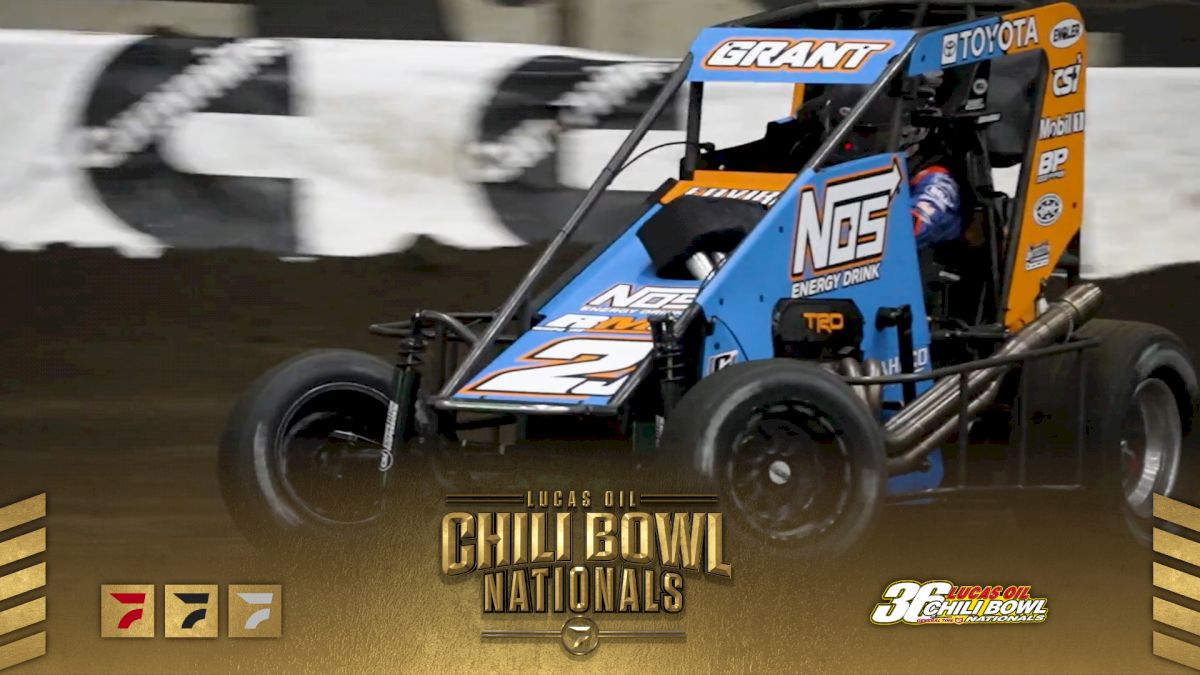 For the second time in five nights, Justin Grant celebrated in victory lane at the Lucas Oil Chili Bowl on Friday night. Grant held off a late challenge from NASCAR Cup Series driver Ricky Stenhouse, Jr. to claim his fifth Friday preliminary victory in the last six years.
In order to get to victory lane, Grant had to go on the defense in the closing laps.
With three laps remaining and Stenhouse rolling the bottom, Grant slammed the door on Stenhouse in turn three and the two drivers banged wheels.
"I didn't even know he was there," Grant joked with Stenhouse sitting beside him.
"You saw me out the left side!" Stenhouse exclaimed.
Both drivers were able to keep their cars straight after the contact, but the collision slowed Stenhouse's charge.
"I definitely saw Ricky there at the end," Grant said. "He got a big run off of two there and just barely around the right front and I gave him a really big chop into turn three to hold him off. The bottom was there in three and four. He got a bad break on the restart and let us get back in front of him. I just didn't feel that strong on the bottom so I kept trying to make the top work in one and two. Ricky rolled up alongside us there and we had just enough room to squeak back around there and give him a big ol' chop into three. Ricky is a good friend of mine, as well as my teammate."
Stenhouse used an eighth-to-first run in his heat race to catapult himself to the number-one position in passing points after heats and qualifiers. That performance earned him the pole for the 30-lap main event, with Sam Johnson lining up to his outside.
Johnson ripped around the topside of the race track on the opening lap to take the lead over Stenhouse by a narrow margin. A few laps later, Johnson was able to pull away with the lead and held onto it until the halfway point of the race.
As Johnson closed in on slower traffic, Grant began chipping away at the lead. On Lap 16, Grant threw a slider on Johnson entering turn one and exited turn two with the lead.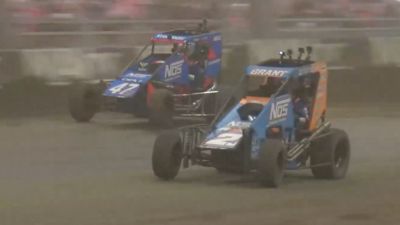 VIDEO: Watch highlights from Friday's Chili Bowl preliminary race on FloRacing.
Behind Grant, Stenhouse worked his way by Johnson for the runner-up spot and positioned himself to challenge Grant on a pair of late-race restarts. Following a restart with six laps to go, Stenhouse was able to hug the berm and pass Grant for the lead; however, the pass was negated due to a caution immediately after the pass.
"My plan kind of worked perfect until the caution came out," Stenhouse said. "I felt like that was kind of our shot to win and once Justin started running the bottom I wasn't good enough in three and four to run the top and make that pass. Justin started getting defensive there those last few laps and I started running the top of one and two really, really well. I had a few good runs down the backstretch and gave it everything I had in three and four coming to the line and just got a little bit too tight."
Stenhouse made one final attempt on the final lap of the race with a big run up on the cushion, but a small bobble off of turn four allowed Grant to pull away to the checkered flag.
Zeb Wise charged from his 17th starting spot to complete the podium, while Bryant Wiedeman and Johnson completed the top five.
Grant's day didn't come without a little bit of adversity. With an opportunity to earn more passing points in his qualifier, his No. 2J Midget slowed on the white flag lap while leading the race. That allowed Wiedeman to get by him, costing him a shot at the pole position.
"I might have miscounted the laps," Grant said. "I thought the white flag was the checkered. I didn't count 'em but I just missed the flag. I think the two to threw me off. I thought that was the white. In the driver's meeting they were pretty adamant about not burning extra laps. They've been pretty quick with the penalty button this year. I thought checkers were out, so let's not get in trouble here. I always burn an extra lap, too."
Saturday's entire alphabet soup prior to the C-Mains, B-Mains and A-Main will be streamed live on FloRacing. If you're not already a subscriber, you can become one today by clicking here.
Saturday's C-Mains, B-Mains and A-Main will be live on the MAVTV Motorsports Network.