2022 Wild West Shootout
Rusty Schlenk Brings Rayburn Tribute To Wild West Shootout
Rusty Schlenk Brings Rayburn Tribute To Wild West Shootout
Rusty Schlenk is driving a C.J. Rayburn tribute car during the Wild West Shootout at Vado Speedway Park.
Jan 14, 2022
by Brandon Paul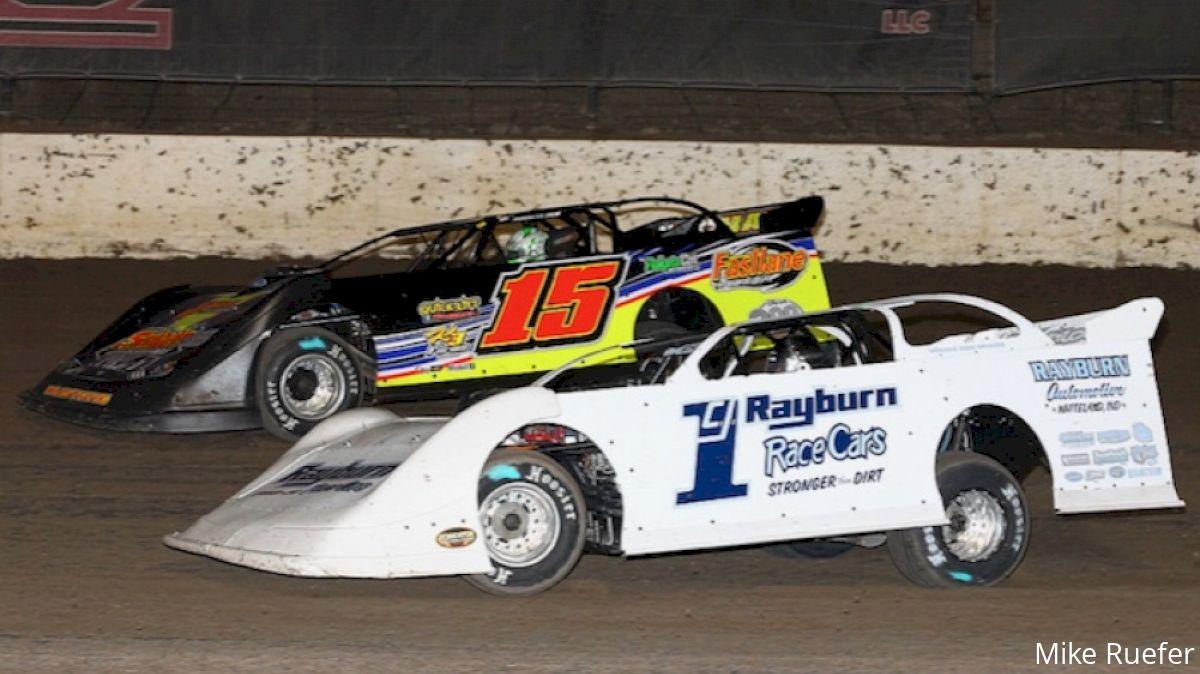 Rusty Schlenk was beginning to think he'd have to resort to his Plan B for running the Wild West Shootout presented by O'Reilly Auto Parts — driving a second machine fielded by his Domination Race Cars customer Jeff Schildmeyer of Las Vegas, Nev. — as the start of the miniseries at Vado (N.M.) Speedway Park approached and his own car still wasn't ready for action.
Then came the news on New Year's Day that Schlenk's racing hero, Hall of Fame chassis builder C.J. Rayburn, had passed away at the age of 81 from complications of Covid pneumonia. He knew immediately that he must do whatever was necessary to not only finish his car to enter the Wild West Shootout but also make it a tribute to 'ol C.J.
And so exactly one week after Rayburn's death, Schlenk was at Vado to kick off the miniseries behind the wheel of his own Domination mount that boasted a simple white-and-blue wrap mirroring the look of the famed No. CJ1 house car that Rayburn himself drove decades ago.
"We weren't even 100 percent sure we were gonna be able to get a car ready," Schlenk said before the start of last Saturday's opening-night program at the 3/8-mile oval between Las Cruces, N.M., and El Paso, Texas. "We were trying to get a car ready to come out here, and we were actually in the process of cutting the decking for it (on Jan. 1). I had the aluminum up on the router cutting the decking, a black deck, and we got the word literally as we were cutting it that C.J. had passed away.
"So I threw the black sheet out in the scrap, put a white one on, and I said, 'You know, we're making it now (to Vado).' That was kind of my motivation to get out. I wanted to do it for C.J."
Schlenk, 35, of McClure, Ohio, estimated he and his crew members "had eight hours of sleep total" over the first four days of 2022 as they rushed to complete an entirely reworked car for Vado. It was his devotion to Rayburn that prompted him to burn the midnight oil on the vehicle.
"It's an older chassis, one of my first Dominations that I built, but we literally cut the front clip off and the rear clip off and started with the main cage and redesigned everything," Schlenk said. "It's a bunch of stuff I've been wanting to try, so it's sort of a one-of-a-kind deal. I was wanting to get out here to test it so we can start building it for customers, but we were so far behind I didn't think we were gonna make it.
"But when C.J. passed, I'm like, 'Nah, we're doing this for Bud. We're gonna make it happen.'"
Schlenk paused, and then added, "It sucks I can't be at C.J.'s funeral (which was held late last week), but I'm sure he'd much rather me be here running this car."
Indeed, Schlenk unloaded a C.J. Rayburn throwback that was so true to Rayburn's classic race car appearance that the legendary Hoosier would have been awed to see it.
"That's just kind of the iconic C.J. look," Schlenk said, gazing at his car before last Saturday's hot laps and qualifying. "I just scrolled through Facebook until I found a car (of Rayburn's) that I liked and then I sent it to KBC Graphix.
"This is iconic Bud right here. I wanted something that looked like this. It's a cool deal. I like it."
Schlenk notably gave his wrap creator "a bunch of 'Rayburnisms' to put on the roof" around a photo of the man himself, giving a little extra panache to the retro scheme. Rayburn, after all, was well known for his colorful, witty aphorisms and quotes, seven of which Schlenk remembered and had splashed on his car:
• "That's real nice, but the Ackerman is terrible."
• "Stay right here, they'll all be back."
• "I invented the four-bar back in 1984 … one of my weaker moments."
• "Stay close."
• "Don't fall off the face of the earth."
• "Just go to the hot dog stand."
• "Race cars are simple, race car drivers are complicated."
Schlenk, of course, had a special connection to Rayburn. He first met the man in the early 2000s when he was just an up-and-coming teenager racing out of his native Jackson, Mich. After turning some laps in Rayburn cars fielded by friends in 2002 and '03, he bought one of his own in '04 because he "liked 'em so much" and his relationship with Rayburn blossomed from there.
"Once we got to know C.J. there was no turning back," Schlenk said, alluding to the impact Rayburn had on his racing career. "There's a lot of us across the country that have been influenced by C.J. Not just driving or working on 'em or building 'em, but just life in general. C.J.'s taught us all lessons, whether it's how to set the cars up or how to handle ourselves or how to drive 'em.
"I've always gotten along good with C.J. I was one of the few people in the world I think … there's a handful of us out there, like me, (Billy) Moyer, (Don) O'Neal and some of those guys, we've got a pretty good handle on him. But a lot of guys just don't understand him."
Schlenk became an adherent to Rayburn's love of the swing-arm rear suspension, the concept the chassis builder came to love upon developing it starting in the late '80s. Schlenk admitted that he pushed the swing-arm setup aside during the 2010s in favor of the four-bar suspension, but Rayburn brought him back into the fold over the five years before his death.
"I went astray with everybody else," Schlenk said. "I jumped on the four-bar bandwagon and went and won a bunch of races and thought it was great, but in 2016 he called me back, made me get in one of these (swing-arm) cars. He said, 'Give me one last hurrah. I want to go out on top. I don't have many years left in this deal.'
"He's helped me so much in my career, I was like, 'Let's try this.' We won a bunch of races, and he made me believe."
Racing as Rayburn's house car driver, Schlenk rolled up 20-plus victories and back-to-back DIRTcar Racing national championships in 2016 and '17. He successfully took up Rayburn's swing-arm mantle, even pledging allegiance to the suspension when he launched his own Domination Race Cars chassis business two years ago.
"He's kind of what made me step my game up and start building race cars," Schlenk said of Rayburn. "I think I was one of the ones left who believed in what he had going on with the swing-arm rear suspension and he kind of helped me take it to the next level.
"I really understood what C.J. was trying to do with these cars. Not that C.J. hand-picked me and said, 'Here, go carry on my legacy,' because that's not what happened at all, but I feel like a lot of other people gave up on him a little bit … and the man has done so much for the sport, I want to carry his legacy on. I want to keep going with the swing-arm deal.
"When he was alive, it was good to be able to go down there and see the grin on his face when we were kicking these four-bar guys' asses with this swing-arm car. Now I know I guess he gets to watch 'em from upstairs."
Coming off a 21-win 2021 season highlighted by a career-high $33,000 victory in August's Sunoco American Late Model Series-sanctioned Wood Tic Dan Salay Memorial at Merritt Speedway in Lake City, Mich., Schlenk remains committed to Rayburn's swing-arm setup. He said every race he's won since 2016 has come using a swing-arm setup — the only times he turned laps last year in a car with a four-bar suspension were two test sessions he did for a customer — and Rayburn's favorite suspension is on his car for the Wild West Shootout.
Schlenk showed flashes during the first half of the six-race miniseries, most notably on Sunday when he was running a solid fourth early in the 40-lap feature but was eliminated due to a broken fan blade. His 21st-place finish in that event was sandwiched by a pair of 13th-place runs on Saturday and Wednesday.
"We don't have our Mullins (LS engine) stuff in this week," Schlenk said. "I really love them LS deals, but I didn't have anything ready to come down here. I wish we had one of them things in, but we're running one of Jeff's (Schildmeyer) backup motors. It's a Rhyne … it's down a little bit on horsepower compared to what we're used to, but it drives real good. It's a nice, smooth motor. If we can get qualified, by feature time we'll be really good."
A victory at Vado while in Rayburn regalia would understandably be emotional for Schlenk, who is hopeful that he'll get some help from above during the final weekend of competition.
"I'll tell you one thing," he said when asked how he would react to winning a feature, "I'll be a ball of tears in victory lane."
That's how much Rayburn meant to Schlenk, who has been telling everyone at Vado one particular story that he says "explains C.J.'s personality to a T."
"We were sitting there on his couch one day and a guy called him up," Schlenk said. "He was trying to explain to C.J. what was going on with the car. He was having troubles but couldn't give C.J. an answer of what the car needed. C.J. said, 'Well tell me what it needs and I can help you.' The guy just couldn't, so C.J. says, 'All right, I'll tell you what to do. When's the next time you race?' The guys says, 'We're racing Friday at so-and-so track.; C.J. just says, 'All right, when you take the green for hot laps, hold your foot on the floorboard and you drive it down into turn one, and you give me a call back and let me know which end hit the wall first.' And he hung up the phone.
"That's just C.J. right there. He had a different way of dealing with customers. He always knew how to make it funny. He spoke in riddles — if you couldn't figure out C.J.'s riddles, you weren't gonna be able to figure out what the hell he was saying. He was a character for sure."
Schlenk even conjured Rayburn's eccentric nature himself while conducting an interview as he changed out of his driver's uniform in his trailer following his disappointing outing on Sunday.
"I figure I'll be like C.J. and talk to you in my underwear," Schlenk said with a hearty laugh.