2022 Lucas Oil Chili Bowl Nationals
Christopher Bell Ties A Sammy Swindell Lucas Oil Chili Bowl Record
Christopher Bell Ties A Sammy Swindell Lucas Oil Chili Bowl Record
NASCAR Cup Series driver Christopher Bell claimed his eighth Lucas Oil Chili Bowl prelim win on Thursday night.
Jan 14, 2022
by Brandon Paul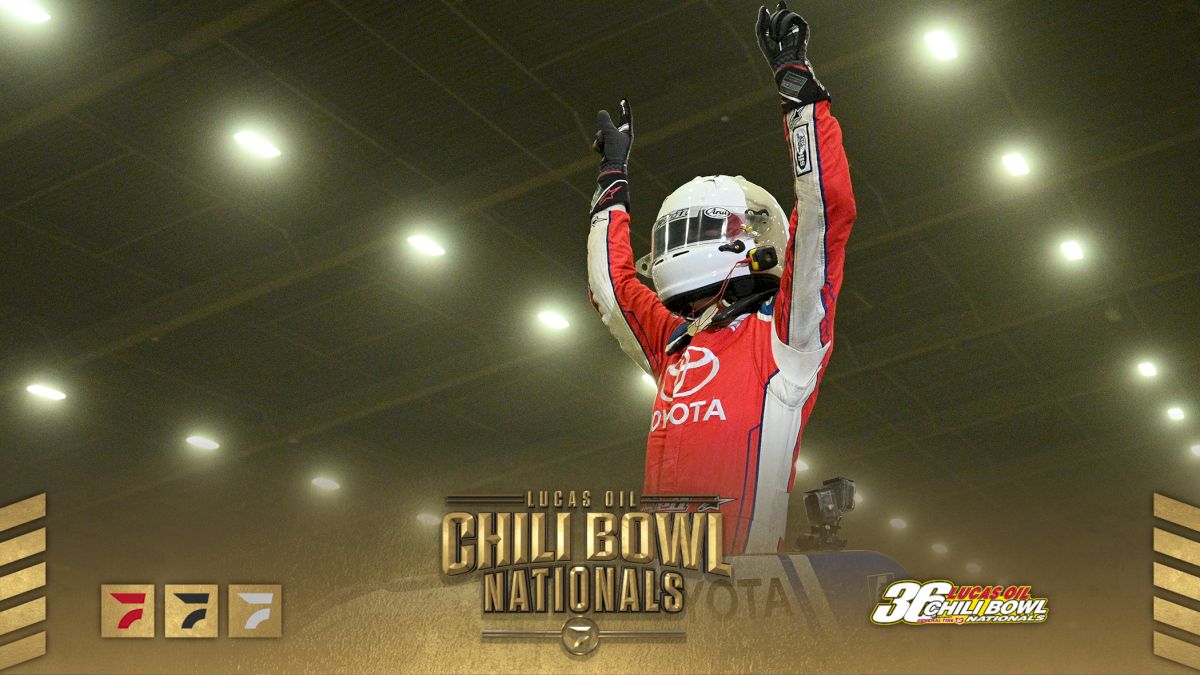 Christopher Bell exited his No. 71W Midget on Thursday evening and yelled five words to the crowd gathered at the SageNet Center in Tulsa, Oklahoma:
"I love the Chili Bowl."
For the seventh straight year, Bell celebrated in victory lane after winning Thursday night's preliminary feature at the Lucas Oil Chili Bowl Nationals. The win was also the eighth overall preliminary night victory for the NASCAR Cup Series driver, tying Sammy Swindell for the most all-time.
"It's just crazy, man," Bell said after the race. "This event, everyone knows how easy it is to have something happen to take you out of it. I remember Tanner (Thorson) has come from the back numerous times. If he didn't have to do that, he'd probably have a lot more prelim wins to his name. C.J. (Leary) has been sitting next to me for three of my seven I think. It's crazy how many things have to go right to put yourself in this position. I'm incredibly thankful that I've been able to do it."
Bell's path to his seventh straight prelim win wasn't easy. After starting the race from the fourth position, he fell back to fifth early on before beginning to pick off cars. By the halfway mark of the 30-lap race, he was third. Four laps later, he was second behind leader Tanner Thorson.
A trio of cautions between Lap 21 and Lap 24 gave Bell three opportunities to make a winning move on Thorson. On Lap 27, he made the move that counted by riding the berm to the inside of Thorson and clearing him off of turn two. Thorson continued to rip the top and even attempted a slider on Bell in the closing laps, but it wasn't enough to upset the Thursday night dominator.
"I was watching the board obviously and saw Bell coming," Thorson said. "I knew I needed to get up and rip. I was ripping the top and then I saw Leary and a couple white cars running the bottom. I went back to the bottom and next thing I know I see Bell ripping the top again. I put it back up there and I knew it was a matter of time until Bell threw a bomb on me. I was waiting for it, so I was trying to screw him up on the starts as best as I could. After we started sliding each other and crossing each other back over it kind of went into all-out."
Thorson held off a late challenge from C.J. Leary to finish second, while Leary completed the podium. Tim Buckwalter was the hard charger of the evening with a 23rd-to-fourth run. Polesitter Shane Golobic completed the top five after leading the first four laps of the race.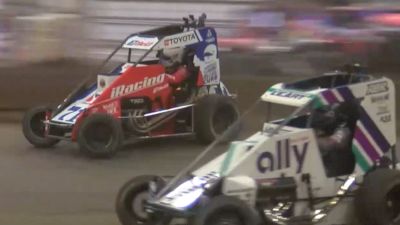 VIDEO: Watch highlights from Thursday's Chili Bowl preliminary race on FloRacing.
Bell's win was the fourth consecutive preliminary night win for Keith Kunz Motorsports at the 2022 Lucas Oil Chili Bowl Nationals. The KKM team accomplished the same feat in 2019 when Logan Seavey, Kyle Larson, Rico Abreu and Bell won four straight nights.
"I thought I was going to drop the ball there for a long time. I remember early on in my career with him it happened often where Larson would be Tuesday night, Rico would be Wednesday and then Thursday was good to me. That was cool, but it's absolutely crazy looking at this week how it's been for KKM cars. If you just follow the results you would think one team is dominating the race, but I think that's far from the truth. Everybody here has got great equipment. There's probably 80 cars out there that are capable of winning if you have the right setup and right driver in it, so things are going right for KKM."
The Kunz team will attempt to break their own record Friday night by scoring a fifth straight preliminary night victory. Bryant Wiedeman, Tom Harris, Tucker Klaasmeyer and Brenham Crouch will give the team five chances at reaching victory lane.
All of the preliminary action prior to Saturday's C-Mains, B-Mains and A-Main will be streamed live on FloRacing. If you're not already a subscriber, you can become one today by clicking here.
Saturday's C-Mains, B-Mains and A-Main will be live on the MAVTV Motorsports Network.