2022 Lucas Oil Chili Bowl Nationals
Who To Watch Thursday At The Lucas Oil Chili Bowl
Who To Watch Thursday At The Lucas Oil Chili Bowl
Wednesday's Lucas Oil Chili Bowl preliminary night features Christopher Bell, Tanner Thorson, Spencer Bayston and more.
Jan 13, 2022
by Brandon Paul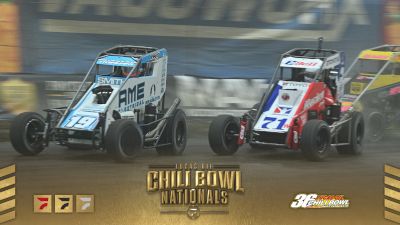 We're officially beyond the halfway mark of the 36th annual Lucas Oil Chili Bowl Nationals.
Through three nights, we've seen the domination of Keith Kunz/Curb-Agajanian Motorsports by sweeping all three prelims with Tanner Carrick, Buddy Kofoid & Rico Abreu. And now? They've got Christopher Bell locked and loaded.
After two years away from the stable, CBell returns to the team which he started his Midget career with and the team which he won three Golden Drillers with. He's going for his seventh consecutive Thursday triumph, a win that would give him eight overall and tie him with Sammy Swindell for the most in history.
If CBell wants to keep his streak alive, he's going to have to survive some of the Thursday titans.
Most notably, Tanner Thorson, a podium finisher last year and former preliminary winner, has made the switch to compete on Thursday this year. He's aboard the Reinbold-Underwood Motorsports #19T, and noticeably has one of the fastest cars in the building.
There's also Spencer Bayston for the RMS Racing camp, who led several laps and battled with Bell for last year's Thursday preliminary win. He's got the momentum from three consecutive top-10s for his RMS teammates in David Gravel, Thomas Meseraull & Brad Sweet before him.
Shane Golobic leads the charge for Matt Wood Racing, who continually shows that they're one of the best operations in the building. "Sugar Shane" is going for his ninth Chili Bowl A-Main start this week.
Other notables include Brady Bacon, Emerson Axsom, Danny Stratton, JJ Yeley, and Joe B. Miller, among more.
You can watch every lap on FloRacing and check out the tentative Monday roster below:
0K

Don O'Keefe Jr

Pittsboro, IN

0T

Alex Schriever

Hartford, SD

1S

Spencer Bayston

Lebanon, IN

2A

Rickie Gaunt

Torrance, CA

2D

Matt Sherrell

Owasso, OK

2E (R)

Whit Gastineau

Moore, OK

2G

J.J. Yeley

Charlotte, NC

2S (R)

Travis Scott

Washington, OK

3B

Zach Blurton

Quinter, KS

3F

Tim Barber

Sonoma, CA

4A (R)

Dillon Silverman

Chico, CA

4M

Brody Fuson

Bakersfield, CA

4Z (R)

Nate Barger

Madison, SD

5K

Ben Worth

Coalinga, CA

6C

Collin Rinehart

Peyton, CO

7D

Michelle Decker

Guthrie, OK

7JR

JD Black

Grain Valley, MO

7NZ (R)

Travis Buckley

Auckland, NZ

7

Shannon McQueen

(New Zealand)

7XT

TBA




08B (R)

Austin Barnhill

Rocky Point, NC

8AJ

A.J. Johnson

Oskaloosa, IA

8G

Austin Shores

Atoka, OK

9

Mitchell Davis

Auburn, IL

10C

Dalton Camfield

Decatur, IL

10T

Brandon Thomas

Owasso, OK

11W

Aaron Werner

Colman, SD

14M (R)

Dylan Bloomfield

Discovery Bay, CA

14X

Chad Boespflug

Lebanon, IN

15D

Andrew Deal

Caney, KS

15W

Danny Burke

Crosby, TX

15X

Carson Garrett

Littleton, CO

17B

Ryan Bickett

Ramona, SD

17E

Blake Edwards

Claremore, OK

17J (R)

Frank Beck

Sarasota, FL

17M

Jeremy Hill

Stahlstown, PA

17W

Shane Golobic

Fremont, CA

18C (R)

Ryan Moser

Englewood, CO

19D

TBA




19T

Tanner Thorson

Minden, NV

20G

Noah Gass

Mounds, OK

20H

Noah Harris

Broken Arrow, OK

21D

Justin Dickerson

Pittsboro, IN

21H

Brady Bacon

Broken Arrow, OK

22T

Don Droud Jr

Lincoln, NE

23B (R)

Brian Bell

Gallaway, TN

25B

Steve Buckwalter

Royersford, PA

29

Tim Buckwalter

Douglassville, PA

31S

Ray Seach

Beloit, WI

35L

Carson McCarl

Altoona, IA

39B

Emerson Axsom

Franklin, IN

44C

Tristan Lee

Biloxi, MS

47X

Danny Stratton

Reading, PA

51B

Joe B. Miller

Millersville, MO

51J (R)

AJ Hernandez

Phoenix, AZ

53R

Sean Robbins

Collinsville, IL

55V

C.J. Leary

Greenfield, IN

57

57B

Maria Cofer

Daniel Robinson

Macdoel, CA

Ewing, IL

60 (R)

Cody Gardner

Benton, AR

60M

Earl McDoulett Jr

Claremore, OK

63H

Larry Petersen

Wahiawa, HI

68W

Shane Cottle

Kokomo, IN

69

Cody Hays

Wynne, AR

71.5

Robert Bell

Colfax, IA

71E (R)

Mariah Ede

Fresno, CA

71G

Damion Gardner

Concord, CA

71R

Frankie Guerrini

San Rafael, CA

71W

Christopher Bell

Norman, OK

72X

Chris Tarrant

Rockwall, TX

73X

Greg Edenholm

Malibu, CA

74

Drew Rader

Findlay, OH

75X (R)

Alex Vande Voort

Knoxville, IA

77

Stevie Sussex III

Laveen, AZ