2022 Wild West Shootout
Bobby Pierce, Mike Marlar Play Blame Game After Vado Collision
Bobby Pierce, Mike Marlar Play Blame Game After Vado Collision
Bobby Pierce and Mike Marlar shared their sides of the story after a last-lap collision Wednesday at the Wild West Shootout.
Jan 13, 2022
by Brandon Paul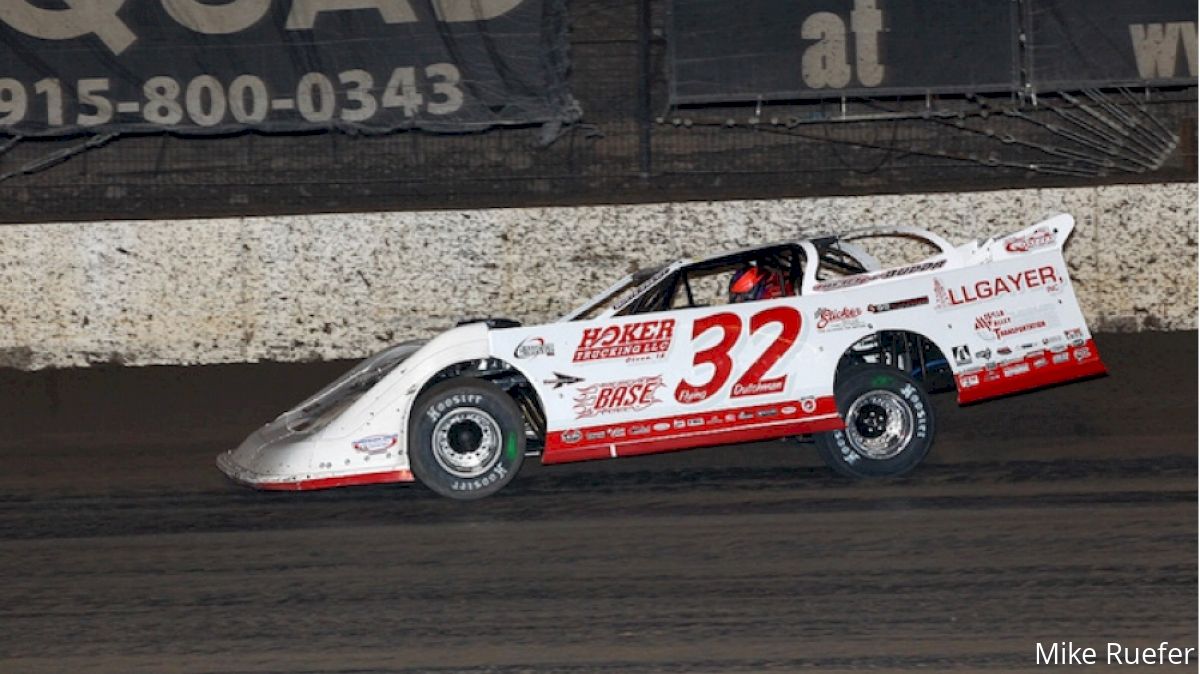 Neither race-long leader Mike Marlar, nor fast-closing Bobby Pierce were willing to give an inch on the final lap of Wednesday's 30-lap Wild West Shootout presented by O'Reilly Auto Parts main event at Vado Speedway Park.
The resulting collision amid heavy traffic entering turn three left both bristling and cost both a potential victory. Marlar recovered to finish second, a tenth of a second behind Las Cruces, N.M.'s Garrett Alberson, who shot around the outside with a third-to-first move that gave the local standout his first career miniseries triumph.
A half hour or so after the main event, both drivers had enough time to think about the incident that dropped Marlar to a runner-up finish and knocked the spinning Pierce back to sixth. They agreed the turn-three contact was little more than a racing incident, two hard-charging drivers battling for a victory in the 16th annual miniseries. But they were unwavering in their convictions of who shouldered the blame.
Pierce, who started 10th, tracked down the leading Marlar by lap 25 and as they approached traffic late in the race that was slowed by only one caution. He realized a seventh career Wild West Shootout victory was within reach.
"I knew had a shot at him. I looked up at the board on about lap 23 or 24 and I was like, 'All right, we got six laps.' With tonight being a 30-lapper, things were going to happen pretty quick," Oakwood, Ill.'s Pierce said. "Starting 10th I had to get up on the wheel and get going as quick as I could. Heck I was throwing sliders left and right. It was a really, really fun race. Got to Brandon (Sheppard) there, passed him. Got to Garrett (Alberson) there, passed him. From right there, I knew we had a really good car because they had been two of the fastest cars here in my opinion.
"Mikey has had a really fast car, so he was out in the lead. Once I got to him, he was a little better than me through (turns) one and two, but he had kinda been changing his lines up here and there. It benefitted me that I was good on the bottom and the top in (turns) three and four, so if he went one place, I could go the next and see if I could kinda get a run at him and possibly pass him for the lead before the checkered flag."
The pole-starting Marlar led every lap but the last. The Winfield, Tenn., driver managed to stay out front by using an unconventional line around the immaculately groomed 3/8-mile oval, diving low in turns three and four, while staying high and using his momentum to power around turns one and two. It worked well enough until slower car blocked his high-side groove in turns one and two.
"I caught a rolling roadblock at just the worst time," Marlar said. "I could run around the high side of one and two and make good speed. I caught up to (Jake Timm) and he was just up there. He was up there and I couldn't really go. There wasn't no room for me to go by him. You couldn't really run the middle. I had one (car) on the bottom and one (car) on the top, so I just tried to hope that there wasn't nobody close enough and I tried to run the bottom.
"Then I come down the back straightaway and I heard somebody, I heard Pierce is who it was. I heard him to my outside but I was in my line and I was in the brown getting into turn three. I didn't think I was in any danger. I thought I would be fine. You know (Pierce) tried to chop across my nose and I just carried enough speed off in the corner that he couldn't and we got tangled up there and he spun and that's that. You know, it's a bummer for both of us. But hell, I couldn't go nowhere. I had cars two-wide and three-wide in front of me and I was on the bottom and I wasn't going to let (Pierce) just drive around me and park in front of me on the bottom, so I just held my own."
VIDEO: Mike Marlar and Bobby Pierce collided while battling for the lead on the final lap.
Marlar maintained that he was simply running the same line he'd been running throughout the race.
"I knew if I went down into turn one and two and stayed in the bottom and did not miss it, stayed low down the back straightaway and entered down here in three with that brown on the infield, it was going to be hard to pass me," Marlar said. "(Pierce) didn't really have me cleared, but he was trying to have me cleared. You know, listen I've been on the outside of people trying to cut down across their nose and you don't see him. You don't know if you've got them cleared or not. So he was trying to clear me down there. He was about to pull it off, but I just kinda carried enough momentum into the corner to get in under him to where he couldn't do that."
Pierce disagreed.
"I don't see it that way at all," Pierce said. "I think he's trying to cover for himself. He drove in way past the lifting point getting into the corner. If I wasn't there, he would have ended up sliding up to the middle of the racetrack and that was definitely not were he was running. He slid in there to try to fill a gap. It wasn't there. We could have just banged doors and he (would've gone) on for the win, but it was just worse. He went in there a little too hard and we locked up wheels. I spun around because of it. I'm pretty mad at him, but the same boat we weren't back there battling for fifth on the final corner, we were battling for the win. You see that happen all the time.
"He was racing hard for the win and I don't mind that, but I was just trying to get back to the bottom like I was every lap before. We had that lapped car slowing up right in front of us too, so I think it kinda slowed my momentum slightly, but he filled a gap that wasn't really there and we made contact because of it. Unfortunately I spun around and finished fifth or sixth. That sucks for it to end that way."
Having seen the video replay, the drivers spoke in measured sentences with neither letting their emotions get the better. Standing back at their haulers in the chilly New Mexico night air, their opinions had hardly changed though. Marlar, who labeled Pierce a "whiner" during his podium interview that streamed live on FloRacing, was still sore because Pierce's immediate postrace reaction was to flip him off.
"They're mad and double birding me and s--- and I don't like that," Marlar said. "Me and him, we are out there racing and we wrecked together. That's why we wear helmets. That don't bother me one ounce. But I don't like the disrespect that they give people all the time when something don't go their way. The best my memory serves me is that he tore the whole damn left side off my car up there (in Mansfield, Ohio) at the Dirt Million for $250,000 or whatever it was and I never said a word to him. All I'm saying is he was trying to pass me, he hit me, and tore the side off my car and it didn't help me or him. I ain't mad at him over that. We were trying to win. But he can't be mad at me when I hold my own either."
Pierce thought Wednesday's collision was a little more than Marlar just holding his own.
"Watching the video, he was not wanting me to get down in front of him. He was filling a gap that wasn't really there to fill and it led to me being spun out," said Pierce. "In my opinion, I thought going down the backstretch that, 'All right, we got this deal wrapped up.' But (Steve Stultz) was really slow and all the sudden I just get a hit in the left rear and there was nothing I could do after that. I was pretty mad. I was pretty dejected. I'm just really glad that it wasn't some really, really big race. It was still five grand-to-win and after all the struggles we've had this week so far it would have been great to win.
"But at the end of the day, at lead it wasn't the Eldora Million or something like that and got taken from us. S--- happens, I believe is what he said. So when something like that happens to him, that's what I'm gonna say."