2022 Wild West Shootout
Unique Story Leads Austin Kirkpatrick To Wild West Shootout
Unique Story Leads Austin Kirkpatrick To Wild West Shootout
An unlikely pairing has led Ocala, Florida driver Austin Kirkpatrick to the Wild West Shootout at Vado Speedway Park.
Jan 13, 2022
by Kevin Kovac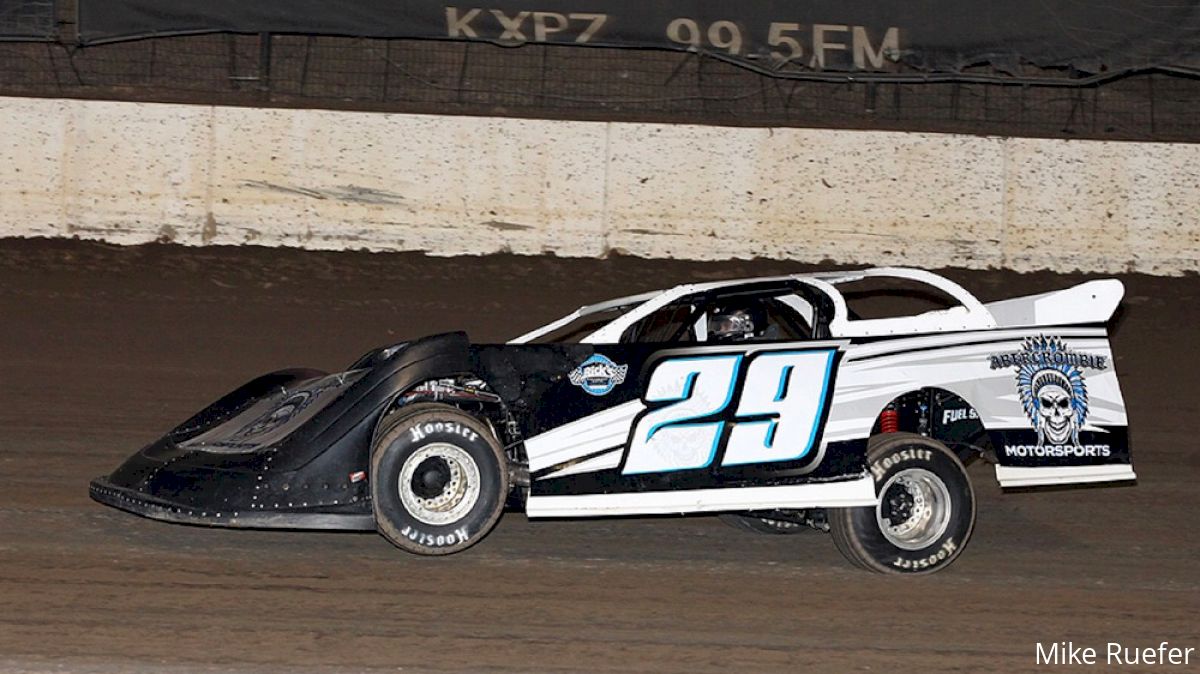 VADO, N.M. — How did a native of Ocala, Fla., who now lives in Concord, N.C., end up driving a New Mexico-based car in the opening weekend of the Wild West Shootout presented by O'Reilly Auto Parts at Vado Speedway Park?
Austin Kirkpatrick (the driver) and Bob Abercrombie (the car owner) playfully addressed the circumstances of their pairing when asked that very question after last Saturday's opener of the six-race miniseries. | Complete WWS coverage
"What's the story you want to use this time?" Kirkpatrick said, glancing over at Abercrombie standing a few feet away.
"Craig's List," Abercrombie joked with a smile. "Personals section."
Laughs among Kirkpatrick, Abercrombie and crew members followed. Then Kirkpatrick offered the "real story" on how he came to sit behind the wheel of a Longhorn Chassis normally driven by Abercrombie's wife Mercedes, who has competed in modified and Late Model competition near the couple's Deming, N.M., home for the better part of the last decade.
According to Kirkpatrick, the positive coverage he received from DirtonDirt.com and FloRacing for his performance in last September's second World 100 at Eldora Speedway in Rossburg, Ohio — he drove his homebuilt AK Race Cars machine to a consolation victory and 19th-place feature finish — prompted Bob Abercrombie to reach out to him through social media.
"He kind of gained a little interest in what I was doing," said Kirkpatrick, a 29-year-old who has turned some heads in recent years with strong runs piloting innovative cars he's constructed himself. "We started chatting in Facebook Messenger. He likes doing the outside the box stuff also; he doesn't like just buying store-bought stuff. He likes marching to the beat of his own drum a little bit, so we kind of had a natural connection there."
Kirkpatrick noted that their online conversations quickly evolved into more than just general talk about racing.
"That was the craziest part," Kirkpatrick said. "We started chatting on Facebook, and like a few days later, I'd never even met the guy, and he's like, 'I got this motor sitting here if you want it.' I was like, 'Well, yeah. I'd like that.'
"A lot of times people just say things, but two or three days later there was a wooden crate sitting in my shop. That was pretty cool."
Abercrombie sent his team's rebuilt Pro Power engine to Kirkpatrick, giving the young racer who had been running a Clements engine a fresh powerplant to use in some November events in the Southeast. And Abercrombie stepped up to provide Kirkpatrick extra manpower at the track, too, before the 2021 season concluded.
"He flew out to the last few races from out here just to help out," Kirkpatrick said. "He was at Charlotte (for the World Finals), Senoia (the Georgia track's Peach State Classic) and Cochran (the Georgia oval where Kirkpatrick finished second in the Gobbler) with us. He's a great guy. He's real helpful."
Mercedes accompanied her husband on the trip to the World Finals, but she stayed home with their two young children the other two weekends as her spouse's bromance with Kirkpatrick blossomed and the two men soon began discussing the Wild West Shootout that takes place literally in the Abercrombies' backyard.
"He lives, like, 4 minutes from here — we rode that (Razr Side-by-Side) here from the shop — and he was wanting me to bring my car out here," Kirkpatrick said. "I was like, 'Man, it's just a long drive, and it's a little bit outside what we're trying to do.' But he had this Longhorn sitting at the shop, so I said, 'I'll just come out there and run it.' "
Kirkpatrick traveled to the Land of Enchantment with his team's lead engineer, Andrew Lee, the day before last Friday's practice night, giving him some time to go through the Abercrombies' No. 29 machine and "put my own little twist on a few things but nothing too crazy." He went on to register finishes of 17th (Saturday) and 10th (Sunday) in the weekend's pair of 40-lap features while attempting to get comfortable in an unfamiliar chassis.
"I've been driving my own cars for the last three years," Kirkpatrick said. "I haven't even driven a Rocket or a Longhorn ever, so it's a little bit of a learning curve on my end. Trying to figure out this car in a day is tough. I was gonna be pretty happy if we just made the shows and finished halfway decent.
"(Saturday) went pretty good," he continued. "We kind of went backwards in the feature (after starting 14th), but I may have bent something in the left-front running into those tires that they got down there (marking the inside of the track). (Sunday) was just hard to start that far back."
Kirkpatrick's New Mexico excursion would be a short one; he and Lee flew back to Charlotte on Monday. But he relished the days he spent at Vado.
"We're just out here having a good time," said Kirkpatrick, who noted that Mercedes was planning to run the car in the remaining four Wild West Shootout events but engine problems during Tuesday's open practice session will likely sideline her from competition. "It's not too high of a pressure situation."
Kirkpatrick, who stayed in one of the Abercrombies' houses while in New Mexico, said he would shift his focus to preparing his own No. 11K for some upcoming Speedweeks action in Florida. He plans to enter Lucas Oil Late Model Dirt Series events at Bubba Raceway Park in his native Ocala, Fla., and All-Tech Raceway in Ellisville, Fla., as well as DIRTcar and World of Outlaws Morton Buildings Late Model Series shows at Volusia Speedway Park in Barberville, Fla.
It's a good bet that Bob Abercrombie will be by Kirkpatrick's side for at least a portion of his Speedweeks racing.
"I haven't even asked him (about coming to Speedweeks), but I'm assuming at this point he'll probably show up for a few of 'em," Kirkpatrick said. "At this point I consider him definitely part of the team.
"We'll call it destiny and fate or whatever you want," he added, alluding to his friendship with Abercrombie "We get along great. We're the three misfits and we have a good time."