2022 Lucas Oil Chili Bowl Nationals
Justin Grant Fends Off Kyle Larson In Chili Bowl VIROC Showdown
Justin Grant Fends Off Kyle Larson In Chili Bowl VIROC Showdown
Justin Grant held off a ferocious charge from Kyle Larson to win Monday's VIROC race at the Lucas Oil Chili Bowl.
Jan 11, 2022
by Brandon Paul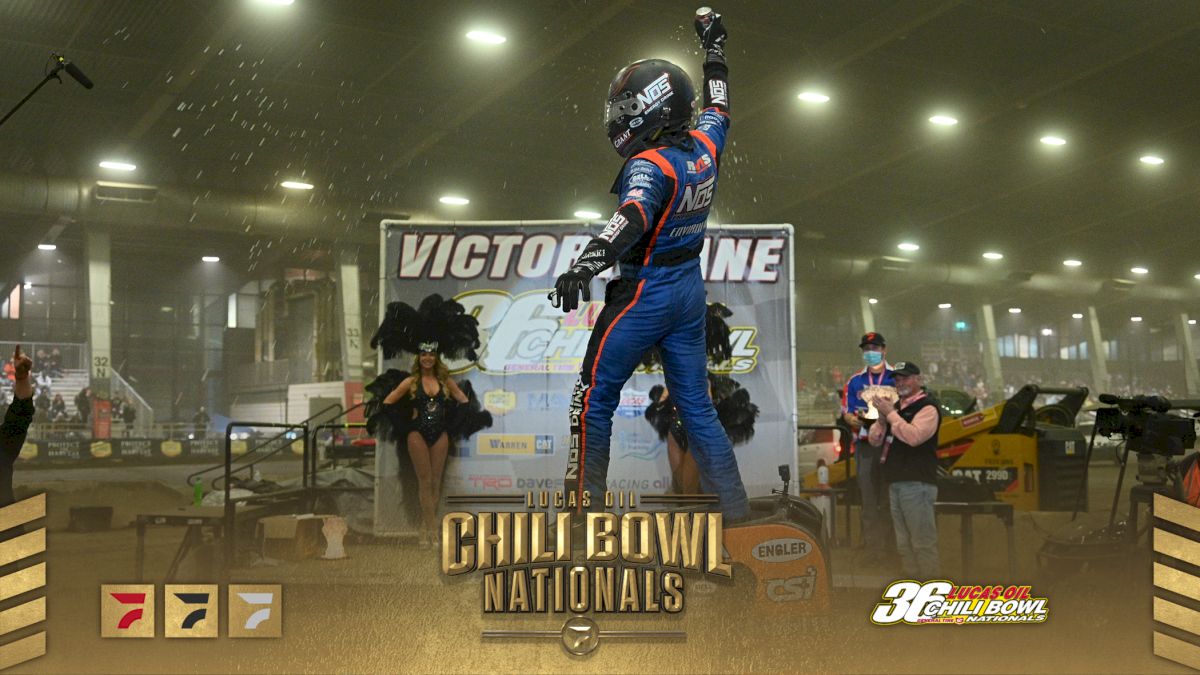 Justin Grant established himself as the champion of champions Monday during the Vacuworx Invitational Race of Champions (VIROC). Grant held off a ferocious charge from NASCAR Cup Series champion and two-time Chili Bowl winner Kyle Larson in the closing laps to score his first career victory in the race.
Grant, who won last year's Friday night preliminary feature, started from the pole after an eight-car invert and never relinquished the lead. However, his path to victory lane was anything but easy.
After starting fifth, Larson made his way to second just prior to the halfway mark of the 25-lap feature. Larson threw the kitchen sink at Grant in the closing laps but ultimately came up just short in a finish that had fans at the Tulsa Expo Center on the edge of their seats.
"The [final laps] really weren't that much fun," Grant said with a laugh. "I felt like we were taking on water really fast there at the end. We were really, really good until about eight to go and then I kind of lost my entry grip. I went to search and try to figure out how to keep some speed going. We're gaining on it and hopefully we'll have something for Kyle, Chris (Bell) and these guys come Saturday."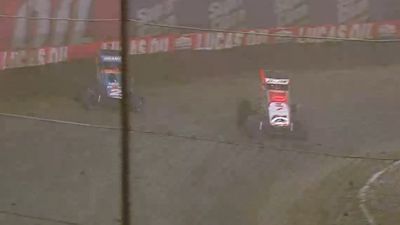 VIDEO: Watch Justin Grant and Kyle Larson battle for the VIROC victory.
With his win, Grant joins a list of former VIROC winners that includes Christopher Bell (2021 and 2020), Tanner Thorson (2019 and 2016), Chad Boat (2018), Kyle Larson (2017 and 2014), Sammy Swindell (2015, 2012, 2011 and 2009) and Brad Loyet (2010).
Driving a car he debuted during USAC's west coast swing in November, Larson was pleased with the speed he found in his No. 01 FloRacing Midget during the VIROC. Looking back on the final laps, there was just one move he would've changed.
"I had a good little thing working for me there," Larson stated. "I pulled the trigger every corner, but I should've went back to the top in three and four coming to two to go and I would've had a better run I think to make a move. I'm really happy with my car. It's night and day different from where it was earlier in the night and where we were out on the west coast."
Now, Grant will look to carry his momentum into his preliminary night on Friday and the main event on Saturday night.
"It was definitely a good test for us," he said. "We've actually changed a lot setup wise from last year trying to get a little better at the end of these runs. We made some ground there. We still need to be better for Saturday."
Christopher Bell, the winner of the last two VIROCs, closed in on the leaders late but didn't have enough time to mount a challenge. Tanner Thorson and Blake Hahn completed the top five.