2022 Lucas Oil Chili Bowl Nationals
Donny Schatz Flying Into Wild West Shootout & Chili Bowl
Donny Schatz Flying Into Wild West Shootout & Chili Bowl
Donny Schatz isn't easing into his 2022 campaign. He's flying into it at the Wild West Shootout and Lucas Oil Chili Bowl.
Jan 10, 2022
by Kevin Kovac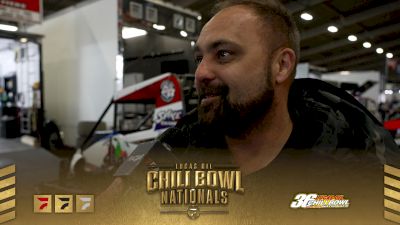 VADO, N.M. — Donny Schatz isn't easing into his 2022 campaign. He's flying into it.
In order to run two of his favorite "offseason" events — the Wild West Shootout presented by O'Reilly Auto Parts and the Lucas Oil Chili Bowl Midgets Nationals — the World of Outlaws NOS Energy Drink Sprint Car Series superstar is taking to the air.
Fortunately, Schatz, 44, of Fargo, N.D., can shuttle between his Dirt Late Model team at Vado Speedway Park and his midget effort at the Tulsa (Okla.) Expo Center a bit easier than most drivers. As a licensed pilot who has his own small plane, he doesn't have to deal with the schedules of commercial airlines to bridge the 800 miles between the venues.
"I've been a pilot for 20 years," Schatz said after finishing 10th in Saturday's 40-lap Wild West Shootout opener "I do fly to a lot of races. It's a good way to get around. It makes my life very good (amid the grueling WoO Sprint Car season). It's nice to be at home (more often between races) and be a part of everything that goes on in the business and get away from the racing a little bit."
Schatz's busy itinerary has him competing in the Saturday and Sunday events at Vado and then heading to Tulsa for the Chili Bowl's Monday practice day and his Tuesday preliminary program action. He plans to return to Vado for the Wednesday and Friday Super Late Model shows, travel back to Tulsa for Saturday's Chili Bowl finale and perhaps end his flurry of racing with one more flight to New Mexico for Jan. 16's conclusion of the Wild West Shootout.
The most challenging portion of the swing for Schatz would be the Sunday-Monday turnover. He's hoping for an early end to Vado's second racing card so he can get to his plane at the nearby Las Cruces International Airport and make the approximately hour-and-a-half hop to Tulsa with sufficient time for him to catch some shuteye before a bright-and-early start to hot laps at the Chili Bowl.
"Practice starts at 7 a.m. on Monday morning," Schatz said. "My original plan was to not be there for practice, but it's really not fair to the guys I'm driving for and it's really not fair to myself to not give a 100 percent to anything I go to, so I am gonna go to practice."
Schatz said his participation in next Sunday's finale at Vado will hinge largely on "how things go here Wednesday and Friday." If he runs as competitively with his self-owned XR1 Rocket car as he did in Saturday's miniseries opener, it's likely he'll be back.
While Schatz faded from the fifth starting spot to a 10th-place finish in the feature, he was quite satisfied with his overall performance. He timed fourth-fastest in his qualifying group and finished second in his heat race — after he ran the top in a stirring three-wide battle for the lead with Stormy Scott of Las Cruces, N.M., and Jason Papich of Nipomo, Calif., on the opening circuit of his prelim — before experiencing some struggles in the A-main.
"We actually made (practice) laps (Friday) night and felt pretty decent," Schatz said. "We had a decent qualifying effort, felt very good in the heat race but I couldn't really run the bottom like those guys. And in the feature, we're a little off on that slick part (of track conditions in Late Model racing). Some of that's just trying to get the power to the ground, and me and my guys, we're still pretty novices to keep up with guys like (eventual feature winner) Brandon (Sheppard) and all these guys that are here."
Schatz understands that his limited number of Super Late Model starts each season leaves him playing catch-up every time he hits the track.
"I felt like we had a respectable finish (in the feature), but it's also a learning curve," said Schatz, who has frequented the Wild West Shootout roster in recent years. "You can't come and jump in this thing and think you're gonna be great. Driving's one thing, but figuring out how to make adjustments … we don't go beating on Brandon's door (he's parked alongside Sheppard and works closely with the Rocket Chassis house car driver) every time we need to do something.
"So I'm happy with tonight. We can build on it. We had fun."
Schatz's machine for the Wild West Shootout is his battle-tested Rocket, the lone open-motor car in his Late Model arsenal and the same vehicle that Sheppard drove for Schatz in last month's Castrol Gateway Dirt Nationals at The Dome at America's Center.
"Tyler Erb said, 'Is that the Dome car?'" Said Schatz, a 10-time WoO Sprint Car champion. "I said, 'Yeah,' and he said, 'That thing digs.' And I said, 'Yeah, but that's when Brandon was driving it.' He said, 'You should see me drive it.'
"It's a couple years old, but it's a still a good car," he added. "(Sheppard and Rocket's Mark Richards) help me a lot and get me close, but this is racing so a guy's gotta figure some stuff out on his own. We're learning and we're having a good time at it."