2022 Wild West Shootout
Brandon Sheppard Drives New Rocket To Wild West Shootout Win
Brandon Sheppard Drives New Rocket To Wild West Shootout Win
Brandon Sheppard piloted his new XR1 Rocket machine to victory lane in the Wild West Shootout opener at Vado Speedway Park.
Jan 9, 2022
by FloRacing Staff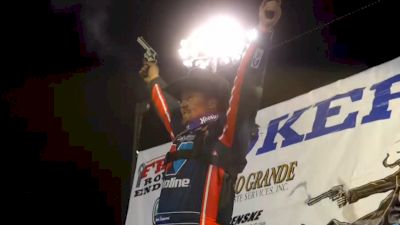 VADO, N.M. (Jan. 8) — Was the Penske Racing Shocks $300,000 Paydirt Jackpot for a six-race sweep of the Wild West Shootout presented by O'Reilly Auto Parts on Brandon Sheppard's mind after he captured Saturday's 40-lap miniseries opener at Vado Speedway Park?
The 28-year-old superstar from New Berlin, Ill., would've been lying if he tried to claim it wasn't. He also wouldn't have been totally truthful if he said he thought the gargantuan windfall was in his sights.
"I mean, yeah, it is," Sheppard remarked in the pit area following his $5,000 triumph. "But it's not a very realistic goal. For a guy to come in here and win all six of these with this much competition here is … that'll be tough to do."
Sheppard certainly understood, though, that he ended Saturday's action as the only driver on the property with a chance at the cash.
"My car is really good, and you can't win 'em all if you don't win the first night," he reasoned. "So we got a good start, and as long as I can keep from messing it up too bad and keep it together … we'll see what happens."
Debuting a new XR1 Rocket machine owned by his grandfather Steve Sheppard Sr., B-Shepp controlled the caution-free feature after overtaking polesitter and race-long pacesetter Bobby Pierce of Oakwood, Ill., for the lead on lap 13. It was a satisfying breakout performance for a piece of iron that sat in his family's shop for much of the 2021 season.
"I had it for a while last year and never did put it together. I just raced my old car," said Sheppard, who runs his grandpa's No. B5 in selected events around his schedule with the Rocket Chassis house car team. "We put this one together over the winter, went and practiced with it at Amarillo, Texas, the other night (en route to Vado) and come here and practiced last night, and just decided, what the heck, we'll give (entering the new car) a shot."
Sheppard, who started third, tossed his car around the extreme outside of the 3/8-mile oval to sail by Pierce for the top spot off turn two. He struck quickly, gaining such a head of steam through the first and second corners that he erased his deficit to Pierce and bolted past the leader before the 25-year-old could try to counteract him.
"I thought he was going to (move to the outside)," Sheppard said of Pierce. "But he didn't know I was gonna close the gap that fast … or Bob (Pierce's father) didn't, whoever was signaling him. It worked out for us. We snuck up on him there."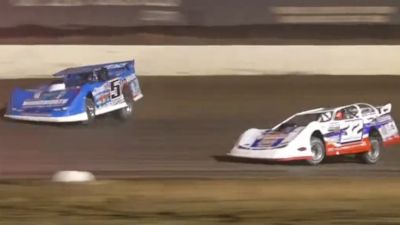 VIDEO: Watch highlights from Night #1 of the Wild West Shootout on FloRacing.
Regardless how his pursuit of the event's primary bonus — or the lower-tier awards of $100,000 for winning five races and $25,000 for four — goes in the coming days, Sheppard's opening-night checkered flag provided him the perfect entrance to the new campaign. He exorcised a ghost from two years ago at Vado (specifically a late-restart loss in the track's January 2020 World of Outlaws Morton Buildings Late Model Series finale) and immediately turned the page from a '21 season that was underwhelming by his lofty standards (he won his third straight and four overall WoO title but failed to claim a crown jewel race among his 16 overall wins).
Sheppard admitted that his Vado defeat two years ago was the primary thought driving him on Saturday.
"It does stick with you," he said when asked about his winless Vado visit for 2020's WoO tripleheader. "We were second all three nights that weekend. It is hard to forget that, especially when you come here with as good of a car as we had and you basically give one away the last night. We got our redemption."
It was no small caveat that Sheppard made himself 1-for-1 this season. Recall that he didn't compete in last year's Wild West Shootout because of a conflict with the WoO season opener at Volusia Speedway Park in Barberville, Fla., and went winless until claiming a WoO qualifying feature in late March at Cherokee Speedway in Gaffney, S.C.
One race does not a season make, but Sheppard's out-of-the-box success could be a harbinger of a return to his days of prolific winning.
At least he's hoping that's what is in his future.
"Shaking the rust off in Arizona, or New Mexico here, it helps," said Sheppard, whose Wild West Shootout history is impeccable (Saturday gave him five victories and 18 top-five finishes in his last 19 starts at the event). "And when we got a really good car like we do, it just makes it that much better. I'm sure (Rocket Chassis co-owner) Mark (Richards) is sitting back at the shop smiling right now because he knows that when we start off good in Arizona we usually start off good in Florida."