2022 Lucas Oil Chili Bowl Nationals
Is The Christopher Bell And Kyle Larson Rivalry Real?
Is The Christopher Bell And Kyle Larson Rivalry Real?
NASCAR stars Kyle Larson and Christopher Bell will bring their rivalry back to the Lucas Oil Chili Bowl Nationals next week.
Jan 5, 2022
by Brandon Paul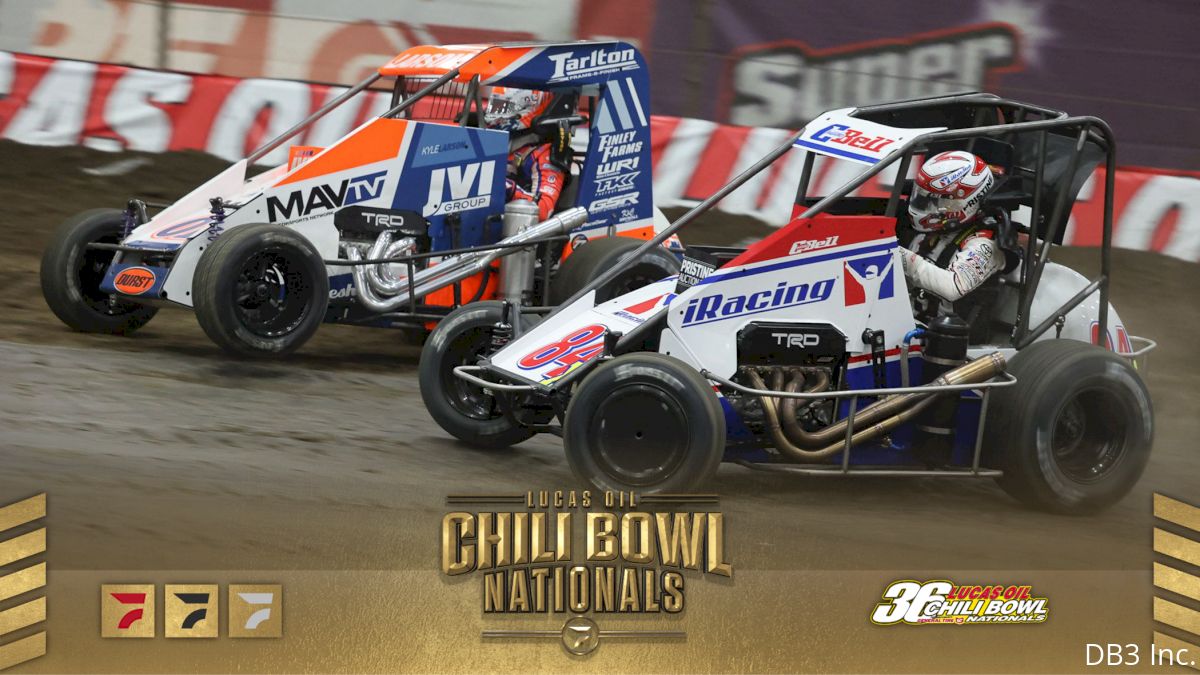 Prior to the 2021 racing season, the phrase "friendly rivalry" was used a lot to describe the fierce competition between Kyle Larson and Christopher Bell. But after a run-in during the NASCAR Cup Series race at Watkins Glen International in August, the relationship between the two appeared to turn sour, making many people question just how friendly their rivalry has become.
For many years, Bell and Larson have battled each other on dirt tracks throughout the country. Bell had the upper-hand on Larson for quite some time, most notably at the prestigious Lucas Oil Chili Bowl Nationals.
Bell won three consecutive Chili Bowls in 2017, 2018 and 2019. In 2018, Larson was leading the race before his engine expired and Bell took advantage to capture his second straight Golden Driller trophy. In 2019, Bell passed Larson on the final lap to steal his third straight win.
After two straight years of heartbreak, Larson redeemed himself in 2020 by passing Bell and driving away to his first Chili Bowl win. And last year, he followed that up by fending off a hard-charging Bell to claim his second straight win.
Up to this point of their racing careers, the fierce competition between the two drivers was still described as friendly.
But things changed in August.
After an on-track collision in which Larson made contact with Bell, both drivers made comments to the media about how their counterpart handled the situation.
You've likely heard the story before.
Larson texted Bell an apology at midnight the night of the incident. Bell didn't respond to the text.
During an appearance on Sirius XM NASCAR Radio, Larson was critical of Bell not responding to his text.
"I reached out and tried, but I guess he's not willing to talk to me, which is kind of whatever," Larson said. "I think any adult in the field would at least have a conversation with you, but he doesn't care to."
Bell didn't like Larson's comments and believed the situation warranted more than just a text message.
"I received a text message at midnight that said 'sorry, hate I spun you,'" Bell told the media the following week at Indianapolis Motor Speedway. "We've all got into on-track incidents, but never have I ever sent a text message at midnight and complained that the guy didn't message me back."
That brings us to today. With both drivers preparing to compete in next week's Lucas Oil Chili Bowl Nationals, the storyline of "Bell vs. Larson" has once again heated up.
In an appearance on FloRacing's The Loudpedal Podcast, Larson commented on the current relationship between the two drivers.
"I think we do, at least speaking for myself, I respect him as a race car driver," Larson said. "I think he is one of the best, if not the best, I've always said that. He's challenged me to become a better racecar driver. He probably beat me in every dirt race I ran for three years, even outside of Chili Bowl. That really ate at me a lot and made me want to work harder to get better. I respect him a lot for that.
"Yeah, we've had some run-ins I guess on the track, mostly my doing so I'm sure he has feelings about me from that. We still always race well together. I respect him as a racecar driver. I like racing with him. It doesn't matter what race it is. If he's in the pit area, I want to beat him more than anybody. I'm sure the same goes to me from him. It will be a fun Chili Bowl."
When asked about squaring off with Larson in recent Chili Bowls, Bell described their frequent battles as "ironic."
"The Chili Bowl for the last however many years, the prelim nights have been pretty crazy. Monday night Cannon McIntosh has won the last couple, Tuesday night is Larson's night, Wednesday night has been Rico's night, so the same guys have been winning the prelim nights and putting themselves up front. It's been ironic that the same guys end up up front, but it's always a hell of a show."
Now, it's time to answer the question: is the rivalry real?
The simple answer is that it's absolutely real. They likely didn't exchange Christmas cards and they probably don't care to give each other black eyes; the answer is likely somewhere in between. However, one thing is for certain: they want to beat each other on the race track.
That's good news for fans hoping to watch another exciting battle between the two at this year's Lucas Oil Chili Bowl Nationals.
FloRacing will broadcast all of the preliminary action from the Chili Bowl Monday through Saturday up to the D-Mains. Saturday's C, B and A-Main features will be broadcast on the MAVTV Motorsports Network.
If you're not a FloRacing subscribe, become one today by clicking here.