2022 Lucas Oil Tulsa Shootout
What Makes A Golden Driller Trophy So Special?
What Makes A Golden Driller Trophy So Special?
Drivers competing in the Lucas Oil Tulsa Shootout and Lucas Oil Chili Bowl Nationals will be chasing a coveted Golden Driller trophy.
Dec 27, 2021
by FloRacing Staff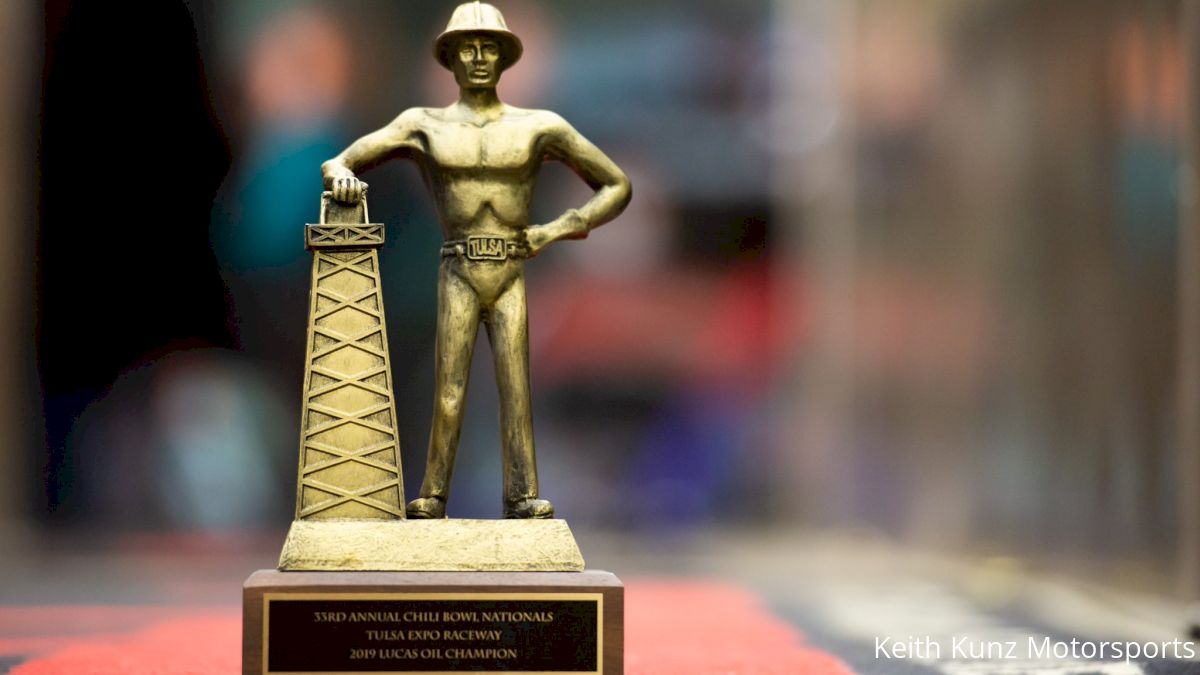 It's the single-most recognizable trophy in all of dirt track racing, and everyone wants a piece of it.
Over the next three weeks, seven elusive Golden Drillers will be given out inside the SageNet Center, and nearly 2,000 total entries will be chasing the iconic award.
The first six are available this week at the 37th annual Lucas Oil Tulsa Shootout (Dec. 29 – Jan. 1) with the big one coming at the 36th annual Lucas Oil Chili Bowl Nationals (Jan. 10-15). Both events can be seen live on FloRacing.
Based off the massive state monument which sits directly in front of the building, the Golden Driller has been an Oklahoma institution since taking permanent residency at the then International Petroleum Exposition (IPE) Building on April 8, 1996.
The handheld version which is available at the Shootout and Chili Bowl pales in comparison to the real thing which stands at 76 feet tall, weighs 43,500 pounds, has a 393DDD shoe size, a 112-size hard hat, and serves as the sixth-tallest statue in the United States of America.
What many don't know is that the Golden Driller hasn't been a Tulsa tradition from the beginning. Emmett Hahn & Lanny Edwards created the Shootout in 1986 and the Chili Bowl Nationals followed one year later in 1987, but that little golden guy didn't come around until the late 90's.
Just how special is that Golden Driller? Broken Arrow's Andy Hillenburg won arguably one of the greatest Chili Bowl's in history when he outdueled Page & PJ Jones to win in 1994, but there was no such trophy back then. Fast forward to 2022 and his family surprised him with a retroactive Golden Driller for Christmas.
It's small in stature, but gigantic in prestige. You can carry it with one hand, but the weight of what winning a Golden Driller means can consume your entire head come wintertime.
For those who have been lucky enough to take one home, the Golden Driller immediately becomes one of their most prized possessions.
Keith Kunz, who has collected a record nine Golden Driller as car owner, has an entire shrine to his collection in the lobby of KKM's shop in Columbus, IN.
Christopher Bell, who became only the second Oklahoman to win the Chili Bowl in 2017, turned the front room of his house into a glorified Driller den with all the mementos, including the very car he won the race with.
Kyle Larson, who finally topped the Chili Bowl in his 13th try has a similar setup in his shop dedicated to conquering the Golden Driller.
Be it on the mantle at home, a special case in the office, the centerpiece of the trophy room, or in a room dedicated to Tulsa entirely, what each winner does with the Golden Driller shows you how much it means to win.
This week, six more Golden Drillers will find a new home and you can watch it all unfold live on FloRacing from Wednesday to Saturday. If you're not already a subscriber, click here to subscribe and gain access to over 2,000 live races in 2022.