2021 USAC Jason Leffler Memorial at Duquoin Fairgrounds
Christopher Bell Snaps Midget Winless Drought In Du Quoin
Christopher Bell Snaps Midget Winless Drought In Du Quoin
NASCAR star Christopher Bell became the eighth different Jason Leffler Memorial winner on Saturday night inside the Southern Illinois Center.
Dec 19, 2021
by Brandon Paul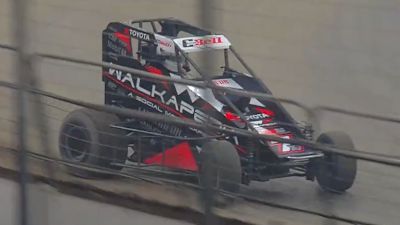 Christopher Bell didn't have a lot of time to get comfortable with the RMS Racing team, but on Saturday night at the Southern Illinois Center it proved to be enough. The NASCAR Cup Series star made his debut with the successful Midget team and capitalized on the opportunity by winning the USAC Jason Leffler Memorial in Du Quoin, Illinois.
Bell, driving a No. 7x car typically driven by USAC National Midget Series standout Justin Grant, became the eighth different Leffler Memorial winner in eight versions of the race.
Starting from the third position, Bell quickly moved by fellow NASCAR Cup Series driver Chase Briscoe early in the race and began to chase down early race leader Cannon McIntosh. As McIntosh navigated lapped traffic 10 laps into the 50-lap race, Bell closed to the rear of McIntosh's No. 08 Midget. Three laps later, Bell snuck by McIntosh to take the lead.
From there, it was the Christopher Bell show.
A long green flag run from lap 30 to lap 44 allowed Bell to pull away from McIntosh and the rest of the 20-car feature field. McIntosh had one final opportunity to get by Bell when the caution flag waved with six laps remaining, but he was not able to mount a challenge.
Bell pulled away on the restart and drove away to his first Midget main event victory since June 30, 2019.
"It's been a long time since I've won a Midget race," said the three-time Chili Bowl winner. "I was starting to think about if I'd ever win another one. I'm just very grateful to be here and be able to continue to my dirt racing. I've got to give a big thank you to Matt Estep. He's contacted me several times trying to work a deal out where I could run for him and it finally worked out where we were able to come here to DuQuoin."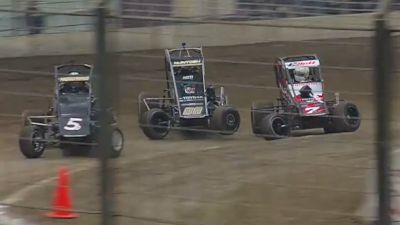 VIDEO: Watch highlights from Saturday's Jason Leffler Memorial on FloRacing.
Only having three laps to dial in the car after hot laps, Bell was thrilled with the car RMS Racing provided him with on Saturday night.
"This thing was really fast. I know I'm going to be racing against it in the Chili Bowl, so I know I'm going to have my work cut out for me," he said. "It's a very familiar package, Spike race cars and Toyota engines. I kind of knew a little about what the car would feel like. This is one of Justin's (Grant) cars so there were a couple things he had that we had to make a little bit better for me. We each have our own driving style and things we like inside the car. Everyone on this RMS 7x team did a great job at getting me comfortable. We didn't have a lot of time, right? You've got three hot laps to figure out what you've got and try to make it better."
Saturday's Jason Leffler Memorial was the first of three indoor races Bell plans to compete in during the NASCAR offseason. Next up will be the Lucas Oil Tulsa Shootout in Tulsa, Oklahoma, which leads into the prestigious Lucas Oil Chili Bowl Nationals.
Both of those events will be streamed live on FloRacing for fans unable to attend. If you're not already a FloRacing subscriber, click here to become one today.